Montreal Canadiens' sniper Michael Cammalleri made the news yesterday, not because of his play on the ice, but rather because of  inflammatory comments he made to journalists Arpon Basu of NHL.com and Francois Gagnon of RDS and La Presse newspaper.  After practice, Cammalleri  said, "I can't accept that we will display a losing attitude as we're doing this year. We prepare for our games like losers. We play like losers. So it's no wonder why we lose."
"When you display a losing attitude like we do now, you lose more often than you win and you stay in the same place. When you show a winning attitude, you are not stifled by mistakes and you respond to a mistake with 15 good plays at the other end, you win and you get out of misery. This is not what we are doing here now, " added Cammalleri.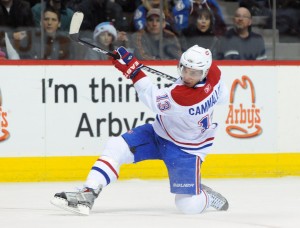 Cammalleri, who has been a huge disappointment this season with only 9 goals and 13 assists for 22 points in 37 games, appeared frustrated during the interview and the last game during which he played only 15:01 minutes and finished the night with a -2 plus/minus rating. The diminutive left-winger was directly responsible for the Blues' first two goals after a poor coverage in the Habs' defensive zone. Cammalleri also added that he was playing well this season despite his lack of production. Production that has declined every year since his 39-goal season in 2008-09 with the Flames.
Since joining the Blue Blanc Rouge, Cammalleri has scored 26, 19 and 9 goals in 37 games this season, battling injuries and slumps along the way, not something I would call a steady production for the high salary he's earning this campaign. He still has two years to go to the five-year $30MM contract he signed with Montreal before the 2009-10 season. With a cap hit of $6MM per season and an actual salary of $7MM in 2012-13 and 2013-14, the team will be hard pressed to find a taker for his services.
Playing regularly with #1 pivot Thomas Plekanec in the last few games, Cammy looked disinterested and disconnected on the ice despite two wins in the past three games for the Habs. Cammalleri's "read between the lines" comments also suggests the unhappy Canadiens winger might welcome a trade to a Stanley Cup contender before the 2012 NHL trade deadline.
Earlier today, the native of Richmond Hill, Ontario, tried to clarify the situation: "Yesterday was a little bit crazy," he explained. "I'm obviously not happy. It's an emotional game and we're sitting in 12th spot. It's not fun to lose, you always want to win and you always want to do more. When asked by several reporters whether he felt he was misquoted, Cammalleri said, "I don't have anything else to say today."
Cammalleri is not making any friends in Montreal after showing such a negative attitude for most of the season and now with his harsh comments about how the team has been playing lately. Yet despite the turmoil he created, the 5'9", 180-lb winger said he wants to play in Montreal: "I love Montreal," he said. "I've just built a house in Montreal. I love playing in Montreal. I think I've had somewhat of a love affair with this city. I know things can change pretty quick – but not for me. I really enjoy it here, my family loves it. I really enjoy what it means to play for the Montreal Canadiens."
The Canadiens who are 16-19-7, good for the 12th position in the Eastern Conference standings, will have to forget about the playoffs this season barring a miracle on ice in the next few weeks. This regrettable situation will most likely lead to a fire sale by GM Pierre Gauthier, especially after the team learned that captain Brian Gionta would miss the remainder of the season with a torn right biceps muscle. And with pending unrestricted free agents such as Hal Gill, Chris Campoli, Mathieu Darche, Travis Moen and Andrei Kostitsyn, the timing would be perfect to unload a few veterans and rebuild from scratch. Veterans like Michael Cammalleri could also be dangled as trade bait in order to free some cap space for the 2012-13 season.
Meanwhile, the Canadiens will visit their division rivals, the Boston Bruins, tonight at TD Bank Garden in what could turn to be a blow-out against a very good Bruins team this season. It will be a good opportunity to see how the players respond to their dismal performance against the Blues on Tuesday and the controversy caused by Cammalleri's comments to the media.
What do you think will happen to Michael Cammalleri? Will he get traded or will he find back his heart and start producing on the score sheet?
Follow me on Twitter for more updates on the Canadiens and the NHL in general.