Today the NHL announced those players who would fill out the rosters for the NHL All-Star Game.  On that list were three very prominent Chicago Blackhawks who are having very good seasons.  There were also a couple left out.
Jonathan Toews is a Hart trophy Candidate to many.  He has kept his team in contention all season long and although he has a great compliment of teammates, he is definitely the will for the way.  Toews is tied for 13th in league scoring, 6th among centers and he is 4th overall in goals.  This guy is a sniper and one of the 'good guys' in the game today.  Toews has been to 2 all star appearances prior to 2012 and was a starter in last year's game. (2009 & 2011)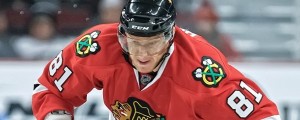 Marian Hossa is 33 years young today and now a veteran of the NHL and of the mid season All-Star classic having played in 4 prior All-Star games (2001, 2003, 2007 & 2008).  Not to say that he is on his NHL swan song by any stretch.  Having celebrated his 400th career goal this year was just one of the feats this Slovak has accomplished this year.  He leads the Hawks in scoring with 45 points, and is 7th in the league just 5 behind leader Henrik Sedin.  Hossa is also 6th in +/- which tells how important he is to his club.  The question is will this former Senator be booed at his homecoming to the Canadian capital city.
Patrick Kane is a former 1st overall draft pick, and all this kid does is dazzle.  He is 23rd in league scoring with 10 goals and 38 points.  Kane is more of a playmaker than a scorer which is why it's no surprise that he is tied for 10th in assists.  Fans voted Kane in 12th with 244,136 total votes but the league solidified everything today naming him to his third All Star Game. (2009 & 2011).
So with 3 Blackhawk players in the big game this year, only Ottawa has more players with 4.   Toronto, Boston and the New York Rangers are the only other teams with 3 players representing.  Hmmm? That means that all of the original six teams with the exception of Montreal (1) and Detroit (2) have a trio of players representing.  Good for hockey, I say yes.
Oh wait, I missed one.  The Vancouver Canucks will also have 3 players representing the other Stanley Cup Finalist from last season.  The twins and Alex Edler will all be representing the Hawks number one rival.
The NHL selection that pleased me the most was that of Detroit Red Wings goaltender Jimmy Howard who was left off the NHL voting form but was 6th in fan voting despite this.  He has played admirably well and is an important piece of the Red Wings venture to another Stanley Cup.   Not to mention that he leads the league in goalie wins with 24.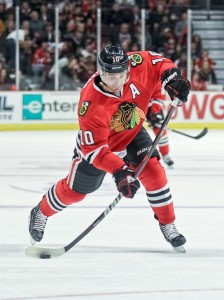 The only news in Chicago was that the names of Patrick Sharp and Duncan Keith were missing.  But are you surprised?  One has to wonder if it's because of his current upper body injury that made Patrick Sharp an easy out for this year's lineup.  Sharp who is 18th in NHL Scoring with 20 goals and 20 helpers for 40 points, was the 'Player of the game' at last year's ASG.  While Duncan Keith is a solid blueliner in Chicago and not far off his Norris trophy season from 2010, his offensive numbers have dipped this season which is likely why he was left off. Two other members of the 2010 Stanley Cup winning Chicago Blackhawks defense are on this roster, but for other teams.  Dustin Byfuglien and Bryan Campbell are in the top 12 in scoring among defensemen, and surely Byfuglien would be higher if he didn't miss time with injury.
of note, Last year's captains, Eric Staal and Nicklas Listrom were both omitted from this year's team.
And with that, the countdown to Ottawa is on.
Stephen is a writer for thehockeywriters.com covering the Toronto Maple Leafs and other Hockey Matters. Stephen attended Canadore College in North Bay, Ontario where he studied Broadcast Journalism and covered local sports for both Radio and Television. This included news coverage for the OHL's North Bay Centennials. In his personal time, Stephen blogs for his several fantasy hockey leagues.