Jim Neveau, Senior NHL Correspondent
With two weeks to go until the NHL All-Star Fantasy Draft, the league released its full list of All-Star reserves on Thursday afternoon. There was, of course, the usual griping about snubs, captains, and whether or not people should get so worked up over a game that doesn't count in the standings. All of these topics have been debated at length and will continue to be, but here are five more thoughts that don't center on any of those topics:
Who Would Replace Ovechkin in a Perfect World?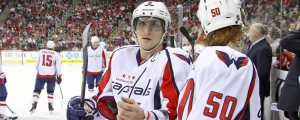 We'll need to get one thing out of the way right now: yes, Alex Ovechkin got into the game based on his stature as the league's biggest star who is currently healthy and playing. No, his statistics don't warrant his inclusion over a slew of other players. Yes, he'll be an All-Star every year for the foreseeable future, unless of course he's injured or has somehow managed to fall behind Scott Gomez in the scoring race.
Even with those revelations laid out, who would replace Ovechkin in a perfect world where star status didn't matter, and only the player's performance in a given year was considered? Here are some potentials:
Jordan Eberle, Edmonton Oilers 
One of the teams who did not get an All-Star in the actual game, the Oilers have been up and down all season long, and the team's best player has arguably been Mr. Eberle. Currently in 10th place in the NHL in scoring, Eberle is having a breakout year, and he is one of the reasons the team's power play has been so good. As a team they currently rank 4th in the league at a 21.3% success rate, and Eberle has eight of their tallies on the man-advantage.
Ilya Kovalchuk, New Jersey Devils 
Kovalchuk has taken a lot of heat for the Devils' play since he arrived in New Jersey before last season, but he has been playing solid hockey so far this year. In 38 games, Kovalchuk has averaged a point per game with 17 goals and 21 assists to his credit, and while his four power play goals are nothing to write home about, he has been one of the team's few consistent offensive weapons.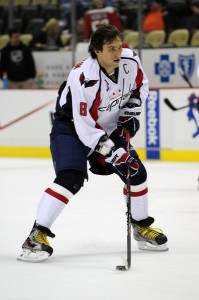 Anze Kopitar, Los Angeles Kings 
Kopitar isn't lighting the world on fire statistically, but he is one of the more underrated two way players in the game today. He is averaging nearly a point a game, with 12 goals and 25 assists in 43 games, and he is also winning 53.4% of his face-offs. He is also a tremendous penalty killer, with his team having the second best PK unit in the league (89.1% success rate). While all-around skill doesn't usually translate into All-Star berths, it should in Kopitar's case.
James Neal, Pittsburgh Penguins 
Neal may have cooled off after a hot start, but he is still worthy of consideration for the game for his first-half performance. He has 10 power play goals for a Penguins power play unit that is playing well despite a rash of injuries to top-line talent, and his 21 goals overall speak to his underrated ability to put the puck in the net. He'll be looking to get a nice payday as a restricted free agent at the end of this season.
Who Should the Captains Be?
With the advent of the fantasy draft at the All-Star Game, one of the more intriguing elements of the weekend is who the captains are going to be. Obviously, we don't have a lot of history to go into when it comes to this, with the game last year in Carolina being the only other one to employ the concept. Hometown hero Eric Staal and Detroit captain Nicklas Lidstrom were the honorees last year, with Mike Green, Patrick Kane, Martin St. Louis, and Ryan Kesler serving as assistant captains.
So who should the captains be when the team's are formed two Thursdays from now? Here are several contenders for the honors, with the most worthy recipients of the "C" highlighted in bold:
Jonathan Toews, Chicago Blackhawks
Still one of the youngest captains in the NHL despite this being his fifth year in the league, Toews is one of the leading candidates for the Hart Trophy as the league's MVP. He has scored 22 goals and added 20 assists in 43 games so far this year, and is arguably the league's best face-off taker this year, winning 61.5% of the 860 draws he has taken. He is also a serious Selke contender, so when you couple his all-around play with his leadership skills, you have a guy born to don the "C" in an All-Star Game.
Claude Giroux, Philadelphia Flyers 
Right up there with Toews as a Hart contender, Giroux has emerged as one of the league's best scorers. He is only two points behind league points leader Henrik Sedin in that category, and he has played seven fewer games than the Vancouver denizen. Giroux is also playing over 20 minutes a game for one of the best teams in the Eastern Conference, so if you are looking for a guy who defines the term "valuable" for his team, it would be Giroux.
Phil Kessel, Toronto Maple Leafs 
Despite the obvious comedic material here (can you imagine if Kessel was a captain and selected Ovechkin with his last pick?), Kessel has some serious game that makes him worthy of this list. He is currently second in the league in both points and in goals scored, and along with fellow All-Star Joffrey Lupul he has led the Maple Leafs into serious playoff contention.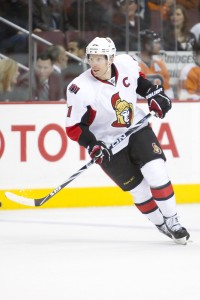 Zdeno Chara, Boston Bruins 
In a league whose headlines are dominated by flashy scorers and dominant goaltending, Chara is quietly having one of his best years ever. Not only are his Bruins at the top of the heap in the standings, but Chara himself is a +27, has 25 points in 37 games, and has five power play markers to his credit. Add in his great physical play and that insane slap shot that he possesses, and you have a bona fide contender for the captaincy.
Daniel Alfredsson, Ottawa Senators
Unfortunately for the other three guys on this list, the hometown boy is likely to get a lot of love for this role, and it is well deserved. Not only is Alfredsson one of the league's most respected players, but he is also having a solid season himself. The longest-serving captain in the NHL, Daniel is scoring nearly a point a game (14 goals, 19 assists in 38 games) and has the Senators well on their way back to NHL relevance as they currently sit in fifth in the Eastern Conference. Oh yeah, he also scored his 400th goal this year. With a celebration of hockey in Ottawa, it would only make sense to honor his performance with the "C".
Should Voting Be Tweaked? 
One of the consequences of the league adopting the fantasy draft format for the All-Star Game has been that it has reduced the  number of starters that fans elect from 12 down to 6. This year, that resulted in four Senators making the game in Ottawa, with Jason Spezza, Milan Michalek, Alfredsson, and Erik Karlsson making the cut. In addition, Toronto defenseman Dion Phaneuf and Boston goalie Tim Thomas filled out the roster.
The question about reduction of fan voted players boils down to this: is there really a point to electing only six players? Harrison Mooney of Yahoo Sports doesn't seem to think so, and he argued today that fans should only elect the captains of the game:
 "There's so much we could do with this. Sure, we run the risk of seeing Crosby vs. Ovechkin every damn year, but there are many more interesting combinations. How about Daniel vs. Henrik Sedin? Tim Thomas vs. Roberto Luongo? Ilya Bryzgalov vs. BizNasty?

"That last one is silly, since neither guy is even remotely deserving of an All-Star nod, but as I said, I don't care about merit when it comes to fan voting, and it would be a far more marketable draft than, say, Jarome Iginla vs.Daniel Alfredsson. If I wanted poise and dignity at the podium, I'd watch the Westminster Kennel Club Dog Show."
This well-written piece features some great ideas, including the notion of players promoting their own candidacy via social media. While limiting the fan vote to only two players does have drawbacks (that would leave 40 players to be selected by the league, and fans may resent not being able to vote for more players), there are plenty of pluses to this idea. The amount of compelling narratives would be mind-boggling, and, best of all, you wouldn't have only fans of the home team participating in the voting effort.
Stuffing the ballot box has been a tradition in All-Star Games for many years (in fact, Major League Baseball got rid of fan voting for 12 years starting in 1957 because Cincinnati Reds fans elected seven of their players to the game in the Queen City), but that doesn't mean that the league has to keep it fully intact. Mooney's idea is certainly worthy of debate, and is likely worthy of adoption as well.
Which Inclusions Are Most Intriguing? 
There are plenty of players who can make arguments that they should have been considered for the game, but the NHL hit some real home runs on the roster this year. Here are some of the notables:
Brian Campbell, Florida Panthers 
Recognizing the impact the Panthers have had on the NHL this season is important, and making Campbell the team's representative in Ottawa makes a great deal of sense. He has always been known as a solid offensive defenseman, and even though he isn't dispelling that notion this year (33 points in 42 games), he has also continued to show improvement in the defensive aspects of his game, a continuation of his play in Chicago last year. The redhead is fully deserving of his bid, and the NHL was right to put him in.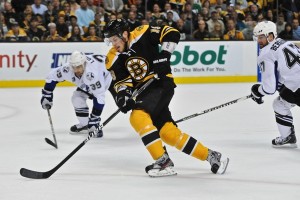 Joffrey Lupul, Toronto Maple Leafs 
Obviously, it would have been impossible to not put a guy in who is tied for 4th in NHL scoring with Steven Stamkos and Daniel Sedin, but Lupul's inclusion means a lot because of the struggles he has gone through in recent years. Not only has he dealt with back issues, but he was diagnosed with a blood infection in 2010, and his road back has been an arduous one. He won't get much love in Ottawa, but the Toronto faithful have embraced him, and rightfully so.
Corey Perry, Anaheim Ducks 
Perry is the league's reigning MVP, but that isn't why his selection is intriguing. According to Eric Duhatschek of the Toronto Globe and Mail, Teemu Selanne was going to be the Ducks' representative in the game, but he lobbied the league to get Perry included in the game, saying that "I've been there many times. I think it's a great opportunity for young players and Perry was MVP last year." Well said, Mr. Selanne. He may be a Hall of Famer because of his play on the ice, but his classiness off it is unmatched.
Tyler Seguin, Boston Bruins 
Seguin is averaging a point a game in his second season in the NHL, and he is also a +33 on the year while playing 16:05 a game. He has also scored five game winning goals for the Bruins, and has continued the hot play that he showed in the Bruins' Cup winning run through last year's playoffs. Sophomore slumps have derailed many players, but Seguin clearly isn't one of them.
Ryan Suter, Nashville Predators 
Nashville has always been known as a team that has preached a "defense first" mentality, so it makes sense that they have two high-quality defensemen in Shea Weber and Ryan Suter. Weber has always gotten the headlines, but Suter, an Olympian for the US in 2010, is finally getting his due. He is eighth in the league among defensemen in scoring, and he has played some outstanding defense as well. With his more assertive attitude and commitment to remaining responsible on the blue line, Suter is the perfect fit for this game, and it will be interesting to see if he's paired with Weber in Ottawa.
Should Any Format Changes Be Explored in 2013? 
Besides the change that Mooney suggested in his piece, are there any other changes that the league should consider adopting to their format? There is one that could potentially be a great idea, and it would involve stealing an idea from Major League Baseball.
In MLB, the league has voting for the starting eight position players in each league, and then after the reserves are named, they host even more voting for the "last All-Star in" in each league. This gets fanbases of five different teams from each league involved, and it has allowed players who fans may have felt were wrongly excluded from the game to get in.
The NHL should adopt the same concept, especially because of what has happened with a guy like Ovechkin this year. If a star isn't playing up to snuff but the league still wants to give him a shot at getting in, the NHL could put him in a five-way race with other players for the last All-Star spot. There would be plenty of marketing opportunities for teams involved (as MLB clubs have done), and it would give fans something to do in the two weeks between reserves being announced and the captains actually making their picks.