At the end of last season, the Ottawa Senators told Mike Hoffman they wanted him to do it again. After an impressive rookie season in which he scored 27 goals, Hoffman was a restricted free agent with arbitration rights. Rather than sign him to a longer-term deal like Bryan Murray and company did with Mark Stone, management was instead content to let Hoffman go to arbitration and then sign him to a one-year deal. The final result was a one-year, $2 million contract. The clear underlying message from management was, "prove to us that you can do it again." Well, Hoffman is certainly proving himself this year and that is going to create all sorts of problems for the Ottawa Senators come the summer.
Mike Hoffman Is The Real Deal
After leading the Ottawa Senators in goals last season, Mike Hoffman is doing so again this year. However, he is on pace for a forty goal season, the most by any Senator since Danny Heatley scored 50 a decade ago. In terms of his goals and points production per sixty minutes, Hoffman is not only leading the Ottawa Senators, he is one of the top ten players in the league. Among left-wingers with more than 15 games played this year, Hoffman ranks second behind Jamie Benn in points/60 and third in goals behind only Benn and Alex Ovechkin. What is even more impressive is that almost 70% of his goals have come at even strength, proving that he doesn't just rely on the power play to score. Finally, despite being a negative possession player, Hoffman's relative possession numbers are quite strong. In other words, he makes his teammates better when he is on the ice.
The major knock against Hoffman has been that he is a defensive liability. Ottawa coach Dave Cameron even benched him for a game against Florida supposedly to teach Hoffman a lesson. However, as Andrew Berkshire from Spotsnet.ca demonstrates, Hoffman creates far more offensive chances than he gives up. The real criticism of Hoffman is that he doesn't shoot enough. So far this season he has only recorded 105 shots on net, 19th among left wingers. Instead of shot volume, Hoffman relies on scoring on a relatively high percentage of his shots, suggesting a possible decline in his offensive production if his shot becomes a little less deadly. However, when you look at how effective his shot is, Ottawa fans don't have much to worry about.
Time To Cash In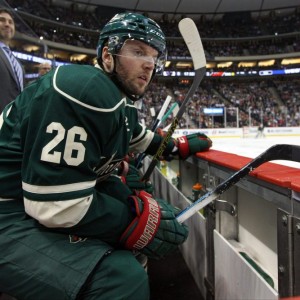 As mentioned in the introduction, Mike will be a free agent at the end of the season and barring an unforeseen collapse, will be able to parlay his successful season into a large payday. So how much can Ottawa expect to pay? The low-end comparable to Hoffman is probably New Jersey's Mike Cammalleri and his $5 million cap hit. Cammalleri, like Hoffman, is an offense first player and scored 27 goals last year as a left-winger while this season is on pace for a 70 point season. However, unlike Hoffman, Cammalleri is 33 and his ceiling is already clearly established. An alternative comparison is fellow left-winger Thomas Vanek, who tested his value on the open market and ultimately, received a $6.5 million per year contract from the Wild. Both this year and last year Hoffman has scored more goal than Vanek, is younger and has the potential to equal Vanek's career high of 73 points in a season. All of which suggests a cap hit of six and a half million is not unreasonable for Hoffman at this stage in his career.
Similarly, Ottawa signed Bobby Ryan to a seven-year, $50.75 million contract extension with an annual cap hit of $7.25 million. Yet, since the start of the 2014-2015 season, Hoffman has scored 15 more goals than Ryan and only has seven fewer points. Plus, he has put up better possession numbers than Ryan. There certainly is a strong argument that Hoffman is the more important player on the Ottawa Senators and his salary should reflect that reality. While not having the proven track record of offensive production that Ryan does, a $6.5 million cap hit certainly does not seem impossible for Hoffman going into the summer.
Ottawa's Options
The Mike contract situation leaves Ottawa in a bind. While he is their only marquee free agent this coming off-season, a raise of $4.5 million a year would push Ottawa's total salary commitments to almost $70 million, assuming no other contract come off the books. Is this money that Ottawa's owner Eugene Melnyk is going to be willing to spend? It is unclear. Hence, why Hoffman's name has popped up in trade rumours involving the likes of Jonathan Drouin. I still believe that it is highly unlikely that Ottawa deals Hoffman. If Bryan Murray can unload Jared Cowen's contract plus let Chris Neil and Chris Phillips walk as UFAs in the summer that will free up almost $6.5 million dollars, allowing Hoffman to receive his big payday and Ottawa to resign depth players such as Shane Prince and Chris Wideman. For Ottawa's fans lets hope so.