The Boston Bruins were supposed to kick off the New Year in style.
They played host to the slumping Montreal Canadiens at Gillette Stadium for the Winter Classic with first place in the Atlantic Division at stake. Many expected Boston to come out of the blocks flying.
It's really sad that a once in a life time experience like seeing the winter classic was actually not even enjoyable

— Happily miserable (@six15eleven) January 1, 2016
Instead, they fell flat on their face and struggled to get anything going as they were embarrassed in a 5-1 defeat to the Habs. It was tough to watch for Bruins fans.
As 2016 kicks into gear, the B's sit nine points adrift of first place in the Atlantic Division behind the streaking Florida Panthers. Boston holds a slim one-point advantage for a wild card spot as a handful of teams lie in wait to pounce.
If the Bruins want to ensure that 2016 will be a good year, they, like many other folks this time of year, may set a few resolutions to keep for the rest of the season.
Protect The Home Front
Home is supposed to be where the heart is. For the Bruins, it's been anything but this season.
http://gty.im/129762004
The numbers are staggering. At TD Garden, Boston holds the sixth-worst record in the League (9-11-2) while on the road, they own the sixth-best (12-3-3).
The Bruins have allowed at least four goals to opponents eight times through their first 22 games on Causeway Street. Compare that to last season, when they did so just five times in 41 home games. Not surprisingly, the B's are winless when allowing more than four goals at home this year (0-7-1).
Overall, Boston's defense on home ice has been egregious. The 16 goals they allowed in their first three games of the season to Winnipeg, Montreal and Tampa Bay should have served as a clue to how they would protect the front of their net. The Bruins have allowed 3.35 goals-per-game this season to opponents at the Garden which is over a goal more than they have allowed on average during their travels on the road (2.28).
If Boston wants to turn the Garden back into the fortress it has been in years past, a commitment to team defense is a priority. Having only won once in their last five home games, the Bruins must invent the elixir to cure what ails them…and quickly.
Consistency
There have been times this season when the Black and Gold have looked like Stanley Cup contenders and others where they look like a team that is still looking to integrate its new pieces into the lineup.
Over the first 40 games, the statistics show that things have been a bit bumpy when breaking it down into 10-game segments. In games one through 10, the Bruins started out losing three straight before collecting points in their next seven games en route to a 6-3-1 record scoring almost four goals per game. Games 11-20 saw the B's go 5-5-0 while being outscored by a slim 28-27 margin and losing their first two road games of the season in Washington and Montreal.
Games 21-30 saw Boston embark on their best stretch of the season with a 6-1-3 mark limiting opponents to just 21 goals over those 10 games. Their road form saw the B's pick up points in five straight games. Their OT loss in Ottawa Saturday night completed their latest 10-game segment at an unimpressive 4-5-1, losing four of their six home games in that time. Again, their road form (2-1-1) was the saving grace.
If there's one thing the Bruins so desperately need, it's some more consistency. The 2015-16 season in Boston has been a real-life tale Jekyll and Hyde that Robert Louis Stevenson would be proud of. However, Bruins Nation would appreciate a little more stability in the second half of the year.
Offensive Balance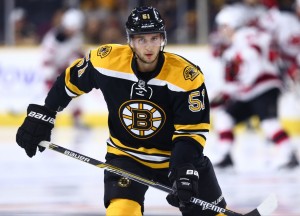 The League's third-best offense (123 goals) has taken a hit recently with the long-term injury to center David Krejci and the recent suspension of Brad Marchand.
It has required more balance from the forwards not named Krejci, Marchand, Patrice Bergeron and Loui Eriksson. Center Ryan Spooner has seen his ice time increase in Krejci's absence and has responded with 10 points in his last 10 games.
Hometown boy Jimmy Hayes has found his scoring touch with four goals in his last five games after scoring just once in his previous 21. Rookie winger Frank Vatrano has six goals in 26 games and isn't afraid to let the puck fly from anywhere.
The recent return of David Pastrnak from a broken foot should inject some pace into the lineup while winger Brett Connolly must give the Bruins more than he has for the better part of the season. The young forward is not justifying the two second-round picks Boston traded away last year to acquire his services.
Bergeron and Eriksson have been consistent all season but it is the other forwards that will have to contribute to the offensive attack. Krejci's injury will put the onus of the offense on guys like Spooner, Pastrnak, Hayes, and offseason free agent signing Matt Beleskey.