When Scott Hartnell went down with a foot injury last month, the Philadelphia Flyers were left with a hole at the forward position.  After learning Hartnell would be out for upwards of eight weeks, the Flyers needed a replacement and knew that time was of the essence.  Within just hours of the Hartnell announcement, the team signed a familiar face in Philadelphia – Mike Knuble.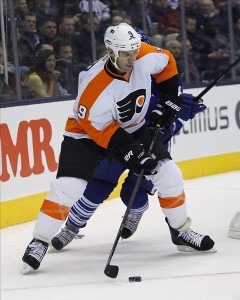 Knuble, 40, spent four seasons with the Flyers from 2005-09, recording 221 points in 310 games before signing a two-year deal with the Washington Capitals, who eventually extended his contract for another season.  During his final days with Washington, Knuble was often a healthy scratch and it appeared as though his career was coming to an end.  But he wasn't quite ready call it quits.
While several players over the age of 40 – guys like Jaromir Jagr, Teemu Selanne and Daniel Alfredsson – continued to find success well past their prime, Knuble did not.  Unable to land an NHL gig, Knuble wound up in the American Hockey League as a member of the Grand Rapids Griffins – the minor league affiliate of the Detroit Red Wings.  It was his first stint in the AHL since 1997 and it seemed to be where he'd wind up finishing his career.
But after just one game with the Griffins, Knuble got the call from the Flyers – and he's certainly making the most of the opportunity.
Shortly after his return to Philadelphia, the Flyers lost another blue line threat when Wayne Simmonds suffered a concussion on a cheap hit by Capitals defenseman John Erskine.  All of the sudden Knuble was playing big minutes for the Flyers, though the team still wasn't sure what to expect.  His locker room presence wasn't a worry since he had built a reputation of instilling his veteran knowledge on the younger talent but would he still be able to be productive at his age?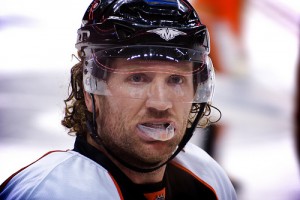 In his first game back against a struggling Florida Panthers team, Knuble notched an assist on the Flyers' sixth goal of the night – a great shot by Matt Read that earned him a hat trick.  Through nine games this season, Knuble has tallied four points but he's been more effective than the scoresheet might indicate.
Knuble has been creating chances standing in the crease and wreaking havoc on the opponent's goaltenders, which is exactly why the Flyers took a chance on him.  He still has the ability to be effective behind the net, helping to cycle the puck around at times.  But the biggest surprise might be his ability to play defense, especially in the neutral zone.
During last Thursday's 3-2 shootout loss to the Florida Panthers, Knuble made a diving play near the red line that prohibited a Panthers forward from having a clear cut breakaway against Flyers goaltender Ilya Bryzgalov.  Knuble played just over 13 minutes, had two shots on goal and was +1, finishing as the game's second star in what was his best all-around game in close to a full calendar year.
He might be a good fill in until Hartnell returns, at which point it's unclear what his role with the Flyers might be – though he would be perfect for the fourth line, or even a limited role with the third line.  He might prove to be a key role-player down the stretch and at $750,000 it would turn out to be a steal for General Manager Paul Holmgren and the Flyers.
Ed is a die hard sports fan from Philadelphia who follows all of the city's local teams. He has written for a number of print and internet media sources and is a hockey junky. When he is not watching a game, he is spitting out useless trivia knowledge, or upholding his title as movie quote extraordinaire. You can follow Ed on Twitter @PhillyEdMiller.