By Wayne Whittaker, Boston Bruins Correspondent
The Boston Bruins are in the midst of their best start in franchise history, sitting at 8-1-1 just before the quarter mark of this truncated season. Many see them as the team to beat in the East, and some are already pinning them against the Chicago Blackhawks in the Stanley Cup Final.
Not so fast.
For all of their early season glory, the 2013 Boston Bruins are still a largely undefined group.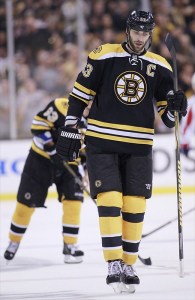 Upon closer inspection, none of the Bruins' wins could be called statement victories. No win has come by a margin of more than two goals and 50 percent came from a one-goal game.
Boston's power play is sitting at a laughable 28th place in the league, with a 10.3 percent conversion rate. They're 18th in the league when it comes to goals for. The Bruins' goal differential, which was an otherworldly plus-67 last season, is currently at plus-8.
None of these statistics paint this team as an unbeatable machine. Yet, Boston has managed to pull points out of nine of their ten contests despite the fact that they have yet to hit their stride.
So, what do we know? Well, we know that Boston can win close games. Claude Julien coached teams have always been characterized by their suffocating defense and this year is no different. The Bruins have found success this year in largely the same way they've been successful in the past: strong defensive play in front of stellar goaltending.
Boston's penalty kill percentage of 92.9 percent is tied for the league's best, they win 58.2 percent of faceoffs and have yet to lose a game when leading after two periods.
Between the pipes, Tuukka Rask and Anton Khudobin are averaging a combined 1.98 GAA and .926 save percentage while surrendering the least amount of goals in the league (21).
Boston's physical game has already left its mark around the Northeast Division, with their rivals bulking up in order to keep try and keep pace. With 18 skaters taller than six feet, they're a big group that carries an even bigger reputation with them regardless of whether or not they drop the gloves. The presence of players like Zdeno Chara, Milan Lucic, Adam McQuaid, Shawn Thornton, Nathan Horton and Gregory Campbell is enough to serve as a reminder to opponents that things could get ugly for them pretty quickly should the physical intensity of a game escalate.
We're now halfway through February and the Bruins are still a mystery, albeit a successful one. And that's just fine by general manager Peter Chiarelli and the Bruins coaching staff.
With Tim Thomas's $5 million cap hit officially off the books, Chiarelli has the flexibility to make some roster changes prior to the April 3 trade deadline should he wish to do so. That's just around the time Boston will be looking to go into high gear and make a run at their second Stanley Cup in three years. Until then, we may be left scratching our heads.
—