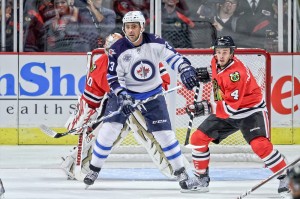 After missing the past three games with injury, Ken Wiebe of The Winnipeg Sun reports the Jets' stud two-way defenseman Dustin Byfuglien is set to return for Tuesday night's tilt against the Philadelphia Flyers. After putting up a terrific scoring line of 3-4-7 in Winnipeg's first six games, Big Buff went down with the dreaded and vague "lower-body injury", as "lower-body" could technically involve anything below the human head and thus be quite painful.
In Byfuglien's absence, the Jets sputtered to a 2-3 record with an atrocious goal differential of -7. Buff's defense partner Tobias Enstrom is a consistent contributor on the score sheet, but playing alongside Dustin he had no +/- rating. In the five games since Enstrom is -5, attesting to Byfuglien's value as his defense partner.
It is fitting indeed that Byfuglien returns against the Flyers, the team which he became a Chicago legend against during his heroic performance in the 2010 Stanley Cup Finals.
In the fifth game of the series tied at two games apiece, Byfuglien set the tone with a crushing hit on Flyers' captain Chris Pronger before scoring the game-winning goal in the second period and adding a second tally to polish off the series-turning victory in the third. He then scored the opening goal in Game Six, his 11th of the Stanley Cup Playoffs, setting the tone for the Blackhawks' series win.
At the season's quarter-pole, the Southeast Division is more up for grabs than any other in the National Hockey League. There is no team in the division more than a game over .500, and it is far from inconceivable that, with Byfuglien coming back and fellow stalwart blue-liner Zach Bogosian due back in the imminent future, the Jets could make a run for the division title and the third seed in the Eastern Conference playoffs. What the history of the 2010 Stanley Cup Finals proves is that, once in the post-season, any team with Dustin Byfuglien on its roster is a dangerous one.