Is Mike Richards done as a star?
It's a question that Los Angeles Kings fans don't want to face, what with Richards under contract until 2020.
But the storm clouds are massing. Counted on to be a 20-goal scorer, Richards just reached the double-digit marker in his 71st game this season; in fact, he started that game on LA's fourth line. In all, he's riding out his worst goal scoring season since his rookie year. And proving that when it rains, it pours, the 2010 Canadian Olympian was passed over for Sochi.
As for the eyeball test, Richards appears to have lost a half-step or so from his high-flying Philly days. He also seems less aggressive; even though hits are a very biased stat, it's worth noting that he's averaging less than a hit per game this season, which hasn't happened since, you guessed it, his rookie year.
That said, you might be surprised by this notion:
Richards is just a few bounces from having the best regular season of his Kings career.
Let's follow the bounces. From 2007-13, Richards enjoyed a 12.6 shooting percentage. Even in his first two Hollywood campaigns, he put up an 11.9. This year, he's only made 7.0 percent of his shots (as of 3/23/14). That's a low more than likely to regress to the mean, sooner than later. And if Richie had cashed in on 11.9 percent of his current 143 shots? Instead of just 10 goals, he'd have a more-to-be-expected 17.
In addition, Richards's PDO has been unsustainably low this season:

(Individually, PDO is the combination of a player's even strength shooting percentage and the team's even strength save percentage when he's on the ice. The numbers should add up to roughly 100. So if "a player has a PDO of over [102] and producing well or playing with a PDO of below [98] and struggling, there's a large, large chance that the struggles or the production is unsustainable, and it will normalize over the next handful of games.")
In 2012-13, the aberration was team save percentage, and this year, we can see it's shooting.
Better luck shooting would also aid these anemic power play points/60 minutes numbers:

What has Richards done well this year?
Of course, you may not want to dabble in fantasy. So let's discuss concrete numbers, such as Richards's even strength points/60 minutes:
Granted, Richards has benefited this season from a high percentage of offensive zone starts.  On the other hand, even lacking shooting luck, he's producing the best even strength numbers of his Kings career, featuring his most-ever even strength primary assists in black, silver, and white: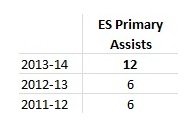 Of course, LA's reputation has been made on being a puck-possession machine.  So how does Richards fare there?  Keeping in mind that he's never been a dominant driver of play throughout his career, he's actually having his best Fenwick For year ever (as a King):

(Fenwick For compares unblocked shots attempted versus shots against when a player is on the ice. Generally, better than 50% is good; it means you have the puck more than your opponents.)
Beyond these numbers, Richards's defensive and leadership abilities are still excellent. So with the benefit of a few bounces, he would be enjoying his best-ever Kings regular season; without these bounces, an argument could still be made.
So who is Mike Richards now?
Now understand that when I propose this as Richards's finest Kings regular season yet, it's somewhat faint praise. I don't believe he's a first-line center anymore; he hasn't given LA a first-line season at all. But for what it's worth, he hasn't been getting that opportunity either, with Anze Kopitar ahead of him.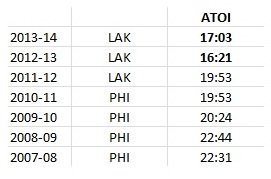 I would guess, whether because he's trying to be more careful because of his concussion history or worn down from a hard-charging playing style (or lifestyle), that the reckless scourge from Broad Street is gone.
And that's okay.
Richards is still a fine second-line center, who's come through in consecutive playoffs for Los Angeles. With a bit of luck, we wouldn't be hearing any complaints about his play this year.
And sure, he's a bit overpaid for a 2C. Sure, he'll be 35 in 2020. Sure, the backend of that contract is probably not going to be pleasant.
But right now, he's still very much an integral part of a championship contender.
Kings fans, decades of losing have made us accustomed to focusing too much on regular seasons. Let's look at the big picture with Richards and the rest of the team: See you in the playoffs.