He is among the best American-born goalies ever. The award for the most outstanding goaltender in NCAA men's hockey is named after him. The old school (Ed Giacomin) and new school (Henrik Lundqvist) fans may disagree, but he's arguably the best netminder in the history of the New York Rangers.
Mike Richter is Hall of Fame worthy.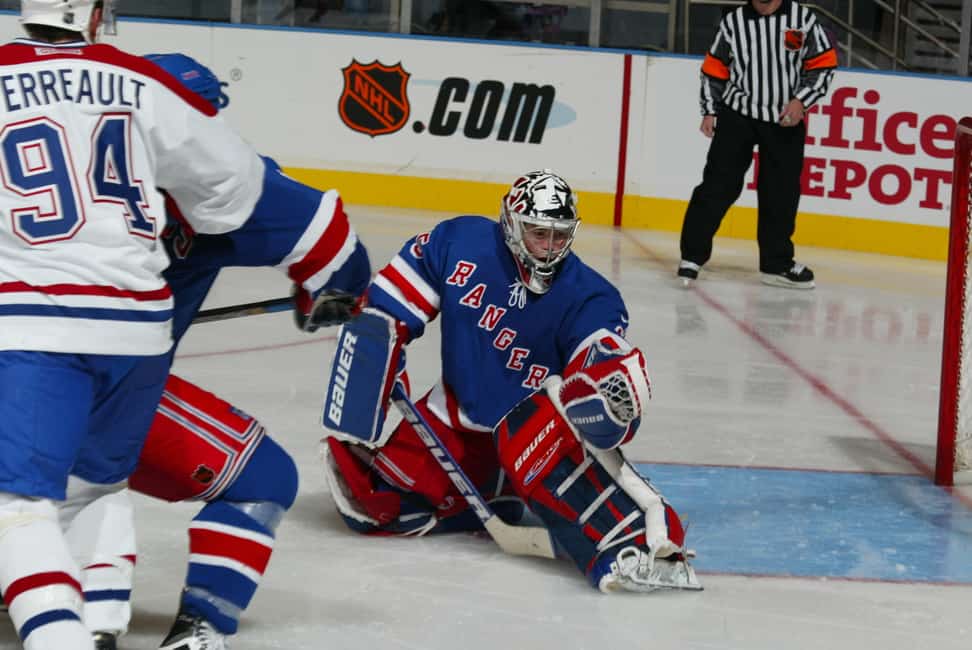 Perhaps this is 1996 World Cup of Hockey nostalgia talking, but Richter, the MVP of that tournament, does have the credentials. In the biggest games, on the grandest stage, Richter stood tall in net. Not to minimize the rest of Richter's career accomplishments, but how much importance does one place on carrying the pressure and burden of a city, curse, an original six franchise and ultimately lifting a Stanley Cup?
Playing all 15 seasons with the Rangers, Richter was a three-time All-Star and won the Stanley Cup in 1993-94. In his official rookie season of 1990-91, Richter finished third in Vezina Trophy voting. During the Stanley Cup run of 1993-94, Richter was named All-Star Game MVP and led the league in regular season (42) and postseason (16) victories. Richter also led all playoff goalies with four shutouts.
A Retired Ranger
In 2004, Richter's No. 35 was raised to the rafters at Madison Square Garden and he became the third player in franchise history to earn the honor. It's no surprise when looking at Richter's ranks in club history. Richter tops the list among goalies when it comes to career games played (666), minutes played (38,185), wins (301), playoff games (76), playoff wins (41), and playoff shutouts (9). As single-season Rangers records go, Richter is best in regular season games played (72), assists (5), saves in a single game (59), postseason minutes played (1,477), playoff wins (16) and postseason shutouts (4).
Happy Birthday to #NYR legend Mike Richter!!! pic.twitter.com/nZO7lvoFka

— New York Rangers (@NYRangers) September 22, 2016
When one thinks of a United States hockey goalie, who doesn't picture the red, white and blue mask and the Statue of Liberty which adorned Richter's mask? In addition to earning the World Cup of Hockey MVP in 1996, Richter helped guide the U.S. Olympic team to a silver medal at Salt Lake City, Utah, in 2002. Further, Richter was selected to the U.S. Hockey Hall of Fame in 2008.
Richter Shined When It Counted
Digressing back to 1994, it can't be discounted how Richter carried the pressure of a city and burden of a franchise. Yes, Mark Messier was the captain and backed up his guarantees, Brian Leetch was outstanding and earned the Conn Smythe Trophy and Adam Graves posted 52-goals, but Richter was focused and locked in like no other that season.
In addition to the accolades mentioned above from the season, Richter twice blanked the rival New York Islanders in a 4-0 sweep during the Eastern Conference Quarter-Finals. Richter also posted a shutout in Game 3 of the Eastern Conference Semi-Finals at the Washington Capitals. During the Eastern Conference Finals against the rival New Jersey Devils, Richter recorded a Game 2 shutout and a pair of double-overtime victories, including the Game 7 clincher.
As he did in the All-Star Game, Richter made a signature, standout stop on Pavel Bure penalty shot, during Game 4 of the Stanley Cup Final against the Vancouver Canucks. Then in Game 7, in New York, Richter made 28 saves, preserving a 3-2 cup-clinching victory.
Evidenced by his stature as the top U.S. goalie in 2002, Richter remained at the top of his game until the wear and tear of knee injuries, concussions, and mediocre Rangers squads finally caught up with him in 2003.
Sometimes in sports, we have the propensity to over value a championship, a season, or a moment. However, when we're evaluating the best of the best, you measure by how they competed in those moments. At the highest level, Richter brought out his best.
Originally published September 25, 2016
Michael Gwizdala covers the New York Islanders for The Hockey Writers. Michael is also an Associate Producer at WNYT NewsChannel 13. Additionally, Michael was once a Media Relations intern for the AHL Albany River Rats. Michael is a graduate of The College of Saint Rose in Albany, NY.