Just five years ago, Tampa Bay Lightning defenceman Mikhail Sergachev arrived in Windsor, ON to play for the OHL's Spitfires with plenty of promise and potential. In the blink of an eye, he went from a hopeful prospect to a certified winner, adding a 2020 Stanley Cup Championship to an already impressive resume.
For most 22-year-olds, just having a chance to watch the Memorial Cup and Stanley Cups being awarded would be impressive. Actually being on the winning teams is a near "pinch me" scenario. That's where Sergachev is now, though, as he joins the list of former OHLers (including Corey Perry and Mike Richards) who have won both the Memorial Cup and now Stanley Cup.
How did the young man from Nizhnekamsk, Russia get here? Let's take a look at his incredible journey.
Exceeding Spitfires' Expectations
In June 2015, then-Spitfires general manager Warren Rychel was putting together his final preparations for the annual CHL Import Draft. His pick had to be a home run. It had been five years since the club had selected a productive player (forward Alexander Khokhlachev in 2010); it was borderline unacceptable.
The Spitfires had the sixth-overall pick and, when their turn came, Rychel made no mistake, selecting the 6-foot-2, 198-pound Sergachev out of Irbis Kazan in the MHL. While he only had eight points in 25 games, he won a European Youth Olympic Festival Gold Medal, an Under-17 Gold, and his overall play on the International stage showed he was the real deal. Scouts raved and Rychel wasn't taking any chances.
Fans were hesitant before the season and perhaps rightfully so. The Spitfires' track record with Imports was questionable-at-best. It didn't take long for that pessimism to fade, however, as Sergachev put up four points in his first four games and fans appreciated his unique style.
He had his ups-and-downs early in the season, but he gained confidence, consistency, and a bite in the second half, finishing with 57 points and 56 penalty minutes in 67 games. He was dedicated to his game, both on-and-off the ice, and loved interacting with fans. He became a star in the Rose City.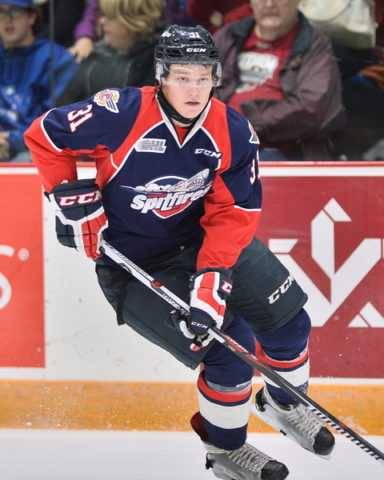 He earned a spot in the CHL Top Prospects game, on the OHL First All-Rookie Team, OHL First All-Star Team, and OHL Most Outstanding Defenceman. From his elite talent and off-ice dedication to his fan interaction, you couldn't have asked for much more from the rookie.
Battle Between OHL and Montreal Canadiens
When the 2016 NHL Draft got underway in Buffalo, NY, Sergachev was considered a first-round pick. With the ninth overall pick, the Montreal Canadiens scooped up the highly-touted defenceman.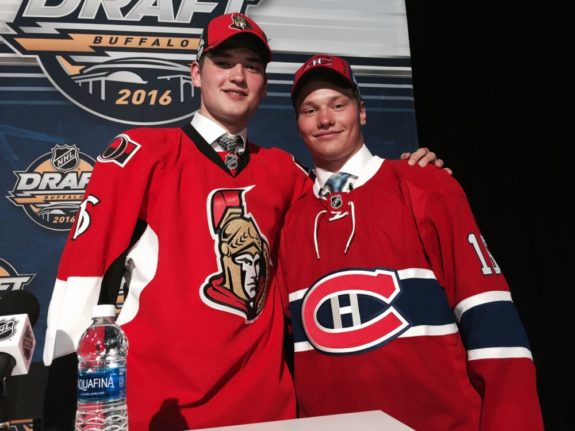 The Spitfires were hosting the 2017 Mastercard Memorial Cup, but Sergachev was going to be given every chance to make the NHL out of the Canadiens' training camp. A return to junior was not guaranteed.
The youngster spent his full nine-game allowance with the Canadiens. Despite being pointless in the four games he played, he showed he belonged. However, the team had other plans.
On Oct. 16, 2016, the City of Windsor let out a collective sigh of relief with the news that Sergachev was coming back. "(Sergachev) has a good attitude. He's a good kid. It will help him to play another year in the junior ranks," said Canadiens' GM Marc Bergevin at the time.
It was the ideal situation for the Spitfires. Once he readjusted, it was nearly impossible to stop him. He finished the season with 44 points in 50 regular-season games, and another four points in four Memorial Cup games, on route to the 2017 title.
However, just two weeks after the championship win, the young star's path changed. The Canadiens traded him to the Tampa Bay Lightning for former first-round pick Jonathan Drouin and a second-round pick in 2018. Lightning GM Steve Yzerman said he wanted a player like Sergachev and didn't hesitate to finalize a deal. "We made the trade because we were looking to acquire a defenseman," he said in 2017. "We wanted the type of game that Sergachev plays; an offensive defenseman, big, strong, good skater, moves the puck well."
Sergachev was already likely headed for the pros in 2017-18, but the trade confirmed it. He said goodbye to the OHL.
Home Sweet Home in Tampa
Getting traded is tough. Players want to prove their old team was wrong while showing the new club they made the right choice, and the pressure can take its toll. Sergachev has taken it all in stride. Being in the same locker room as veterans like Dan Girardi, Victor Hedman, and Ryan McDonaugh, he's had plenty of help adjusting to NHL life.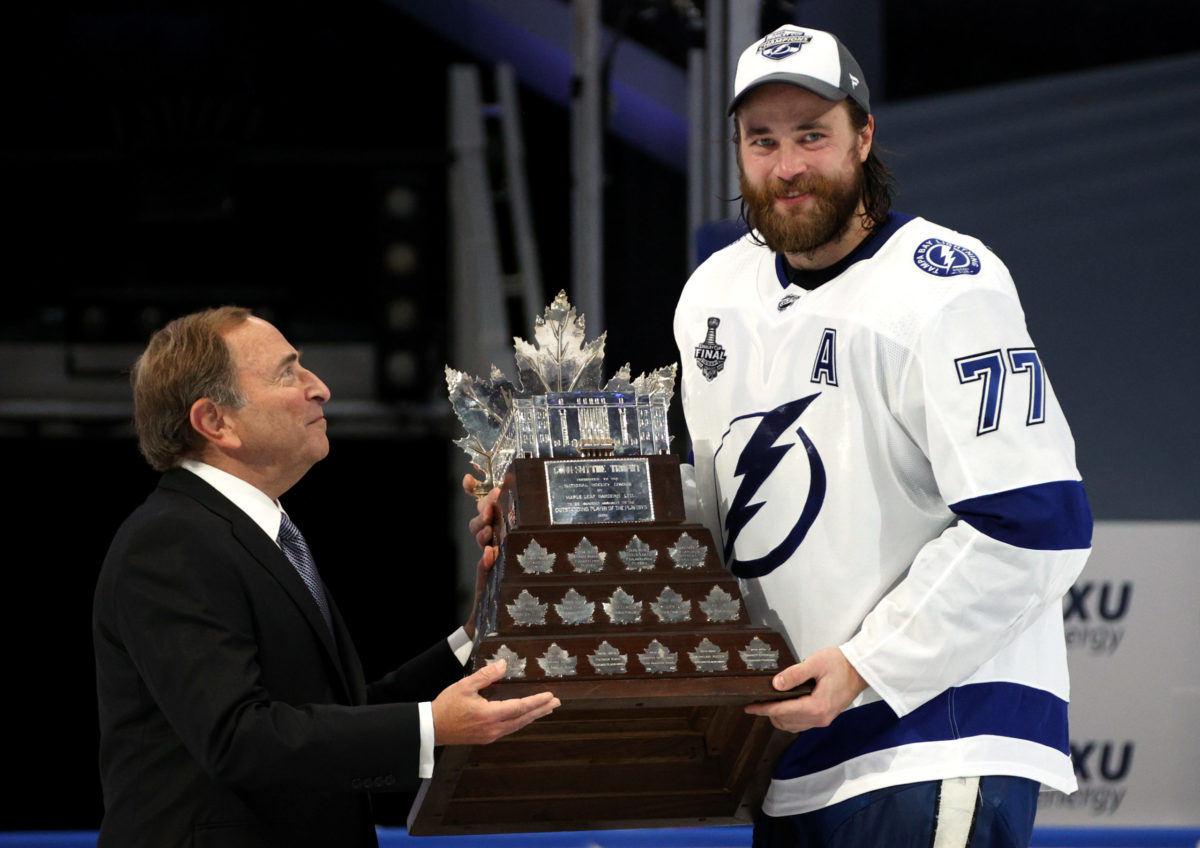 Fresh off the 2017 Memorial Cup win, Sergachev was ready to prove the Lightning right in 2017-18. Management showed some trust in him with an average of 15:22 time on ice and he responded with 40 points and a plus-11 rating in 79 games. It was an optimistic start.
In 2018-19, Sergachev was given more responsibility, adding over two-and-a-half minutes per game to his TOI. His confidence continued to grow, adding another 32 points in 70 games.
Last season, the Lightning upped his responsibilities, giving him over 20-minutes TOI (third on team behind Hedman and McDonagh). Sergachev responded with a career-high 10 goals and plus-15 rating in 70 games. He added another 10 points and 22:37 TOI in 25 playoff games on route to the 2020 Stanley Cup championship.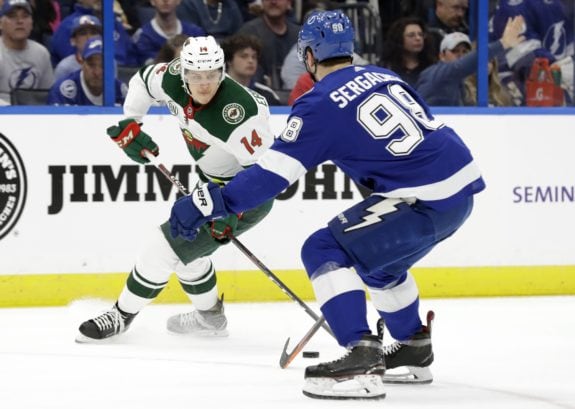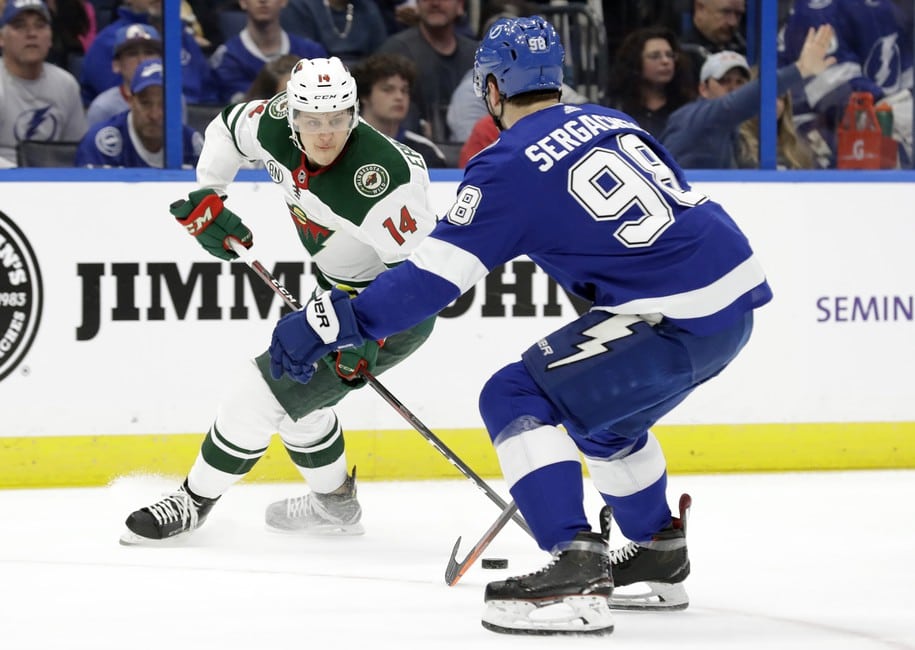 The Lightning coaching staff has continuously increased his TOI, little-by-little, since he arrived. There's a growing trust between the parties and he's become a player that they can use during important situations.
While Sergachev is a restricted free agent, the Lightning will likely do everything they can to make sure he stays in the black, blue, and white for a long time.
With a Memorial Cup and now Stanley Cup under his belt, at just 22, Sergachev's resume is already impressive. His journey is just getting started and he has barely left the driveway.
---
---