On March 20th, 2011 in a game against the New York Rangers, Matt Cooke delivered a cheap elbow to the head of Rangers defenseman Ryan McDonagh. Cooke was quickly suspended by the NHL for the remainder of the 2010-11 regular season and for the first round of the playoffs. Pittsburgh Penguins' general manager Ray Shero and co-owner Mario Lemieux sat Cooke down and gave him an ultimatum. They told Cooke to change his game or he would no longer be throwing on a Penguins' sweater.
This was the fifth time Cooke was suspended by the league for an illegal infraction. He always played the game with an edge and no opponent ever knew when Cooke was going to cross the line during a game. Cooke is infamous for ending the career of Boston Bruins forward Marc Savard. There's no question Cooke was dirty player. He probably deserved more disciplinary action than he ever received from the league.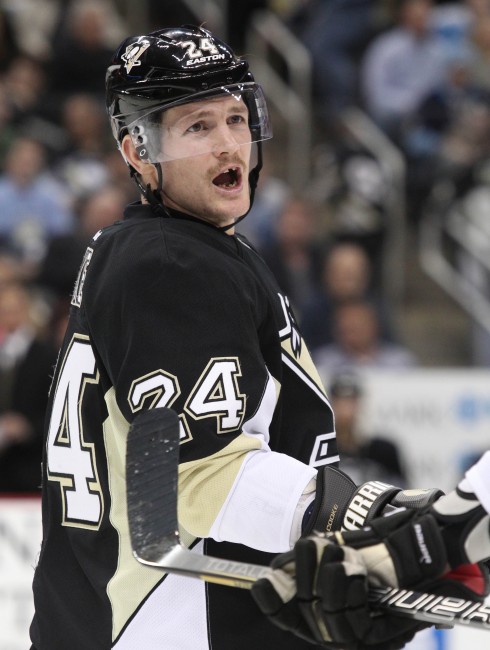 Following his hit on McDonagh, Cooke stated in a Pittsburgh Post-Gazette article, ""I realize and understand, more so now than ever, that I need to change. That's what I wanted my message to be. I'm fortunate that Ryan McDonagh wasn't hurt. I don't want to hurt anybody. That's not my intention. I know that I can be better. I made a mistake, and I'm the one who's accountable for that. And I take full responsibility for it."
Cooke apologized following other cheap or illegal hits that he dished out leading up to the McDonagh incident. There was no reason to think he was going to change since the transition of a cleaner game had never taken place for Cooke. Despite the pattern of reoccurring incidents, and the tough love handed out by Pens' management after the McDonagh hit, the Pens' front office did want to help Cooke change his game.
Regardless of what you, Mike Milbury, Eugene Melnyk or a journalist named Don Brennan who writes about his own package thinks, Matt Cooke's game has completely changed for the better. There is no debating this point. The three aforementioned names have continuously accused Cooke of being a goon or have tried to pick fights with Cooke in the media.  These three men constantly throw out contradicting quotes and stories in an attempt to show Cooke is the same player as he was three years ago.
Mike Milbury
In a segment on NBC last Saturday, Milbury said of Cooke, "He's a skunk, a freaking skunk and I think someone needs to set him straight." Milbury gets on Cooke for being a dirty player but wants someone to "goon-it-up" and exact revenge upon Cooke. Instead of Milbury giving Cooke credit for the way Cooke has changed his game, Milbury will always consider Cooke a cheap-shot artist. It is a shame that NBC continues to allow Milbury to degrade players in the league. The NFL commentators on NBC don't single out and criticize football players nearly as often as Milbury does to NHL player. Why does NBC support what Milbury says about NHL players? Milbury has a goon track record himself and he has been forgiven for his dirty actions by NBC. When a player like Cooke makes a valiant effort to improve his game, Milbury should commend Cooke for his cleaner play.
Eugene Melnyk
If any other player on the Pens sliced Erik Karlsson's Achilles tendon, this issue would be over. As Pittsburgh Tribune-Review Sports Columnist, Dejan Kovacevic put it, "No one directly accuses Matt Cooke of anything other than being Matt Cooke." Melnyk is the number one culprit in this category. Melnyk is convinced that Cooke is still dirty and intended to slice Karlsson's Achilles tendon. Melnyk is so sure that Cooke intended this dirty action that Melnyk ordered a forensic investigation to prove it. We are still anxiously waiting for the results to be released to the public. Please let me know when they're out.  This was an unfortunate incident. But if you have ever played hockey, you know how hard it would be to take your skate blade and slice an Achilles tendon during play. Karlsson is back in action so Melnyk needs to get over the Cooke saga. The Sens' owner needs to forgive Cooke and face that he's a cleaner player now. Surely Melnyk has sought forgiveness as he has been guilty of his own legal problems in the past.
Don Brennan
To top off the Cooke bashing, Ottawa Sun writer Don Brennan wrote a column calling out Cooke. Brennan is trying to keep the fire burning longer than needed in Ottawa. In the article, Brennan talks about an altercation he had with Cooke. This is something that the Ottawa Sun never should have printed. Instead of reporting hockey, Brennan is calling attention to himself in the article. I don't want to hear why Matt Cooke is so interested in Don Brennan's package. Brennan is guilty of an attempt to cause conflict. When writing about the Achilles tendon incident in the same piece, Brennan can't decide whether Cooke acted purposely but does want to convince readers that Cooke is a goon. Brennan is trying to make Cooke look dirty and ignorant without having sufficient evidence.
"Again, I don't think he was aiming for Karlsson's Achilles, but I've watched the replay many times and I'm convinced he was either trying to hurt the Senators best player or he was being careless enough with his boot blade to warrant a suspension."
If Cooke wasn't aiming for Karlsson's Achilles, then what was he aiming for and what warrants a suspension? I don't think Cooke was trying to slice off Karlsson's leg. Cooke was trying to gain his balance and put his skate blade on the ice.
A New Cooke
The Matt Cooke haters need to move forward, if not apologize to Cooke. The man has changed his game. While people love to show every controversial play involving Cooke, no one shows when he takes sucker punches from Chris Neil and doesn't retaliate. No one shows the replay where Cooke let up on Drew Stafford when Cooke could've ended Stafford's career. Cooke no longer goes out of his way to try to injure players when the opportunity presents itself.
Unlike the accusations that Cooke is still a goon, his statistics prove something different. Cooke averaged 100 penalty minutes per season until last year when he only accumulated 44 penalty minutes. This season Cooke has only been penalized for 36 minutes. Cooke's dedication to improve the way that he plays has not gone unnoticed by everyone. In 2011-12 season, Cooke was nominated by the Pittsburgh chapter of the Professional Hockey Writers Association for the Bill Masterton Award. This award is given "to the player who best exemplifies the qualities of perseverance, sportsmanship and dedication to hockey." This season Cooke was awarded the Edward J. DeBartolo "Community Service" Award by the Pittsburgh Penguins.
Justin Glock has covered the Pittsburgh Penguins for The Hockey Writers since 2011. As a lead writer, his Penguins knowledge traces back over two decades. For any requests, please feel free to contact Justin via email: JGlock10@gmail.com.