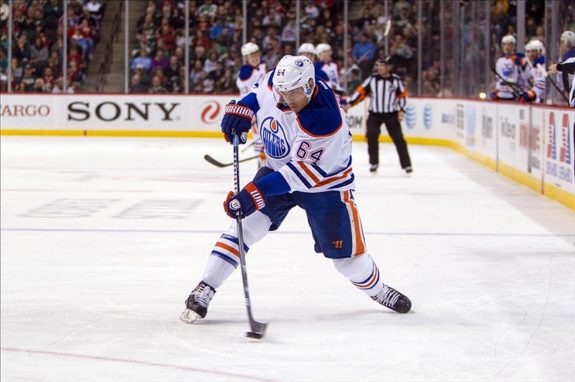 Nail Yakupov closed out 2013 with a bang. The 2012 first overall pick scored a third period hat trick in game 48 to finish out the Oilers season with a 7-2 victory over the Vancouver Canucks.
The hat trick was the first of the young Russian dynamo's career and very likely not the last. He finished the season with 17 goals and 31 points, both of which lead all NHL rookies. His 17 goals are two more than Montreal's Brendan Gallagher and he shares the points lead with Florida's Jonathan Huberdeau, who also had a three point final game to maintain a share of the lead.
There hasn't been a clear cut Calder Trophy favourite for most of the season, with Huberdeau perhaps being the closest thing. Even so Yakupov was not considered among the top contenders along most of the way as he struggled early.
The month of April has certainly changed that. Since April 1st Yakupov has 11 goals and 15 points in 14 games played. More importantly for the Oilers he started displaying the confidence and swagger to his game that everyone had been so accustomed to seeing from the young sniper when he was drafted.
Earlier in the season he looked somewhat lost and unsure of what his role was. Always used to being the go to guy and a frontline star, he often found himself on the third and fourth lines and playing alongside checkers and grinders.
Something clicked in the second half and not only did Yakupov regain his confidence, but he got back the aggressiveness in his game, was more engaged physically and was winning far more puck battles. He also showed a better commitment to defense, and while that side of his game is still a work in progress, it is improving.
This year's Calder race is wide open, which isn't to say there aren't  a number of viable candidates. Yakupov, Huberdeau and Gallagher are three of the frontrunners, but are not the only ones.
Forwards Cory Conacher of Ottawa, Brandon Saad of Chicago and Gallagher's Habs mate Alex Galchenyuk will also warrant some consideration.
There are also defencemen who have had excellent freshman campaign's that have garnered notice. Oilers Justin Schultz, who was one of the early favourites has trailed off in the second half but has still had a very good year.
Minnesota's Jonas Brodin and the Kings Jake Muzzin have also arrived on the scene and been integral parts to their team's playoff runs.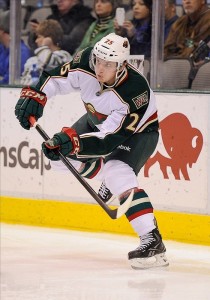 There are not only arguments to be made for the eventual winner, but even just who the three nominees will be.
Candidates such as Huberdeau, Yakupov and Schultz certainly have the numbers to be favoured, but lack team success, evidenced by their low minus ratings.
Jonas Brodin may not have the stats behind him, but he has been one of the more impressive rookies, logging the most minutes among first year players, while playing on the Wild top pairing with Ryan Suter and looking like a ten year veteran.
Brandon Saad has been impressive and leads with a +17 and has looked very comfortable on the Hawks top line with Jonathan Toews and Marian Hossa.
Habs teammates Galchenyuk and Gallagher and the Sens Conacher have played more limited minutes but have been key figures in their team's success this season.
All candidates have put forth a compelling case and it will be hard to argue with whoever the nominees end up being, but none may have made a better case over the last month than Yakupov. While his hat trick and last few games have come with the Oilers out of contention, many of his best games came when the team was still fighting for the 8th spot. On many of those nights he was the Oilers best player when it mattered.
Regardless whether his name is called to the podium or not, the Oilers have seen the player they hoped they were getting when they called his name first overall. Yakupov has showed that even if he is not named top rookie, he is still the most explosive and dynamic of the group, a great sign going forward for the Oilers.