The National Hockey League has seen a number of milestones already this season. Some are individual marks set by players pushing to leave their mark on the league while others are franchise and all-time milestones by players who've set the tone for a new generation of players yet to come.
But the past few days were filled with all types of NHL milestones. From goals to points and onto the goaltenders and their wins, it's been a big start to the new year when it comes to setting new milestones.
The Washington 500
One of the earlier milestone marks in 2017 went to Nicklas Backstrom of the Washington Capitals. The 29-year-old broke into the NHL in 2007-08 with the Capitals and hasn't looked back since.
In his rookie season, Backstrom scored 14 goals and 69 points in 82 games. Little did anyone know at the time, but his 55 assists in year one would soon turn into almost 10 times that in less than 10 years.
Now, after nearly a decade in the NHL including a shortened season in 2012-13, Backstrom has reached the 500-assist milestone. The feat makes the Swedish forward just the 139th player in NHL history to reach the milestone and the 13th active player with that many assists (along with Ryan Getzlaf, Henrik Zetterberg, Shane Doan, Mike Ribeiro, Patrick Marleau, Marian Hossa, Daniel Sedin, Sidney Crosby, Jarome Iginla, Henrik Sedin, Joe Thornton and Jaromir Jagr).
What Better Way to Reach 400
Along with the players, coaches have their own milestones to reach. On Saturday, Montreal Canadiens' coach Michel Therrien recorded his 400th win as an NHL coach and it came against the rival Toronto Maple Leafs.
The win makes Therrien the 35th coach to reach 400 and he becomes the 14th active coach with 400 wins. Now, the Montreal bench boss sits just two wins behind Punch Imlach (402) and nine back of former Habs' coach Jacques Demers (409).
Therrien also sits fourth in franchise history in coaching wins – 154 behind Scotty Bowman, 166 behind Dick Irvin and 235 behind the franchise leader Toe Blake.
Keith Catches Chris
On Sunday, it was a Blackhawks defenceman's turn to notch a franchise milestone. Duncan Keith, who's spent his entire 12-year career with the Blackhawks, reached a franchise mark against the Nashville Predators when he recorded his 487th point assisting on Niklas Hjalmarsson's first period goal.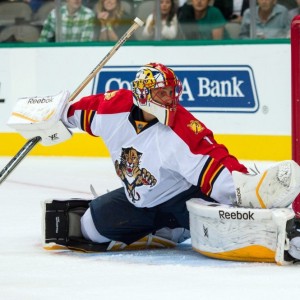 His 487 points in a Blackhawks uniform tied him for third on the franchises all-time list for defenceman with long-time Chicago blue liner Chris Chelios. He sits just 27 points behind Bob Murray for second on the list and a whopping 292 points behind Doug Wilson for first among Blackhawks' defensemen.
Luongo Spells His Name With W's
On Monday, the milestones continued to roll in with Roberto Luongo cementing his spot among the best goaltenders to ever play in the NHL with a win over the New Jersey Devils.
The Panthers goaltender made 28 saves and earned a 3-0 shutout victory to record his 448 career win. Over 17 seasons in the NHL, Luongo has notched 20 wins 12 times, 30 wins eight times and hit the 40-win plateau twice. This season he sits just eight wins shy of the 20-win mark once again.
His 448th win passed Hall of Famer Terry Sawchuk for fifth on the NHL's all-time list – just six behind Curtis Joseph (454). Luongo reached the mark in 953 career games where as Sawchuk took 971 to reach 447 wins. Needless to say, even without a Stanley Cup to his name, could Luongo eventually find his name in the Hall of Fame as well?
Anze Antes Up on The Great One
Los Angeles also saw a milestone reached on Monday and it involved Wayne Gretzky – believe it or not. While it took Anze Kopitar 800 games to reach the mark, on Monday he scored his 247th career goal and 247th in a Kings uniform.
While Gretzky was able to reach 246 goals in just 539 games with the Kings, the feat of passing The Great One is still an impressive one for the current captain of Los Angeles. While he still has a way to go to reach Luc Robitaille's franchise record (557).
Tying the Rocket in Montreal
For Alexander Ovechkin, it marked his 544th career goal in the NHL and 999th point. Now some would think that reaching 1,000 points would be the milestone everyone is waiting for. After all, only 83 players have reached that plateau in the history of the game.
However, it was his goal that meant most on Monday when the Caps took on the Canadiens in Montreal. The goal tied him for 29th on the NHL's all-time list and with none other than former Canadiens' great Maurice 'Rocket' Richard.
The tally earned Ovechkin a respectful tap on the shins from current Habs goaltender Carey Price and deservedly so. While you can't really compare the two players, it took Richard 99 more games to reach 544 goals, while Ovechkin did it in 879.
It makes sense that this would take place at some point during the Russian's career. After all, he's a six-time Maurice Richard Trophy winner and has won four consecutive awards dating back to 2012-13.
While this surely won't be the end of the milestone rush in the NHL this season – especially with Ovechkin sitting at 999 career points – those mentioned above clearly demonstrate the skill of today's players.