Highland Park, IL (July 2, 2014) – Although the Blackhawks seemed to solve Ryan Miller this past Stanley Cup playoffs, there is no doubt that Blackhawks fans are glad to see the former all-star, Vezina-winner, and Olympic silver medalist out of the Central Division. Miller signed a three-year deal worth $18 million with the Vancouver Canucks on the opening day of free agency after being acquired by St. Louis last season in a blockbuster trade deadline deal with Buffalo. However, Blackhawks fans should not get too ahead of themselves. Veteran Brian Elliott has proven to be a serviceable goaltender in the past, posting a 116-77-23 career record and a 2.48 goals against average. Elliott and current Islander Jaroslav Halak won the Jennings Trophy as the league's best goaltending tandem while with the Blues in 2011-12. Resigning Elliott to a three-year, $7.5 million deal back in mid-May effectively ended Ryan Miller's time in St. Louis.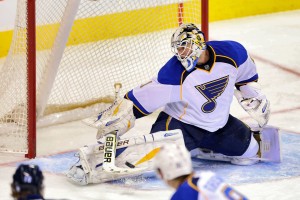 Elliott will give a rising Blues team a veteran presence in net and will be used as a strong transition to the up-and-coming Jake Allen, who is coming off a terrific season with the Blues AHL affiliate in Chicago. Allen was named the most outstanding goaltender in the American Hockey League last year en route to backstopping the Wolves to a Midwest Division title. The 23-year-old second round pick of the Blues in 2008 compiled a 33-16-3 record last season with a goals against average of 2.03 and seven shutouts. Allen utilizes his large frame, has terrific positioning, and handles the puck well behind the net.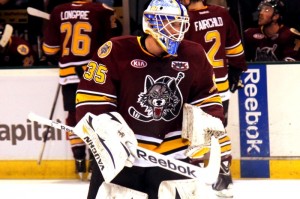 In addition, the Blues boast a terrific prospect in Jordan Binnington, the main goaltender for St. Louis' ECHL affiliate in Kalamazoo. Binnington also picked up one win for the Wolves in limited action. The 20-year-old Canadian is expected to split time with Matt Climie next year in net for Chicago.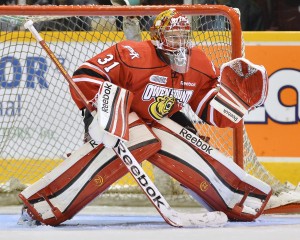 In the end, St. Louis manages to give way to their goaltender of the future in Allen while also holding onto the experience piece with the 29-year-old Elliott.
"I don't think he's too worried," said Allen's teammate Shane Harper after a Wolves game last season. "I think the guy is the best goalie in the American Hockey League." In fact, some would argue that Harper could change that "is" to a "was" as Allen has a legitimate shot to beat out Elliott for the starting job next year if he can even have half the season he did last year in Chicago.
Although Blackhawks fans were glad to see Miller did not work out as the missing piece to a Stanley Cup in St. Louis, Chicago will still have to lots of work to do to light the lamp against the Blues.