The Nashville Predators kick off their 2014 Development Camp Monday, July 7 lasting through Saturday, July 12. This camp will be a different experience for the 33 prospects attending. While Centennial Sportsplex, the practice site of the Predators, is under renovation, on-ice sessions will be held at Bridgestone Arena. The sessions will be held at 7:30 am-11 am  Tuesday; 9 am-12:15 pm Wednesday; 9 am-12:15 pm Friday; and conclude with a scrimmage from 3:30 pm – 5 pm Saturday.
Of the 7 2014 draft picks, defenseman Jack Dougherty is the only one not attending camp. Nashville has invited forward Frederick Gaudreau, defenseman Jimmy Oligny, and goaltender Devin Williams. Gaudreau and Oligny will play for the Milwaukee Admirals next season.
DOWNLOAD THE DEVELOPMENT CAMP ROSTER
From the Predators' press release:
The purpose of the camp is to educate and direct players in their pro development and conditioning programs, and the week's events will be presided over by Predators Director of Player Development Scott Nichol and Strength and Conditioning Coach David Good, with assistance from the rest of the Nashville Predators and Milwaukee Admirals (AHL Affiliate) coaching and hockey operations staffs. The scheduled training regimen includes a variety of on- and off-ice testing, dry-land activities and workouts, on-ice fundamentals work, video sessions, media and nutrition education, and team-building activities. The players will also receive instruction on training principles such as sport-specific power and strength enhancement, flexibility and off-ice conditioning.
33 players will attend, but below are the top 5 to watch.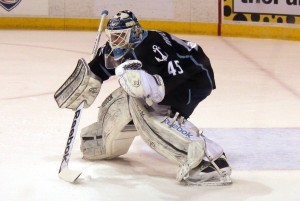 5. Magnus Hellberg
There is a stiff competition for playing time in Milwaukee. While Pekka Rinne and Carter Hutton have earned the right to call the NHL home, Magnus Hellberg and Marek Mazanec are battling for the 3rd spot on the goaltending depth chart. As it stands, Mazanec has gained favor from Poile.
Janne Juvonen is another goaltender to look out for in a couple years. Juvonen is rapidly developing and will play for Lahti in the Sm-Liiga next season.
Without a doubt, Hellberg, 23, has to be better in order to get anywhere in the League. There have been questions with the Uppsala, Sweden native's conditioning in the past. If Hellberg's fitness improves, his 6'5, 190lbs frame becomes extremely hard to score on.
Hellberg spent the majority of last season in Milwaukee, earning a 2.82 goals against average and .911 save percentage, but also spent time with Cincinnati in the ECHL. Hellberg appeared in one match for the Predators on October 26, 2013. He stopped 3 of 4 shots in a relief appearance during against the St. Louis Blues.
4. Filip Forsberg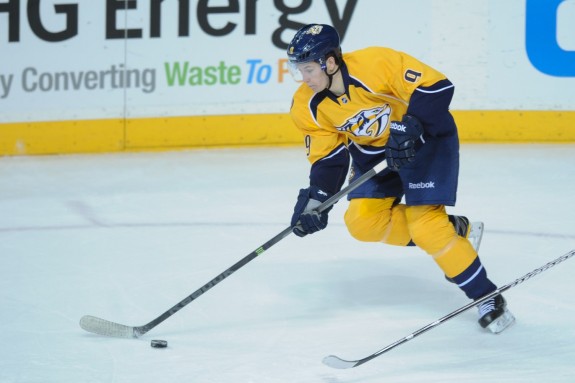 Ever since being acquired via trade from the Washington Capitals, many have donned Filip Forsberg as the next elite forward in the League. Forsberg, 19, will be competing for a permanent spot in the Nashville lineup at training camp later this summer and will likely earn one as a winger, despite being a natural center. Last season, Forsberg played 13 games with the Predators before suffering an injury that kept him away from the ice until the World Juniors. In the 13, he posted 1 goal, 4 assists. After captaining  Team Sweden at the WJC, Forsberg played 47 games in Milwaukee, totaling 15 goals, 19 assists.
The expectations are high for Forsberg and it is time for him to fulfill him. With head coach Peter Laviolette bringing an offensively focused system to the Predators, Forsberg could thrive and potentially be a 20-goal scorer.
3. Jonathan-Ismael Diaby
Jonathan-Ismael Diaby is touted as the next emerging defenseman in the Predators' pipeline. Diaby, 19, was drafted 64th overall in 2013 by Nashville. Last season, the Blainville, Quebec native spent his second year as assistant captain of the Victoriaville Tigres in the QMJHL. Diaby played in 38 games scoring 28 points (9 g, 19 a) and racking up 80 penalty minutes. After the season ended, Diaby was sent to Milwaukee to begin his pro career. The 6'4, 225lbs tough guy appeared in 4 games. Diaby will play in Milwaukee next season.
2. Kevin Fiala
Kevin Fiala's busy summer will continue when he arrives in the Music City for the first time in his young career. Fiala, 17, was drafted 11th overall by the Predators last week in Philadelphia. The St. Gallen, Switzerland native represented his country at the U2o WJC and World Championships. Fiala already has a taste of the organization, having played with Simon Moser and Roman Josi in Minsk, but will have a better feel after getting to know the city, coaches and management. Last season, Fiala played with men in the Swedish Hockey League for HV71, posting 11 points (3 g, 8 a) in 17 matches. Fiala, 5'10, 181lbs, will return to HV71 next year.
Many scouts say Fiala's game is similar to the likes of Patrick Kane. His natural offensive abilities and scoring touch is a refreshing asset in the Nashville organization.
1. Colton Sissons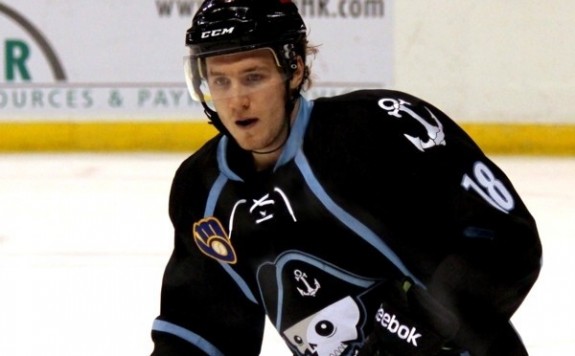 GM David Poile has already stated that Colton Sissons will be competing for a roster spot this training camp. On the current roster, Nashville is shallow at natural right-wingers. Sissons, a 6'1, 190lbs right-winger, will have a good shot at being a bottom-6 winger to begin the year. But in order for that to happen, Sissons will have to put in the work at development camp and build from there.
Sissons, 20, played 17 games in Nashville last season scoring 4 points (1 g, 3 a) and 62 in Milwaukee totaling 44 (25 g, 19 a). It is safe to say the 2012 50th overall pick is developing nicely in the system and will be exciting to watch in the future.