After a few months of searching, the Washington Capitals and Hershey Bears announced that Troy Mann will lead their AHL club for the 2014-15 season. Mann spent last season as the head coach of the Bakersfield Condors in the ECHL, leading them to the Kelly Cup Finals where they fell to the Alaska Aces.
"Troy has a wide range of coaching experience and he understands the importance of developing, teaching and leading our young players to success," Capitals first year General Manager Brian MacLellan said in the team press release. "We feel Troy is ready for the next step in his coaching career and are very pleased to welcome him back to Hershey."
Troy Mann named 25th head coach in Bears history, Bryan Helmer named assistant coach. #HBH #Caps #AHL pic.twitter.com/5sGRGKvIH1

— Scott Stuccio (@ScottStuccio) July 2, 2014
Former Hershey Bears defenseman Bryan Helmer will join Mann on the Bears' bench as an assistant coach, following a third place finish in the Ontario Hockey League (OHL) as an assistant with the Peterborough Petes. The club finished with a 32-30-0-6 record and Helmer helped guide potential NHL players such as Anaheim first round pick Nick Ritchie this past season, who was selected tenth overall last Friday in Philadelphia by the Ducks.
Helmer: "It's almost like coming back home. It's going to be fun."

— Tim Leone (@timleone) July 2, 2014
"Bryan Helmer is without a doubt a future Hall-of-Famer," Bears President-General Manager Yingst said in the Hershey Bears press release.  "He was a winner on the ice in both of his years here in Hershey, and I knew that he would become a very successful coach.  I am proud to give Bryan the opportunity to continue his coaching career and to help Troy guide our team back to the championship form it had when he played."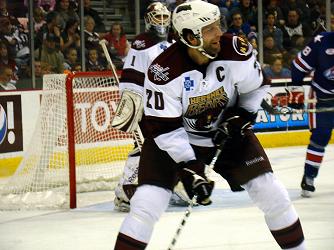 The 41 year old former blue liner is all but a sure lock to reach the AHL hall of fame. Helmer compiled 564 points in 1,117 career American Hockey League contests, the most in league history by a defenseman. He played 20 seasons throughout his career including stints with Hershey, the Albany River Rats, Worcester IceCats, Manitoba Moose, Springfield Falcons, San Antonio Rampage and the Grand Rapids Griffins.
He also played in 146 NHL games with Phoenix, St. Louis, Vancouver and Washington. Helmer totaled 26 career points in the highest level of hockey.
Mann, 44, is set to begin his fifth season in Hershey. He spent four seasons with recently hired Calgary Hitmen (WHL) head coach Mark French, who led the Bears to a Calder Cup championship and a 60 win season alongside Mann during the 2009-10 campaign. Under French and Mann, the Bears never lost more than 31 games in a season and won at least 36 games each year.
"Once again the Hershey Bears had an abundance of outstanding candidates interested in guiding the Hockey Club," Yingst said.  "After a successful return to the head coaching role last season, and after four proven years here, I am thrilled to welcome Troy Mann back to Hershey."
Below are the career stats for the next Bears coach as a player.
Mann is the 25th head coach in Bears history and will be the third coach over the last three seasons. He replaces Mike Haviland, who departed the organization earlier this summer to coach at Colorado College. The duo of Helmer and Mann will seek to develop young players to the NHL ranks including Capitals prospects Garrett Mitchell, Caleb Herbert, Nate Schmidt, Tomas Kundratek, Philipp Grubauer and Stanislav Galiev.
Related Information
Tim Leone's interview with the newly hired Bears coach [Patriot News]
Joel Rechlicz signed an NHL contract with the Minnesota Wild on Wednesday
Former Bears forward Andrew Gordon signed a two-way contract with Philadelphia
Matthew Speck covers the Washington Capitals organization for The Hockey Writers. He provides coverage of both Washington at the NHL level and prospect related content. Matthew also covers local sports for the Lebanon Daily News in Central Pennsylvania. You can email him at mspeck21@yahoo.com with any questions or comments.