The adage the early bird gets the worm proved to be true for the St. Louis Blues on Tuesday.
Paul Stastny stressed to the Blues' website how important it was that the Blues camp contacted the free-agent center early in contract discussions, rather than wait to see what other teams would offer him.
"It's almost like you're a college recruit," Stastny said on Tuesday. "Those first couple teams that go after you obviously have the most interest, and then obviously once other teams find out, other teams are interested and those teams come in later.
"[The Blues] were one of those early teams, and there was quite a few of those teams. Obviously that plays a big factor because you don't want to go somewhere where they come in late. I think you want a place where you're wanted. I think the Blues really showed that."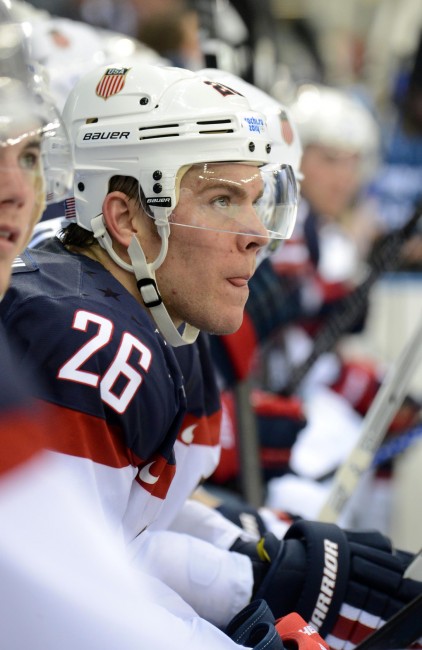 The result was a four-year, $28 million contract that was agreed upon by both parties. Stastny, now a former member of the Colorado Avalanche, is slated to fit on the team's top line with a mix of wingers lobbying to play with the St. Louis native.
Stastny not only adds the No. 1 center presence that the Blues desperately needed. He brings a lot more to the table than crafty stick work and a presence behind the opposing team's net.
Organizational depth
"We're not your normally defined first, second, third line. We're more of a group of nine forwards and I think our group of nine forwards is stronger than it was."
–Blues GM Doug Armstrong after signing Stastny
Blending in Stastny with the sometimes-erratic Blues offense allows for many changes within the forward group. His skillset now completes a top-six unit that rivals most of the other teams in the Central Division.

Not only has this signing allowed the Blues to appear more menacing on paper, it also provides head coach Ken Hitchcock more wiggle room in developing lines. David Backes, who scored his career-high 31 goals and 62 points while playing on right wing (2010-11), now has the option to move back to his natural position.
"I see a scenario where Paul plays with [Alexander] Steen and Backes," GM Doug Armstrong said on Tuesday. "That gives us quite a bit of strength on the wing, [and] the size with Backes. And then you have [Patrik] Berglund with [Vladimir] Sobotka and maybe [T.J.] Oshie as another line. [Jori] Lehtera has a history with [Vladimir] Tarasenko from the KHL."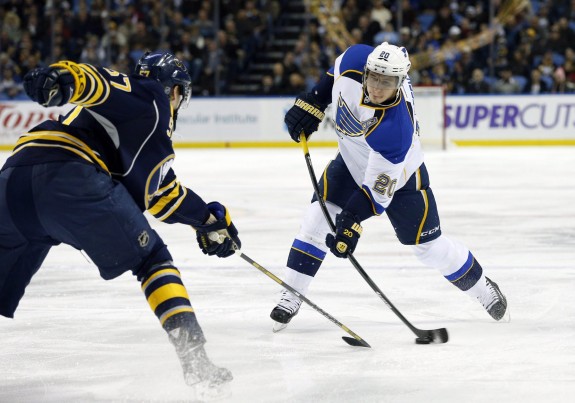 Without taking a second look, you can see this lineup will threaten more often than what the team rolled out at the beginning of last season.

[See related: Signings of Stastny, Lehtera Bolster Blues Offense]
Playoff performer
"We need that killer instinct, we need to be able to when you have a team down 2-0, you need to take the knife and jam it through their eye into their brain and kill them. We don't do that."
–Blues GM Doug Armstrong after the Blues' first-round loss in the 2014 Stanley Cup playoffs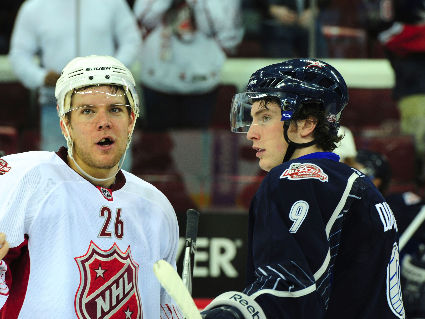 Stastny has only appeared in four playoff series in his career — the Avalanche's record in that time is 1-3 — but that isn't to say that Stastny didn't give it his all.
The 28-year old has accumulated eight goals and 18 points in 22 playoff contests. His last postseason, a seven-game loss to the Minnesota Wild, stood out the most. Stastny recorded five goals and five assists, to go along with an NHL-first game-tying goal with under 15 seconds remaining (13.4 ticks remaining, to be exact), before adding the game-winning goal (at 7:27 of overtime) in the same game.
Top regular-season producers Backes and Oshie have been the subjects of scrutiny in terms of production in the postseason (eight combined goals in 47 total games). Throwing Stastny in the shuffle could be that extra boost that the roster needs to become as much a powerhouse in the playoffs as it is in the regular season.
Boost from the home fans
"Paul took less money and years to sign with St. Louis because it is his hometown and the team is a (Stanley) Cup contender."
–Stastny's agent, Matt Keator, said after the signing
The Blues experimented with bringing in St. Louis natives during the 2007-08 season. Tough-guy Cam Janssen and grinder Yan Stastny, Paul's brother, donned the Blue and Yellow as members of the team's fourth line. In 215 total games, the two St. Louisans contributed seven goals, 12 assists and an amount of penalty minutes that would need NASA to calculate.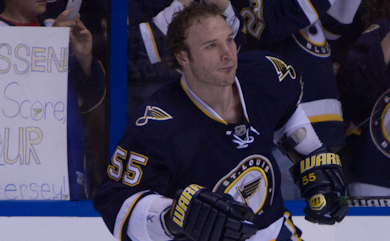 The two natives certainly were not brought in for point production. It was to fill the arena, which, in hindsight, seemed to work. Management saw a spike in attendance from 2007-08 to 2008-09 (Janssen's and Stastny's first full season with St. Louis), going from an average attendance of 17,610 to 18,554. Of course, the improvement of the young club played a factor, too.
Now, the Blues can add skill to the hometown favorite. The fact that Stastny went to Chaminade College Preparatory School off Lindbergh Boulevard is just icing on the cake; he was brought in for his tremendous skill and ability to lead an offense. Although he was adopted as a Denver resident, there will be nothing quite like playing for the team for which he grew up rooting.
Stastny weighed his options and picked what he thought would be his best fit. He couldn't do it himself, though. Yan and father Peter, both former Blues players, were involved in the process.
"I was all ears during this process, I always listen to what they have to say," Paul said in his conference call on Tuesday. "In the end it's my decision and I think they're both excited. Family still lives in St. Louis. They think it's a good decision."
The Blues certainly showed their interest as soon as Stastny was available to talk with other teams, but it's a relationship that has been building since his father played for the same team in the mid-1990s. When Armstrong picked up the phone, it was the last step to complete the Stastny trifecta in the Gateway City.