MINNEAPOLIS — The loss of Amanda Kessel and Hannah Brandt might be the biggest offseason loss for any women's college hockey team this year. But the Gopher offense doesn't appear to be in trouble. The top line of Dani Cameranesi, Kelly Pannek and Sarah Potomak may be the best line in the WCHA through the season's first month.
Though coach Brad Frost started the season with this trio separated, trying to roll three potent offensive lines, he wasn't getting as much offense from the team as they should be capable of. He moved Potomak to the top line to join Pannek and Cameranesi and they've been an unstoppable force since.
Following a dominant sweep of Minnesota State this weekend, the trio are tied at 22 points apiece. That puts them in a three-way tie for the most points in the nation, with Colgate's Jessie Eldridge the closest to catching them three points back.
#WCHA Offensive Player of the Week, Kelly Pannek: NCAA-best 8 pts (2g, 6a); +5; short-handed GWG Sat in sweep for No. 2 @GopherWHockey pic.twitter.com/jXU4tDSEvw

— WCHA Women's Hockey (@WCHA_WHockey) November 8, 2016
Additionally, Potomak's five game-winning goals, Cameranesi's 12 goals, and Pannek's 17 assists are all the top marks in the nation in those categories.
"We have really good chemistry going," said Cameranesi on Friday. Though, she credits the team's other lines for much of her line's success. "A lot of the time, it's actually from the line that was just on before us. They're creating the energy and they're keeping the puck in the zone and getting the other team tired. I don't think it's just our line."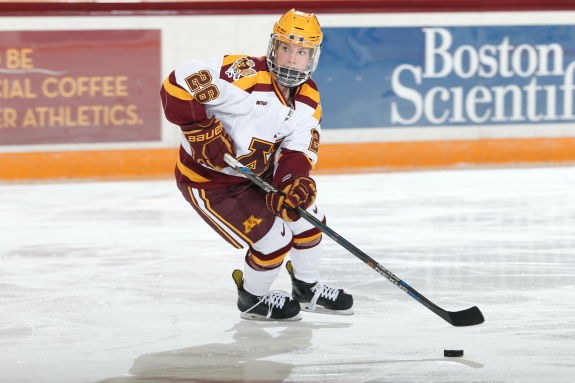 All Three Zones
Their offensive totals are staggering and there's an endless parade of stats that outline just how good they've been. Cameranesi and Pannek lead the WCHA in power-play points and Cameranesi's 61 shots leads the WCHA as well (though Duluth's Lara Stalder edges her with 5.6 shots per game).
But a huge part of what they're doing right is their defensive play. "They read off each other so well and certainly they're gifted offensively but defensively, their back pressure is as good as anybody's in the country," said coach Frost following this Friday's win, in which Cameranesi scored a natural hat trick. "Dani's third goal is the result of two good backchecks… It's fun to watch those guys."
The top five plus/minus marks in the WCHA are currently all Gophers, with this line taking three of those spots. (The other two are defensemen Patti Marshall and Sydney Baldwin.) Potomak has been on the ice for just two even-strength goals against, while Pannek and Cameranesi have only been out for four each.
These three aren't just immensely creative with the puck, putting together highlight-reel goals every game, they're a sound trio at both ends of the ice. They're taking responsibility in all situations and in all three zones, exhibiting dominant possession and making it hard to establish a forecheck.
Women's Hockey: Perhaps the top individual performance tonight came from Minnesota's @DaniCam9, who had a hat trick – here are her top two. pic.twitter.com/5mMVVZXM88

— NCAA Ice Hockey (@NCAAIceHockey) November 5, 2016
Coming Challenges
Their points lead has been aided by a couple weeks of high-scoring games. But the Gophers are about to face some of their toughest challenges of the season in a run of contests that pits them against the WCHA's best from now through the end of December.
With so much of the Gophers' goal-scoring concentrated on the top line, they'll have an interesting battle against teams who are more evenly distributing their scoring, like the top-ranked Wisconsin Badgers.
For the Gophers, the Cameranesi-Pannek-Potomak line has 27 of the teams 45 goals and 66 of the team's 122 points. By comparison, the Badgers' highest scoring line of Sarah Nurse, Presley Norby and Sydney McKibbon account for 17 of 27 goals and 42 of 117 points. (Though it's worth noting that their forward group has been shuffled around a little more with both Annie Pankowski and Sam Cogan not being present for every game.)
It takes nothing away from how outstanding the Gophers top line has been, but the pressure will be on the whole team to take some of the scoring burden off their shoulders as the Gophers take on North Dakota, Bemidji State, Wisconsin and Boston University in their next four series prior to the holiday break. But there are positive signs everywhere with Lee Stecklein about to return from the Four Nations Cup, Nicole Schammel scoring her first two goals of the weekend, and freshmen Alex Woken and Lindsay Agnew looking increasingly comfortable.
The next few weeks will be a telling run for the Gophers and it has the ability to shake up the national rankings where the Gophers have been cemented at number two and the Badgers have been steadfast since the preseason in the number one slot.