Hello again! The Q&A's are almost to the final division. Joe Bouley of Hockey Wilderness was kind enough to sit in our hot seat, take on eleven questions, and answer them truthfully. Below are those answers and we lead off with a question that has perplexed many for a few years now.
============================
What is it about the Minnesota Wild and their goalies ending up on the IR?
It's honestly a goofy thing. The problem is that it's not something that you can eliminate because they all seem to be flukey accidents. Then you have Josh Harding, who by all accounts was looking great prior to training camp, kicking a wall and fracturing his foot. You can't make this stuff up.
The team did get to the second round of the playoffs, what went wrong once they got there?
Plain and simple: they couldn't score. There were moments in the series versus the Blackhawks where the Wild were out possessing them and actually taking it to Chicago, but the Wild just couldn't find twine. Chicago has those top-tier finishers that know how to get a big goal for their team. Patrick Kane and Jonathan Toews are only the tip of the iceberg when it comes to the depth of talent the Blackhawks possess.
The Minnesota Wild finally signed Thomas Vanek in July. What does that mean for the Wild and their first line?
I expect the first line to be what the Wild finished the season with last year. Zach Parise – Mikael Granlund – Jason Pominville. What it will mean is that the team should be more balanced scoring-wise and Vanek should be slotted in on Mikko Koivu's wing. Koivu was a beast in Corsi For % last season and tends to make his teammates better. This should mean that Vanek will find opportunities in the offensive zone.
The news about Zach Parise's dad was a tough one for anyone to swallow. How do you expect Parise to look this year?
I would expect Parise to be that much more determined. Our thoughts go out to J.P. Parise and his fight with lung cancer. However, Zach and his father live and love hockey and I can see Parise being more driven and focused.
What is the one team that concerns you most in the Central Division?
Can I say all of them? Seriously…the Central is incredibly scary. I feel it's Chicago's division to lose, but I can see Dallas making a huge jump this year. Winnipeg should be good if their goaltending can hold up. St. Louis is a good regular season team and that's about it. Wild Head Coach Mike Yeo said in an interview, "I think this team can contend for the Stanley Cup, but I'm also scared that we could miss the playoffs." The Central is going to be a gauntlet and any one that comes out of it should be a Cup favorite.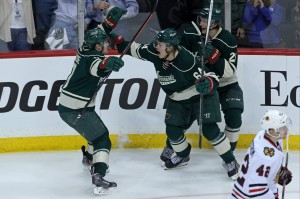 The season opens next week. Do you have any idea of what some of the lines may look like?
There are some ideas floating around, but the Wild are still giving time to scrub players like Joel Rechlicz, Stu Bickel, and Cody Almond in the preseason for more evaluation.
In a perfect world, those players would never see the Xcel Energy Center ice.
Here are my line projections:
Parise – Granlund – Pominville
Vanek – Koivu – Coyle
Niederreiter – Haula – Zucker/Fontaine
Cooke – Brodziak – Almond
Suter – Dumba
Scandella – Spurgeon
Folin – Brodin
Is this what I want for line combinations? No, but I think that's what opening night will be.
What roster spot battles are there left, if any?  
There are still players jockeying for position on the roster. Mainly, Jason Zucker is looking to find a way onto the big club. On defense, Stu Bickel is looking to make the team but has to face Nate Prosser, Justin Falk, and Keith Ballard for the 7th defenseman spot.
Who has surprised/disappointed you the most in training camp?
Most surprising from camp was Christian Folin. He was touted as a big, tough defenseman with a hard slap shot from the point. He has been exactly that. Being this will be his first pro year after signing with the Wild as a college free agent last spring out of UMass-Lowell, he's impressed in just about every preseason game thus far. If he doesn't make the team out of camp, it will be a shock.
Most disappointing is that Stu Bickel and Joel Rechlicz are still in camp and have not been cut loose already. They are terrible possession players, have no offensive ability, and offer little to no upside. They are there to provide grit (which is just a term for crappy players) and drop the gloves. Their game on the ice is just offensive…to everyone.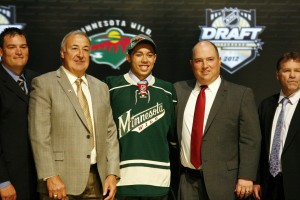 What Minnesota Wild prospects should we be keeping an eye on this year?
Mathew Dumba should be the one everyone keeps their eyes on. He is an infedible skater and really gifted with the puck. While his defensive game needs some refinement, he provides a big-play, star-caliber offensive-defenseman that the Wild have seldom had in their existence.
The other prospect to look at is Jason Zucker. He is a fast and dynamic player that has the ability that few Wild players have – the ability to create his own shot. That said, there are red flags in his ability to play in all three zones, but early signs in the preseason seem to point to him being willing to work on and improve his game.
       10. Will we ever really know what happened with the Josh Harding incident?
As of right now, all we know is that there was an altercation with a teammate and Harding's foot made contact with a wall resulting in a fracture. Because the incident was not hockey related, the Wild suspended him for as long as he is out. I doubt we find out what really happened as the Wild have been pretty mum about what happened.
        11. Who is the one current roster player that makes a "fantasy breakout" in 2014-15?
If I was playing fantasy hockey this year, I'd put Jared Spurgeon on my roster. The 24 year old, peach-fuzz faced kid, was the Wild's best defenseman all of last season. He had good offensive numbers last year and is primed to really breakout and be a regular on the score sheet. Of course, as with any player, injury could get in the way of that. He missed some games last season to an ankle injury after blocking a shot.
============================
As for the playoffs, we do have the Minnesota Wild in as a wild card so stay tuned as up next will be the Colorado Avalanche.