The Minnesota Wild wrapped up their preseason on Saturday against the St. Louis Blues, finishing with a 3-2-1 record. Both regulation losses came with a lineup almost completely made up of junior and AHL players. However, on Saturday we got to see most of the Wild's lineup for their home opener against the Colorado Avalanche. That lineup is something that Minnesota should definitely be confident with. In news, they've reduced their roster to the point where there may only be one to two cuts left.
The Lineup
The Wild planned to put out virtually their home opener lineup, but decided to make a few last minute changes after learning that the Blues had scratched many of they regulars. Ryan Suter, Jared Spurgeon, and Charlie Coyle got the night off. Up front, Minnesota put out their regular top 2 lines, Parise and Pominville, centred by Granlund, and Koivu lined up with Vanek and Niederreiter on his sides. On defence, Brodin and Scandella represented the first pairing, playing 28:51 and 26:05, respectively. Rookies Dumba and Folin each played nearly 24 minutes. In the blue paint, Kuemper stopped 19 of 23 shots. Dumba, Koivu, Parise, and Pominville each had two points a piece.
Wild News
UPDATE: 23-Man Roster is Set:
As of 11A.M. EST, the Minnesota Wild have released Ilya Bryzgalov from his professional tryout and have placed Cody Almond and Stephane Veilleux on waivers, for the purpose of sending them to the Iowa Wild, their AHL affiliate. They also placed Justin Fontaine on the injured reserve. That said, Stu Bickel, Mat Dumba, Christian Folin, Nate Prosser, and Jason Zucker have made the opening night roster.
Bryzgalov Situation: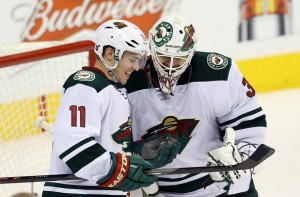 Although Ilya Bryzgalov was real eased form his tryout today, Star Tribune writer, Michael Russo, is saying that GM Chuck Fletcher and Bryzgalov's agent have been discussing both an AHL, and a two-way contract. It will be Bryzgalov's decision whether or not he thinks he could still receive and NHL contract from another team. Although, he has made it very clear over the summer that his number one choice is to stay in Minnesota.
Wild Sign Ryan Carter
The Wild have just signed Ryan Carter to a 1-year, 2-way contract worth $725K. Carter was most recently an effective fourth line player with the New Jersey Devils and was active through the Devils entire training camp. He is a White Bear Lake, Minnesota native and, according to Michael Russo of the Star Tribune, he is likely to start the season with Minnesota.
Roster Reduced to 27:
Minnesota sent 7 players down to the Iowa Wild of the AHL on Friday, sending Jonathon Blum, Justin Falk, Tyler Graovac, Michael Keranen, Zack Phillips, Gustav Olofsson, and Joel Rechlicz down. They also placed Jordan Schroeder, Brett Sutter and Kurt Gogul on waivers for the purpose of reassigning them to Iowa. Each player cleared and will report to Iowa. These moves leave the Wild with 4 extra players left on their current roster
Who Will Stick with the Wild?
It's looking more and more likely that the Wild will keep 3 goaltenders on their roster, leaving space for just one or two of the remaining four 'on the line' players. These four include Cody Almond, Stu Bickel, Erik Haula, and Stephane Veilleux. Haula has the obvious upper hand here due to his 46 regular season games and all 13 playoff games played with the Wild last year. Not to mention he got better with time, putting up 7 points in the playoffs. Besides 'Haulsy', Cody Almond had impressed the Minnesota staff this fall after returning from a two year stint in Switzerland. He would likely be the number one option as a call up to start the season. Stu Bickel has also been a pleasant surprise in training camp, showing versatility between playing right wing and defence. Chances are, the Wild will keep Haula and Bickel to start the season.
Return of Nate Prosser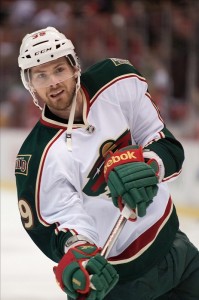 On Thursday, Minnesota claimed Nate Prosser form the St. Louis Blues. Coincidently, he was in the pre-game skate as a Blue, then was pulled off after being notified he had been claimed. It turned out to be the Wild, the team he was supposed to be playing. Luckily for Prosser, who has spent his entire career with Minneosta, he still has a home in Minnesota. Prosser said of the experience, "Once they pulled me off the ice, I was literally like shaking, there was a lot of uncertainty. I don't know which team claimed me and I could go anywhere really in the country. I immediately texted my wife and she got all nervous too. But as soon as we found out it was Minnesota, all happiness and we still got our house here. We're just thrilled to know that I'll be coming back home and putting this jersey back on in front of our family and friends here."
Contributor for the Toronto Maple Leafs and Prospects. Scout with the Oakville Blades of the OJHL. For questions, concerns, or comments, contact me at devinslawson123@hotmail.com or on twitter @SlawsonTHW.