NHL expansion was discussed in exhaustion this summer when it broke that the league was considering adding four franchises. The NHL has flirted with Las Vegas for quite some time, Seattle is the attractive date and Quebec City has always been the one that got away from the NHL. The fourth city is the one in which the NHL has already had a long relationship – Toronto, Ontario.
When you're looking for the NHL teams that sell out game after game, look no further than the home of the Maple Leafs. Air Canada Centre is buzzing night after night, housing some of the most loyal fans in professional sports. Toronto is the largest city in Canada (4.6 million people), so why not give the fans the option of supporting another team?
To dive further into this possibility, I have compiled a group of knowledgeable hockey writers who are more than qualified to answer the question, should the NHL add a second team in Toronto?
Let's move into these hard-hitting questions, shall we?
Toronto already houses arguably the largest fan base in the entire NHL. Would bringing in another NHL team damage that in any way?
Robert Nasso (TodaysSlapshot.com) – There is no harming the Maple Leaf fan base. For example, the New York Rangers are the last-place team in fan support across all four major sports leagues in the NY-metro area, yet their fan base has remained one of the strongest in the NHL, despite the arrival of both the Islanders and Devils to the area. In Toronto, hockey is the most popular sport, so the Maple Leafs fan base will remain unwavering in its support regardless.
Justin Fisher (TheLeafsNation.com) – I highly doubt it. Despite being a generally miserable team to cheer for in recent memory (ok, maybe a little longer than that), the Leafs' fan base is as dedicated as it is enormous.
You'd almost certainly have a few frustrated fans switch allegiances, but Toronto and its surrounding area has enough fans (and just as importantly, corporations) that can pack two NHL arenas on a nightly basis. It's actually not a stretch to say that a second team in Toronto would immediately become more popular and more profitable than some existing NHL franchises, while not even putting a dent in the Leafs' bottom line.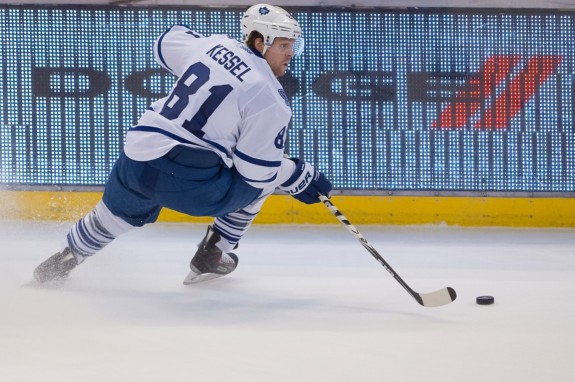 Elliot Saccucci (MapleLeafsHotStove.com) – It has often been said that Toronto is a Maple Leafs town and not a true "hockey town." I disagree. I think that the appetite for NHL hockey is voracious in this city beyond merely the Toronto Maple Leafs. One need look no further than Kilgour's when a Habs game is playing to know that, while the Leafs are THE show in town, they're not the only one.
From my perspective, bringing in a second team wouldn't reduce the existing dyed in the wool-blue fanbase one iota; what it might do, however, is garner some new fans who are either unwilling to be part of what is perceived to be the big blue machine of 'Leafs Nation,' or else feel that they're unable to get behind a team that hasn't experienced any true measure of success in a long, long time.
The instant rivalry that would be created by moving a second team to this city would be incredible, and I'd argue would expand fan's hockey spending in this city as a whole, rather than merely detract from Leafs specific spending.
Mike Poepping (KSDK.com) – Though I think it would have some impact on the Maple Leafs fan base, they are THE original NHL team (for all intents and purposes) and its AHL affiliate, the Toronto Marlies, have a great following, so I doubt it would have a negative impact. I could see another Toronto NHL team giving the Maple Leafs a big problem to work though in terms of front office personnel, because being mediocre while an expansion team heats up would be unacceptable in fans' eyes. Overall, the area could very easily support another  NHL team, considering the Leafs ticket prices are astronomical and almost impossible to come by. It would give more access to better hockey in the area, and would only mean good things for the growth of the sport.
Ryan Pike (TheHockeyWriters.com) – It depends how it's branded, but I don't think so. The Leafs are a Canadian cultural institution in so many ways, basically English Canada's answer to the Montreal Canadiens. There's so many fans in southern Ontario that I don't think it would dilute anything, though the existence of a second Toronto-area team would potentially push the Leafs to improve more rapidly than they have been.
Do you see the new team moving into Toronto to share the city with the Maple Leafs or will it go to the neighboring city, Hamilton?
Robert Nasso (TodaysSlapshot.com) – It makes more sense for a team to go somewhere like Hamilton or Markham as opposed to the actual city of Toronto. An NHL team in Hamilton has long been rumored to be a possibility. In 2007, when Jim Balsillie reached a tentative agreement to buy the Nashville Predators, he went against his initial promise to keep the team in Nashville and took steps to relocate the Predators to Hamilton. The plan fell through, but NHL-to-Hamilton rumors have been strong ever since.
Justin Fisher (TheLeafsNation.com) – I imagine that a second Toronto team would set up shop in the Greater Toronto Area, which is the large metropolitan area that surrounds the City of Toronto. Because the Leafs currently play in the downtown core, a second team would probably establish itself in a nearby 'GTA' city like Markham, just north of Toronto.
Elliot Saccucci (MapleLeafsHotStove.com) – I do not envision a team being directly downtown Toronto, but rather look to a situation like New York where you'll have teams in boroughs, including Manhattan, Brooklyn, and, of course, Jersey (though not a borough) as an example of what might work. Hamilton's proximity to Toronto and sporting history is a natural fit, and given the demographics in and around the city, I firmly believe that a team could be financially supported in that area.
For all Jim Balsillie's failings in managing NHL relationships, he had a clear understanding of the economics and viability of a team in that area. Pity it didn't work out.
Although it has long been said that the Leafs would block any attempt to bring a second team to the Southern Ontario market, MLSE (now Rogers and Bell) has shown that, when it comes to making a dollar, they are nothing if not pragmatic. As Brian Burke told Lance Hornby back in 2009, "If a business case is made (it must be looked at)."
What that means is that it'll be a costly proposition for whomever wishes to bring a second team into Southern Ontario in order to entice the Maple Leafs into giving their blessing. In an interesting twist, who might have the financial clout to make such a pitch, while also feeling aggrieved after losing the broadcast rights to Canadian NHL hockey? Fun to speculate on that.
The other consideration that need be taken into account is that a second team in the GTA, and specifically the Hamilton area, could have an impact on a team like the Buffalo Sabres, who depend (to some degree) on fans living North of the border who support the team. Brian Burke mused about this in the Hornby article, suggesting that it would be detrimental to Buffalo. But, would a second GTA team spell disaster for Buffalo, especially in light of the juicy expansion fee the team would receive? While this may have been a valid concern in 2009 when Burke made his comments, post Terry Pegula's purchase of the team in 2011, and the stability that has provided, I don't see this being an issue.
Mike Poepping (KSDK.com) – I could see the team being placed in either Hamilton or Toronto. Both places have a population size (and hockey fan base) that would support the franchise, though I feel that Toronto would be a better place for revenue. However, I also think downtown Toronto is already pretty jampacked with professional hockey arenas as is, so Hamilton may very well be the best fit.
Ryan Pike (TheHockeyWriters.com) – I'd probably put it in Toronto. I like Hamilton, but the market's a bit too small for an NHL club and FirstOntario Centre isn't quite up to NHL standards.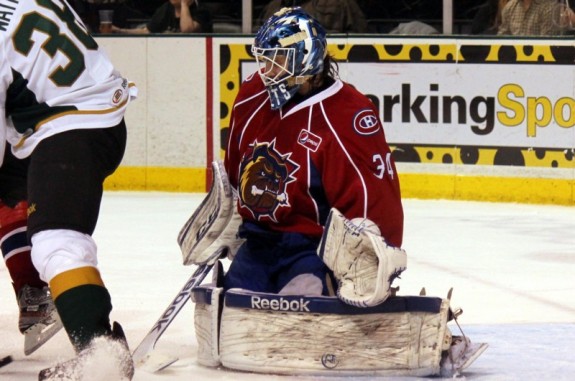 What would be the best team name for the franchise?
Robert Nasso (TodaysSlapshot.com) – If a team were to come to Hamilton, the appropriate name would be the Hamilton Tigers, a former NHL team based there from 1920-1925. Another consideration would be to move the current AHL team out of Hamilton and take its name – the Bulldogs – for the new NHL team.
Justin Fisher (TheLeafsNation.com) – I'm a big fan of when new teams reach back into the city's identity and/or hockey history to find a name. It's a hell of a lot better than a fan vote, because fans cannot be trusted – ever heard of the Toronto Raptors?   The problem is, the Maple Leafs are really old, and practically have Toronto's hockey history on lock.
One big name in Toronto hockey history that could potentially be revived is the Toronto St. Michael's Majors, a club that was actually affiliated with the Leafs for many years in the early and mid-20th century. The club folded in the 1960's, came back as an OHL franchise in 1996, was relocated, sold, and eventually became today's Mississauga Steelheads. I think a new 'Toronto Majors' franchise deserves strong consideration.
Elliot Saccucci (MapleLeafsHotStove.com) – To my mind, Canadians will always jump at historically authentic names over fabricated new ones; one need look no further than the return of the Jets. And could you imagine a Québec City team being named anything other than the Nordiques?
So if we're talking about putting a team in Hamilton, the Tigers – an NHL franchise from 1920-1925 – would be a natural starting place.
Mike Poepping (KSDK.com) – I would recommend something that hints at Toronto's great history, but given that teams are now being forced to lose the Indian heritage names (UND, the heat on the Washington Redskins, etc…) I don't think the Toronto Iroquois would go over too well. So I'll say the Toronto Loons (it's a starting point, at least).
Ryan Pike (TheHockeyWriters.com) – I'd go old-school and answer the Toronto Maple Leafs with the Toronto Arenas or Toronto St. Patricks. Although, knowing the standard NHL expansion protocol, we'll get a contest and a weird name.
Just looking at the current NHL landscape, how would the divisions work out with the Eastern Conference already having eight teams in each division? Would both Toronto teams be in the same division or do you see the NHL changing it up?
Robert Nasso (TodaysSlapshot.com) – As it is, the NHL needs a change with their divisional set-up, since there are 16 teams in the East and 14 in the West. The current divisions also do not make sense geographically, with the Floridian teams in the same division as Northeast teams. The two Toronto teams would be in the same division, due to geographic proximity and the fact that it would be a fantastic rivalry, but how the rest of the Atlantic Division would shape up depends on if the new Toronto team was part of expansion or relocation.
Justin Fisher (TheLeafsNation.com) – It's no secret that the current 16-team East and 14-team West is a fundamentally lame setup, but it also makes establishing a second Toronto franchise more difficult. For that to work, you're either relocating a current Eastern Conference team, which doesn't solve the unbalanced Conference issue, or, you're waiting on a large-scale league expansion.
Let's say the NHL does in fact want to become a 34-team league sometime in the relatively near future, as has been rumoured. Expanding the Western Conference by three teams, and adding a new team in Toronto would balance the playing field, but are there three Western markets willing and able to bring in an NHL team? Is Toronto even the frontrunner in the East?
Either way, I'd prefer a new Toronto team to be in a separate division, but I don't think it would happen. The New York Islanders' future home, the Barclays Center, is about to be a 25-minute subway ride away from the New York Rangers' Madison Square Garden, and the Rangers are already within spitting distance of the New Jersey Devils' Prudential Center. A second Toronto franchise would probably stick in the Atlantic Division, and perhaps force a North Atlantic/South Atlantic split that makes more sense for the Florida teams.
Elliot Saccucci (MapleLeafsHotStove.com) – Leaving aside the entirely logical geographic reasons for so doing, in order to foster a natural rivalry, and to have instant marketing success, I firmly believe that the Hamilton (or Markham or GTA) team would have to be in the same division as the Toronto Maple Leafs.
If we assume that the expansion also brings back the re-born Nordiques, then we have to assume that two teams would be moving into the "Atlantic Division", while two others would be on their way out.
This means a likely move for Tampa Bay and Florida who could slide into the West's "Central Division," while Dallas, Winnipeg and Minnesota could be candidates to move to the "Pacific Division."
Mike Poepping (KSDK.com) – I see the NHL going through another realignment if any team in the Eastern USA/Canada is added. Since they made such a big deal out of doing it the last time, I think, realistically, the new franchises will be out West. However, the league could easily rearrange the divisions in the East to actually make them logical as they supposedly tried to do this past go round. This would put Tampa, Florida, Carolina, Columbus, Washington, Pittsburgh, Philadelphia, New Jersey, and the new Toronto team in the Atlantic division while placing the original Toronto team (Maple Leafs), Montreal, Boston, New York Rangers, New York Islanders, Ottawa, Detroit, Buffalo, and the other expansion team into the Metropolitan division (which may have to be renamed…again). I just don't see this being feasible, though, considering the East already has two more teams than the West, without an expansion.
Ryan Pike (TheHockeyWriters.com) – I'd probably put them in the Western Conference just to not upset the balance in the Eastern Conference, especially after all the switching that was done in the last round of realignment. Plus, having the Toronto teams in different conferences would make their inter-city rivalry more of a special occasion in the regular season.
Your take: is Toronto deserving of another NHL team or is there another Canadian city more deserving?
Robert Nasso (TodaysSlapshot.com) – Toronto could absolutely support another franchise – probably even two more – and with the lack of success Toronto fans have seen in recent years, now would be a prime time to start up a new team and give fans the opportunity for a fresh start. However, with Quebec City already building an NHL-caliber arena, the Toronto area has taken a back seat to the former home of the Nordiques. Since hockey came back to Winnipeg, there have been rumors floating around that Quebec City is absolutely next in line. During the final regular season game of the Devils' disappointing 2010-2011 season, a huge group of Quebec City hockey fans dressed in Nordiques jerseys were in attendance to show the league that Quebec City wants an NHL team again and that this time around they can absolutely support a team. When the day finally comes for Quebec City, though, another Toronto team will absolutely be next in line.
Justin Fisher (TheLeafsNation.com) – There are other cities that I'd like to see get an NHL franchise first, but even then I'd have to acknowledge few, and perhaps not any of them, have the potential earning power of a second Toronto market.
I'd love to see Quebec City get a team back (Battle of Quebec), and I'm really intrigued by a potential Seattle team (Battle of the Northwest with Vancouver), but after those two markets, I find it hard to believe that any other city could maintain a new franchise like Toronto could.
Elliot Saccucci (MapleLeafsHotStove.com) – I'd rather not discuss the notion of deserving because the passion for hockey in this country is unmatched, and if you look at the current landscape of the NHL, there are many less deserving markets already in existence in the U.S., despite the number of markets that are deserving here that don't have a team.
What I would say is that there is unlikely to be any other market in Canada that would have the instant AND (and this is an important 'and') enduring success of the GTA market. As Bill Daly put it back in 2009 talking to Lance Hornby, "[y]ou could rise the tide for all boats."
Mike Poepping (KSDK.com) – Though I think the city could support another NHL team without a problem, I don't think it's a good idea for the NHL, based on its recent realignment. I think the realignment took future expansion into consideration, meaning that we will most likely see two Western US/Canada cities gain new teams, such as previously discussed cities like Seattle, and Las Vegas (although I feel this would fail within a decade).
Ryan Pike (TheHockeyWriters.com) – I'd lean towards Quebec City, though, like the NHL probably is. I'm concerned about the size of that market for the team's long-term survival (I have similar thoughts about Winnipeg over the long haul). If you're wanting a team that will survive long term and provide financial stability for the league, you go to Toronto.
—-
Check out the rest of this four-part series!
Quebec City
Las Vegas
Seattle
Toronto