The Minnesota Wild announced their 2015-16 season preseason schedule on Thursday, in advance of the projected release of the full 2015-16 season schedule later this month. (Though, there are reasons to believe that announcement could be delayed.)
It's here! The #mnwild preseason schedule is out → http://t.co/D0wudnYPYK pic.twitter.com/nmPEU03P0f

— Minnesota Wild (@mnwild) June 11, 2015
The schedule includes three games at Xcel Energy Center and three road games, all of which will be broadcast on KFAN radio in the Twin Cities area. The run of games includes a pair of games with the division rival Winnipeg Jets, as well a pair of home games against Jack Eichel and the Buffalo Sabres.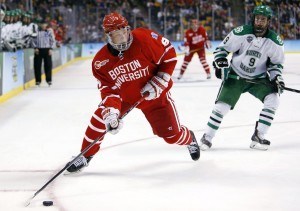 The Wild will have a preseason exhibition against both of the top draft picks in 2015 draft (that's assuming they play in these games and that Eichel doesn't elect to
return to Boston University
), though the match against Connor McDavid and the Edmonton Oilers will be a road tilt at SaskTel Centre in Saskatoon, Saskatchewan.
The sixth game on the schedule will be a road match against the likely Mike Reilly-less Columbus Blue Jackets.
Here's the full schedule:
09.21.15 — vs. Buffalo Sabres
09.22.15 — at Winnipeg Jets
09.24.15 — at Columbus Blue Jackets
09.26.15 — at Edmonton Oilers
09.27.15 — vs. Winnipeg Jets
10.01.15 — vs. Buffalo Sabres
More Preseason Speculation
Just speculation here, since camp is a long way off still and the team still has to get through development camp on July 9, but this may be the time where some of the prospects get a good shot at making the roster with the Wild struggling with cap issues.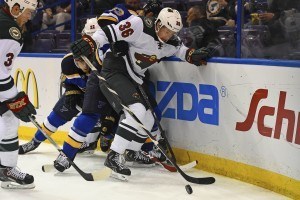 A lot of things can and will change before then, but the cap is likely to be an ongoing issue for the Wild who are projected to have about $7.8M in cap space before re-signing Devn Dubnyk, who is
looking for a deal
in the $5M range (failing that, the team will be finding a a goaltender through free agency or trade). The team will also be working on re-signing RFAs Mikael Granlund, Erik Haula, and Christian Folin.
The current situation is incredibly difficult, particularly with the team needing to plan for the future with Jared Spurgeon, Jason Zucker, Jordan Schroeder, Matt Dumba, Darcy Kuemper, Justin Fontaine, and Tyler Graovac all entering a contract year this season. That's all happening while the only large contracts coming off the books in the summer of 2016 will be deals with Matt Cooke and Niklas Backstrom.
So, do we get a good look at guys like Gustav Olofsson, Tyler Graovac, Grayson Downing, Dylan Labbe, Michael Keranen, or even Kurtis Gabriel in the preseason? Well, yeah, probably. Teams always give the young guys a shot, particularly at the start of the preseason. But maybe these guys wind up getting a little more serious look than usual to fill the few gaps available (mostly at forward). The tight cap situation may have the team a little more willing to bring up a guy like Graovac versus signing another Ryan Carter fill in.
Dustin Nelson writes about news and the Minnesota Wild for The Hockey Writers.