The Minnesota Wild are back in the thick of the Western Conference playoff hunt, after Interim Coach John Torchetti took over the reigns. For the second straight season, Minnesota completed a three game sweep of Western Canadian teams in four nights to storm back into the playoff conversation.
Four nights, three wins, 15 goals, three five-goal games, five power-play goals, one short-handed goal, 12 different goal-scorers, two winning goalies, and one annoying from home fire alarm later, and the Wild are just two points back of Nashville and Colorado under their new coach.
It's too bad it took so long for the Wild to regain their confidence and lost Mike Yeo in doing so, as our Nate Bauer pointed out, but Minnesota has confirmed up to this point that change can be a good thing behind the scenes.
Despite missing key defenders Marco Scandella and Jonas Brodin, the Wild have played relatively solid since Mike Yeo's firing, albeit a few hiccups on the back-end during this streak. Thus, making it semi-safe to sport Wild colors once again on the streets, in public. Living in Colorado specifically, that hasn't been an easy thing to do.
So thankful I can once again wear #mnwild clothing without getting looks of sadness and shame from passersby.

— Alli Baker (@allibaker23) February 18, 2016
Credit obviously goes to John Torchetti for lighting a fire under this team, but let's take a closer look as to why the Wild has been able to trend in the right direction heading into its Stadium Series game, that our own Alli Baker will be present at and covering for The Hockey Writers.
Young Guns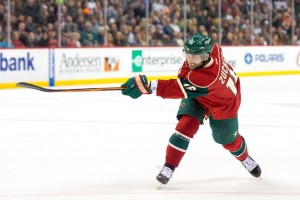 This goes without saying, but Minnesota's youth looks like the group of guys we thought we were getting initially for the future of this team under Torchetti. Charlie Coyle has been an absolute beast pretty much all year, but now finds himself tied for the team lead in goals with Zach Parise totaling 18. Nino Niederreiter has shown an incredible ability and strength when possessing the puck over the last three games, and looks totally revamped on a line with Erik Haula and Jason Pominville. Speaking of Haula, he has looked like the Haula of the 2014 playoffs when folks were crowning him the future second line centerman. With four points in three games, the hope is that he can maintain that kind of production from center, something the Wild have lacked, to close out the year in their push for the postseason. Let's not forget Mikael Granlund, who deservingly so received a lot of criticism this season for his lackluster play. Granlund, under Torchetti, has recorded three points in the last three games on the second line, and honestly looks like a different player of late. Maybe not a top-line guy, but his production will be even more paramount should the Wild continue to climb the standings.
Vets
Deemed "unmovable" as the core of the Wild during the team's recent skid, the veterans regained their mojo this week. Parise, Koivu, Suter, Pominville, and Vanek all found the scoring sheet in three consecutive wins. The Wild's success really does depend on the production of these guys, especially more so if they do in fact make the playoffs. Guys like Pominville and Vanek in particular, who have struggled mightily this year, were clutch in scoring responsive goals during this Canadian trip. In my humble opinion, the production of Pominville is arguably more important than that of Vanek's, and the aforementioned scored in back-to-back games heading into Hockey Day in America weekend.
Special Teams Play
The Minnesota powerplay is on a tear like we've never seen. Now let's just hope it carries into their home games. Four goals on the man-advantage and one shorty this week, has got to have this group feeling confident as they approach another tough stretch of games ahead. Correct me if I'm wrong, but that's now powerplay goals in 11 straight road games. Despite allowing three powerplay goals of their own, their depleted blue-line got through when it mattered most, when the game was on the line. This, much to the credit of Devan Dubnyk and Darcy Kuemper. However, Torchetti should undoubtedly be looking at some different combinations of PK units moving forward.
Defensive Depth
We've heard it all year long, as to why it's nice to have defensive depth in the NHL. I know I'm relieved that Chuck Fletcher hadn't forced a trade to send out one of the Wild's blue-liners weeks ago right about now. When a Marco Scandella or Jonas Brodin are out of the lineup to injury, (or both), it is a luxury to fill in the holes with a Christian Folin, Mike Reilly (who WILL be a key piece for years to come) or Matt Dumba on the back-end. Heck, even if you can get a solid two out of three games from Nate Prosser when his number is called is reassuring. Matt Dumba and the "Moose," Christian Folin, put forth great efforts this week at both ends of the ice.  I personally love seeing the physical force that Dumba can be back-checking as we saw on Thursday night.
For now, our eyes will be watching the Wild Card race night in and night out. For the Wild, it seems like John Torchetti has his team's eyes solely on their next immediate opponent. If Minnesota truly wants to make a run at this thing, that is exactly what they have to keep doing. As we've seen, (far too many times before), if anyone can do it, it's the Wild.
What have you been most impressed with over the past week from this rejuvenated Minnesota Wild squad?