If there's one player on the Minnesota Wild who deserves to be recognized as the team's ironman, it's multi-dimensional forward Charlie Coyle. The 24-year-old is as tough as they come and plays a heavy game. Weighing in at 221-pounds, Coyle is at his best when he's making a habit of going hard to the net and battling for pucks along the boards and in the corners.
WATCH: @CharlieCoyle_3 talks about his 15 stitches in Game 7, and looks to Round 2: http://t.co/3lyUqzxjG4 #mnwild pic.twitter.com/fV2KP4UiO1

— Minnesota Wild (@mnwild) May 2, 2014
Fittingly, the fifth-year pro was officially anointed the Wild's new ironman after appearing in his 284th consecutive regular season game on Feb. 8, 2017 versus the Chicago Blackhawks.
Becoming Ironman
The title of ironman is given to the player on a team who has appeared in the most consecutive regular season contests without missing game action for any reason. The streak ends the moment a player isn't in his team's lineup due to injury, illness, suspension or even as a healthy scratch.
Coyle's streak with the Wild has been intact since his sophomore season in the NHL. The power forward suffered a knee sprain against the Anaheim Ducks during the second game of Minnesota's 2013-14 campaign and missed a total of 11 contests over a three and a half week period. He returned to action against the Montreal Canadiens on Nov. 1, 2013 and hasn't missed a game since.
Congratulations @CharlieCoyle_3! #mnwild pic.twitter.com/Nm4OICTFC5

— Minnesota Wild (@mnwild) February 9, 2017
Before Coyle became Minnesota's new ironman, the record for most consecutive games played with the team was held by Finnish winger Antti Laaksonen. The journeyman forward was a member of the inaugural Wild roster and suited up for 283 straight regular season games between 2000 and 2003. Laaksonen's streak ended on Dec. 30, 2003 when he was a healthy scratch by then-head coach Jacques Lemaire. Prior to being scratched, Laaksonen had played in every game in Wild history.
The Toughest of the Tough
Ducks forward Andrew Cogliano is the NHL's active ironman and Coyle will have quite a ways to go if he wants to catch him. The former first-round selection of the Edmonton Oilers has not missed a game since making his NHL debut on Oct. 4, 2007. To date, the speedster has played in 760 consecutive games.
The all-time record is held by Vancouver Canucks assistant coach Doug Jarvis, who retired from playing in 1987-88. The former centerman played 964 games without interruption before being assigned to the American Hockey League during his final season. The hockey-lifer has been behind either an NHL or AHL bench in some capacity since the moment he hung up his skates.
If the new Wild ironman wants to one day become the NHL's all-time consecutive games played leader then he will have to finish this season and then eight more seasons without missing a game. And that's only if Cogliano doesn't set a new record first.
Versatility and Dedication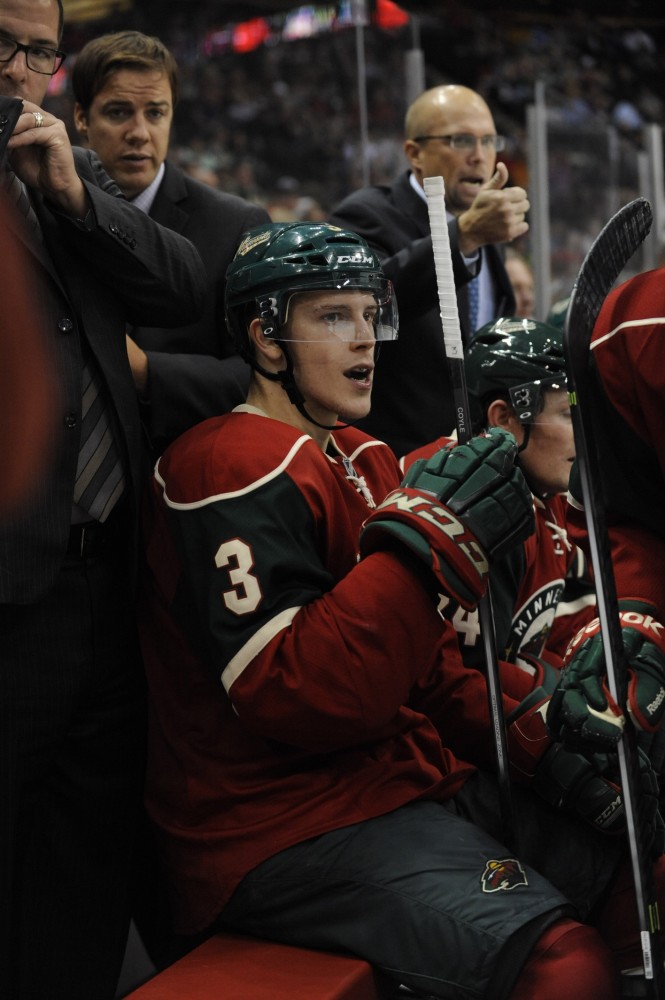 In more ways than one, the 2016-17 season has been a big one for Coyle. Not only has he established a new franchise record for most consecutive games played but he's also enjoying a career-season on the score sheet.
The versatile forward has tied his career-best point total (42) with 28 games left on the schedule. He's already registered a new career-best 29 assists and his point production puts him on pace for a 64-point campaign despite not receiving an increase in average ice time since last season.
The fact that Coyle is second on his team in hits and first among forwards in blocked shots makes his ironman streak even more impressive. The 6-foot-3 Massachusetts native has been playing an all-around game under coach Bruce Boudreau and his versatility has seen him play both at center and on the wing.
When speaking to the Star Tribune about his consecutive games played record, the tough forward was quick to shrug off the accomplishment by stating,
No one is ever really 100 percent, for the most part, especially at the end of the year. Over the summer, you try and fix what isn't 100 percent.
It's that attitude and willingness to play through pain that has enabled Coyle to become the Minnesota franchise's new ironman. Let's hope he has the durability to rank among the best of all-time.