Naturally, since the Minnesota Wild acquired both Zach Parise and Ryan Suter on Independence Day of 2012, expectations of the team skyrocketed. Minnesota has made the playoffs in each season since acquiring the two superstars, bowing out in the 1st and 2nd round of 2013 and 2014, respectively. Some may have expected better results within two years, however the team is playing some of its best hockey in franchise history. They tallied the second most points, 98, in it's 13 year history. They also won their first playoff series since reaching the Conference Finals in 2002-03. However, many still expected the Wild to be a Stanley Cup contender by now. Which leaves us with the question, are they a playoff pretender, or a perennial contender? To solve this question, let's take a look at what each successful team needs to capture the glory of a Stanley Cup.
Productive Top 6 Forwards
It is impossible to win without scoring. Goals come from the 1st and 2nd lines, so let's take a look at whether or not the Wild have that covered. The projected top two lines for 2014-15 are as follows:
Parise – Granlund – Pominville
Vanek – Koivu – Coyle
Between Parise, Pominville, Vanek and Koivu, there are four proven veteran presences, which can all produce at a consistently high rate. The top line proved itself in the 2014 playoffs as one of the best lines of the first round. Parise continued his positive trajectory once returning from injury by putting up 4 goals and 10 assists in 13 playoff games, enough to lead the league in points after the second round.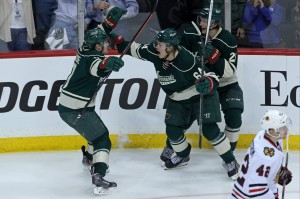 Granlund will only continue to improve as he matures and builds muscle. He has already shown he has the hockey IQ to be a top playmaker in this league. On the right wing, Pominville had a healthy season racking up 30 goals and 30 assists, stats only attributed to definite top line players. If their chemistry holds, both Parise and Pominville may very well have 35+ goal seasons. The only question on the second line is whether Coyle will begin to show his potential. Playing on the wing with Koivu and Vanek is the best bet for him to find his scoring touch. Both veterens have proven to be some of the better passers in the NHL which, for Coyle, could finally mean a 20-goal campaign. As long as Koivu and Vanek's health hold up, they could both have numbers reaching a point per game. This line has the potential to blossom into one of the best second lines around. Productive top two lines… check.
Defensively Responsible Checking Line
During a playoff run, depth has shown to be the Achilles heel of some great teams. Pittsburgh is a prime example that a few exceptional players cannot get the job done alone. On the other hand, the Kings showed, for the second time in three years, that depth between all lines is far more successful when the time comes for a Cup run. Here is the Wild's probable third line.
Cooke – Brodziak – Niederreiter
A third line is meant to be tough, physical, and hard to play against. That is exactly what this line would offer. Matt Cooke, no words are needed, this guy is one of the best known 'pests' in the game today. Not only can he get under the opponent's skin, but he also showed last year that he could do so without putting his team shorthanded. Cooke led the team with 190 hits and only 54 penalty minutes. On the right side,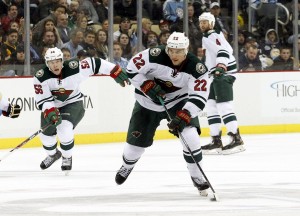 Neiderreiter is looking like Cooke's predecessor, with the second most hits, 175, and just 44 PIMS. However, 'El Nino' is also an upcoming producer. With just 3 points in his first 64 games with the Islanders, the former 4th overall pick managed 36 in 81 games last season after joining the Wild. Look for Neiderreiter to close in around 40 points this year. In the middle, Brodziak knows his job and gets in done, night in and night out. He is extremely responsible defensively and has the ability to shut down even the opponent's top line. Although, his stats don't reflect this, as his faceoff % last season was 48% and his Corsi For % was 48.4%. His quality of competition was also surprisingly average at 28.6%. In spite of the stats, he remains a quality third line center and also offers a veteran presence for Nino. This is definitely a very solid checking line, with the potential of some decent production… check.
Solid Defence
Of course, with the game on ice becoming lower scoring each year, a trustworthy defense is needed. Minnesota has already proven they are solid on the back end, with just 2.37 GAA, the sixth lowest in the league, last season. Of course, it's starts with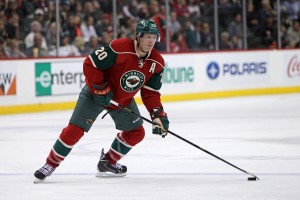 Ryan Suter, who plays the most time per game of anyone in the NHL averaging 29:24 a night. Outside of how obviously great Suter is, Minnesota also has some promising D-men upcoming. Jonas Brodin has shown he has the potential to be a shutdown defender, after finishing fourth in Calder voting in 2012-13, he avoided a sophomore slump with a very steady campaign last year, improving his defensive instincts. Jared Spurgeon is improving each year and has shown bursts of exceptional speed and IQ, which he can use in either end of the ice well. He is proving to be dynamic in the offensive zone, compiling a 52.2% Corsi For % last season and improving it further in the playoffs at 55.0%. Also coming up are prospects Matt Dumba and Christian Folin however, only one will likely hold a roster spot this season leaving Scandella and Ballard to round out the top six. Solid defence, already proven and only improving each year… check.
Reliable Goaltending
Possibly the only downfall of an otherwise excellent Wild team. It is unheard of to capture a Stanley Cup without a goaltending stud. For Minnesota, Backstrom's age is catching up with him. At 36 years old, he had a 3.02 GAA and a .899 Sv% last year in 21GP. He can no longer be expected to be a solid starter. Harding was the leading Vezina candidate when he left halfway through last season with medical complications with Multiple Sclerosis. If healthy, he definitely has the ability to lead the Wild to the top of the Western Conference. However, with his illness, he cannot be considered reliable for an entire season. Which is where rookie Darcy Kuemper comes in to play.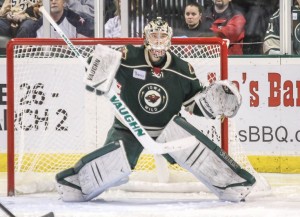 Kuemper impressed everyone against the Avalanche in the playoffs last year by shutting down one of the league's most potent offences. But then again, with only 34 career games under his belt, can you really slap him into a starter role out of the blue? Not likely. So, reliable goaltending is possible for sure, but not expected this year.
Consensus
Ultimately, passing 3 of 4 needs to be a perennial contender is something to be very proud and optimistic of. However, it will not equal what Wild fans are hoping for. Until they find solid and reliable goaltending, they likely won't get to lift the 35-pound Holy Grail. Especially battling in the Western Conference where Chicago, Los Angeles, and Anaheim are all but guaranteed to be top teams each season. The conference is only improving, meaning Minnesota will never be able to get by on a miracle run. But, with their core players all around 30 years old, they need to find the right recipe soon, before old age takes down this team like the plague. My personal prediction for the 2014-15 season; 3rd in the Central Division and eliminated in the 2nd round once again. This squad definitely has the ability to make a run in the spring, but don't get your hopes too high of seeing Mikko Koivu lifting the cup come next June.