No longer the laughing stock of the NHL, the Columbus Blue Jackets have turned the corner as one of the toughest teams to play in the NHL. This past season they made the playoffs for just the 2nd time in their franchise history and gave the Pittsburgh Penguins a run for their money despite losing in the first round. At the helm sits John Davidson and Jarmo Kekalainen, both of whom were instrumental in turning around the once struggling St. Louis Blues. Kekalainen has been immersed in scouting for most of his career and is a drafting guru. Columbus is now a team that is taken seriously and even has the impact group of prospects coming up through the ranks. Here is a look at their top five prospects.
Criteria:
Skaters can not have played more than 42 games.
Goalies can not have played more than 25 games.
5. Marko Dano – AHL – Springfield Falcons – C/W
A spectacular U20 WJC's solidified Dano's place as a 1st round pick for the club in 2013. The versatile forward can be used in any situation as he's as proficient offensively as he is on the defensive side of the puck. In his time in the KHL and Czech Republic, Dano didn't score much, but he did show a desire to play a physically demanding brand of hockey. He has very soft hands that come in handy when crashing the net and getting in and out of traffic areas. His strong, powerful stride helps keep him out of harms way by constantly gliding around the ice at top speed. He's making the jump to the AHL for a full season of conditioning where he should show up more frequently on the scoresheet.
4. Kerby Rychel – AHL – Springfield Falcons – LW
Rychel is physically mature enough to play in the pros. He's sturdy, battles hard in front of the net, and is difficult to knock off the puck. He doesn't have the size of a typical power forward, but his game is similar to that of Dustin Brown of the LA Kings with a more distinct goal scoring prowess. Splitting time between two OHL teams, Rychel was able to score 34 goals and add 55 assists. What was more eye-catching was his playoff numbers for the Guelph Storm in which he had 11 goals and 32 points in 20 postseason games. Rychel is a player you love to have on your team and hate to play against.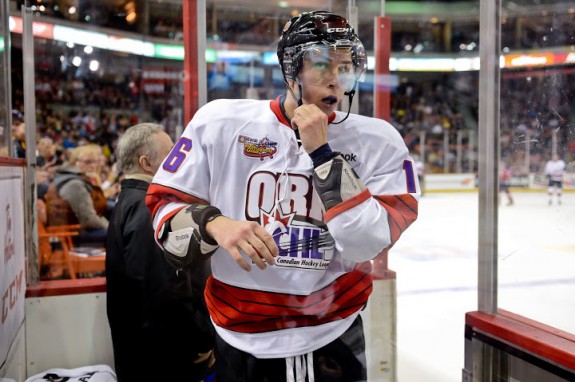 3. Oscar Dansk – AHL – Springfield Falcons – G
One of the most sought after goalies in the 2012 draft, Oscar Dansk has done well in his stint with the Erie Otters of the OHL. The big goalie from Sweden is technically sound between the pipes, moves well side-to-side for his height, and reads his angles perfectly. Once upon a time, Columbus was struggling for any kind of consistent goaltending and Dansk was a means to solve the problem when he reached the Blue Jackets. But now with Sergei Bobrovsky, Columbus no longer needs to rush Dansk into the NHL. A year or two in the AHL will help Dansk work on a few things he'll need to face in the NHL.
2. Alexander Wennberg – SHL – Frolunda Indians – C
Clearly Wennberg listened to his critics last season and shot the puck more frequently. Typically known as a gifted playmaker, Wennberg scored 16 goals last season for Frolunda. The two-way forward is projected to be a 2nd or 3rd line center at best, which suits his style of play. Wennberg is a swift skater and can dangle in tight spaces with the best of them. It's still up in the air whether Wennberg will stay in Sweden this upcoming season or make his way to the AHL.
1. Sonny Milano – NCAA – Boston College – C/LW
Long before he was the 16th overall pick of the Columbus Blue Jackets in 2014, Sonny Milano was known for his dazzling puckhandling skills after he posted a Youtube video showing his talents. With the US NTDP, Milano was one of the leading scorers on the team and wowed scouts all season long. A lethal point-producing forward, Milano zips around the ice with blistering acceleration and finesse. He will be joining the NCAA powerhouse Boston College where he'll be looking to help them reach the Frozen Four yet again.