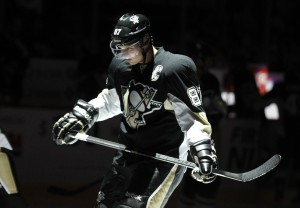 It has been an off season full of change that captain Sidney Crosby has watched from afar for the Pittsburgh Penguins organization. Newly minted general manager Jim Rutherford moved on from former head coach Dan Bylsma and hired Mike Johnston who coached the Portland Winterhawks of the Western Hockey League prior to becoming the Penguins head coach.
Penguins' biggest issue last season
The issue most in need of addressing this off season was the lack of balance in the lineup. The bottom six forward group deployed by the Penguins last season simply was not good enough. After the moves made by general manager Jim Rutherford the Penguins stand to turnover four of six third and fourth line slots to players that did not begin the 2013-14 NHL season in Pittsburgh.
Leaving town are Deryk Engelland, Tanner Glass, Joe Vitale and Brian Gibbons. Coming into Pittsburgh are Nick Spaling, Blake Comeau and Steve Downie. Along with the new acquisition Marcel Goc whom was acquired late in the season last year and will be another new member of the bottom six grouping.
A bottom six including Nick Spaling, Brandon Sutter, Steve Downie, Blake Comeau, Marcel Goc and Craig Adams is most certainly an upgrade. All three of Spaling, Downie and Comeau have greater offensive upside than those that left. This should help to balance the lineup further and take some pressure off of Sidney Crosby and Evgeni Malkin.
Sacrificing offensive skill for balance in the lineup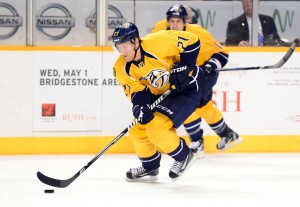 The departures of James Neal, Jussi Jokinen and Matt Niskanen took a large portion of the Penguins offensive firepower out of the lineup. Along with the upgraded bottom six forwards the Penguins also brought in Christian Ehrhoff and Patric Hornqvist.
Patric Hornqvist looks to be set for a spot on the wing with Evgeni Malkin. While he does not have the 40 goal potential that James Neal did, he is a solid two way player that will contribute a respectable 20 goals and 20 assists. With the skill of Malkin as his centre Hornqvist could see a bump to the 30 goal plateau.
Matt Niskanen was the best defenseman in Pittsburgh last season. His breakout offensive season was born out of the opportunities created by extended absences of both Kris Letang and Paul Martin from the lineup. With Niskanen signing a long term deal with the Penguins hated rivals in Washington, Rutherford signed recently bought out Christian Ehrhoff as a free agent. Ehrhoff is a solid bet for 30 points and will likely see a boost on that based on the better talent surrounding him with the Penguins as opposed to his time in Buffalo.
Improvement in goal
The intention of former general manager Ray Shero was to have Tomas Vokoun there as a 1A to Marc-Andre Fleury last season. However due to issues with health Vokoun did not stop a single piece of black rubber last season. Leaving head coach Dan Bylsma with little choice other than to depend on Marc-Andre Fleury exclusively.
The Penguins received a major upgrade in their backup goaltending position in signing Thomas Greiss. He will be a capable 1A net minder who will be much more dependable than last year's backup Jeff Zatkoff.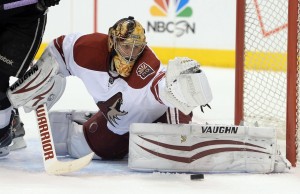 Although Marc-Andre Fleury did put in a great deal of work with a Sports Psychologist last off season and refined his game under new goaltending coach Mike Bales. This led to him posting his first save percentage over 0.900 since the Penguins won the 2009 Stanley Cup. This must be a comforting thought to new head coach Mike Johnston.
Projecting goals and points for 2014-15
In the below chart I have made projections for points for the Pittsburgh Penguins roster in the coming season. As the projections are shown the Penguins stand to be a better team overall with a plus 57 goal differential, an improvement of 16 goals over last years plus 41 differentials.
Based on further projections I believe the Penguins with finish in the neighborhood of 46 wins and 99 points. This is slightly lower than last season but would still see them win the Metropolitan division last season.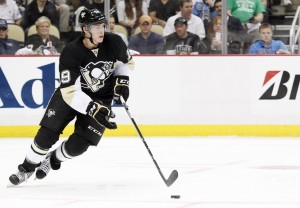 The projections for the individual players are based on their past three season goals and assists per game rates. I also used the rate of actual games played over the past three seasons to determine the amount of games played for next year. In this I also used the "eye test" to increase or decrease those numbers.
One player that stands out as a potentially low projection is Beau Bennett with only nine goals and 30 points. If he truly does spend a good portion of his time on Evgeni Malkin's wing he should breeze by those projections. Although I am still not convinced that Bennett will become a top six scorer at the NHL level. It is still early in his career and I like him overall as a player, but to me at this stage he looks more likely to settle into a third line wing role. Maybe I am wrong and this season will be Beau Bennett's chance to prove it.