I Don't Hate That Idea.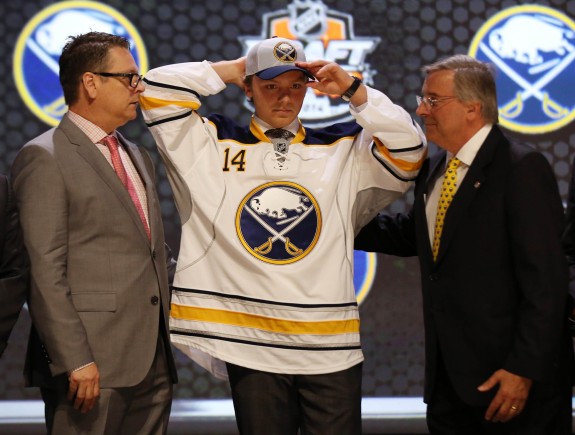 I can't say that I'm really in favor of the term "tanking". That connotation has a bad vibe. I prefer to call it, strategically building a contender. Everyone and their mother will tell you that the Buffalo Sabres have a bottom 5 roster in the NHL. I don't necessarily want to see the Sabres come out of this season with the fewest points in the NHL, but I'm a realistic person, and that is a very realistic outcome. Plus, I kind of like Connor McDavid. People say he's pretty good.
Here's a list of arguments as to why Buffalo should, and shouldn't, tank this upcoming season.
Why Buffalo Should Tank
1. Tanking will speed up the rebuild.
It's no surprise that Buffalo cleaned house at last years' trade deadline. This is obviously a rebuild, and that's what rebuilding teams do. But wait, then the Sabes sign Matt Moulson (borderline first unit scoring winger) and draft NHL-ready centerman Sam Reinhart. Mixed signals all over the joint, but one thing is for sure: the rebuild is definitely on the upswing, and nothing would help the Blue & Gold more than a first overall draft pick from the highly talented '15 class. Tank successfully, and you get Connor McDavid. Easy peasy.
2. Connor McDavid.
Yup, just him. Maybe he'll help fans get over that fact that Mr. Hometown Patty Kane isn't coming back to Buffalo (at least not anytime soon). This Connor kid makes good hockey players look not so good, not to mention that combining him and Samuel Reinhart is a pretty enticing projection up the middle. Tank (and win the lottery) and get the chance to draft the most sought after player since Sidney Crosby. You're welcome for that suggestion Pegula. Here's more of the kid below.
3. Tim Murray invented the word scouting.
Oh, Buffalo just hired a new GM who's known for scouting? How convenient, let's let him scout then. The Sabres already tanked last year, and although it was maybe inadvertent, it still counts. Tank again this year and let Tim Murray do what he does best. There's a draft class loaded more than a Taco Bell griller, and Buffalo has a plethora of high draft picks. Even Tinder knows those two are a good match.
4. The young players can develop in the minors.
Nobody wants a recurrence of the Mikhail Grigorenko situation from 2012. He clearly wasn't ready for the NHL as an 18 year old, and Buffalo wasted two years of his entry level deal while killing his confidence simultaneously. Let Ristolainen and Co. develop in the minors / CHL for another season while the rental vets like Benoit, Stewart, and Meszaros play the final year of their contracts with the big club. No need to rush your youth at a time like this.
5. Buffalo owns the Islanders first round pick.
Say the Islanders finish bottom 5 again. I know their roster improved in the offseason, but hypothetically. Buffalo can tank and have the chance of selecting Connor McDavid AND Jack Eichel. Maybe you don't get Jack Eichel. Let's not be that greedy. I'm fine with my second selection going to Dylan Strome, Noah Hanifin, Pavel Zacha, or Oliver Kylington. There, more reasonable.
Sidenote: I'm in no way serious about this outcome, but hey, stranger things have happened. Maybe the karma train finally comes back around to Buffalo. Just maybe.
Why Buffalo Shouldn't Tank
1. It's not "right".
Tanking. I feel dirty just saying that word. But seriously, it's professional sports. Play to win or don't play at all. I have come to the conclusion that I'm one of those people that thinks tanking ruins the integrity of the game, but then I see what the Pittsburgh Penguins did from '03 to '06 (Fleury, Malkin, Crosby, J. Staal) and I'm ready to forfeit the season. Winning at all cost. Buffalo needs a Stanley Cup like the Bills and Scott Norwood needed the wind to blow a little harder left in '91. If it takes putting Pat Kaleta on the powerplay when you have Tyler Ennis sitting on the bench during a one goal game, then I'm all for it. I'm just saying it feels dirty.
2. Buffalo owns the Islanders 1st round pick.
No need to tank when you own the first round pick from the team in New York who doesn't have King Henrik between the pipes. I was more settled with the Islanders deferring to the '15 pick before they went and made some offseason moves that I really, really don't hate. Jaro Halak? Solid (usually). A healthy Johnny Hockey? Scary. Mikhail Grabovski and Nikolai Kulemin? Definitely upgrades. After these acquisitions, I'm not so content with their pick being a probable top 5 selection, which brings me back to being an advocate of tanking. This is really coming full circle.
3. Tanking sends a bad message.
Alright, this has to be a viable reason against tanking, because tanking definitely doesn't send a good message. When you don't put your best roster on the ice each and every night, I'd imagine it gets harder for the guys to play. Now everyone's thinking about this tank show instead of going out and giving it their all. Team morale goes down further than Miami after The Decision 2.0. These are all scenarios that I, even as a fan, wouldn't like to be a part of. Play your hardest and let the literal ping pong balls fall where they may. This is America (and Canada). If you're going to go out, go out with some honor.
There you have it. 5 reasons to 3, tanking wins. Alert the troops, Pegula. McDavid for mayor in '15.