Feel free to express your opinions and predictions in the comments below!
In the second part of our player projections for the Minnesota Wild, we will go over the team's defence and goaltenders. In 2013-14, the Wild had a solid back end, but it will continue to get better this year as players like Jonas Brodin and Marco Scandella mature. Also, promising kids like Matt Dumba and Christian Folin may get their crack at a full NHL season. In the crease, Minnesota was a solid mess last year. 5 goalies started games for the Wild last year, but the results always maintained solidity. This season, both Josh Harding and Niklas Backstrom are healthy… for now at least. Darcy Kuemper is still unsigned as a restricted free agent. Time will tell how the wall holds. Let's try to breakdown some predictions for the Minnesota Wild' defensive ability for 2014-15.
Defence:
Ryan Suter:
2013-14: 82GP, 8G, 35A, 43PTS, +15 and 34PIM
Ryan Suter had a very solid year last year, averaging the most time on ice per game in the league at 29:24 minutes per game. Besides that, he held a very solid 0.524 points/game mark, and continued to be the top shutdown guy that can always be relied on. There's never many surprises with Suter, so expect much of the same as every year, a possible Norris Trophy candidate.
2014-15: 80GP, 7G, 38A, 45PTS, +18 and 42PIM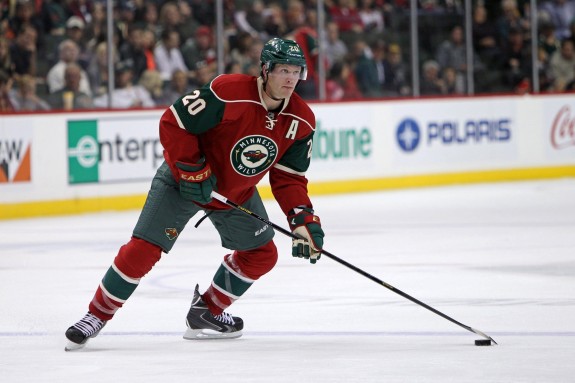 Jared Spurgeon:
2013-14: 67GP, 5G, 21A, 26PTS, +15 and 16PIM
Jared Spurgeon had a very promising end of the year after putting together a great season. His Corsi For% was a very formidable 52.20%. Going of off his success as a pairing with Suter last year, it's a safe bet to say he'll start the year on the first pairing. This could very well be the year where Spurgeon hits his potential.
2014-15: 76GP, 7G, 31A, 38PTS, +14 and 22PIM
Jonas Brodin:
2013-14: 79GP, 8G, 11A, 19PTS, +0 and 22PIM
Jonas Brodin didn't have the exceptional sophomore season some had expected of him, but by no means was he bad. He remained fairly solid on the back end, but the chemistry he created on the first pairing with Suter seemed to disappear. Tons of potential here still, only his third year. Look for a small improvement, not too significant though.
2014-15: 77GP, 7G, 22A, 29PTS, +7 and 24PIM
Marco Scandella:
2013-14: 76GP, 3G, 14A, 17PTS, +10 and 20PIM
Marco Scandella became a one of the more reliable defenders for the Minnesota Wild last year for difficult situations. He'll play as a Top 4 defence man the whole year and he'll be an excellent one at that. At just 24 years old he is already very solid. Don't expect any significant offensive numbers, but he'll be relied upon to shut down opponents all year.
2014-15: 69GP, 4G, 17A, 21PTS, +8 and 16PIM
Goaltending:
Josh Harding:
2013-14: 29GP, 18-7-3, 1.65GAA, .933Sv% and 3SO
Josh Harding was the leading Vezina candidate until the end of December, when complications with his Multiple Sclerosis came up. He is healthy and ready to start in training camp on Friday, and will likely be rewarded the starting job come opening night. It seems impossible to replicate last season's numbers, but he should be promising.
2014-15: 42GP, 26-13-3, 2.21GAA, .923Sv% and 4SO
Niklas Backstrom:
2013-14: 21GP, 5-11-2, 3.02GAA, .899Sv%, 0SO
Niklas Backstrom had a horribly injury riddled season last year. Right from the get go of training camp he felt sore, but this year he says he has no concerns. The franchise leader in wins should have a solid rebound, but will be battling Harding for the starting job. He also has a desperate Darcy Kuemper breathing down his neck. Time is ticking on Backstrom.
2014-15: 26GP, 14-9-3, 2.56GAA, .912Sv%, 2SO
Overall, the Minnesota Wild have a very promising defensive core for many years to come. Their Top 4 is extremely reliable, and that's without Dumba and Folin rising through the ranks. In the crease, the have options. If one of Harding or Backstrom goes down again, they have an eager Kuemper that is capable of taking over. Ilya Bryzgalov has also told the team he would love another year to prove his worth to them.
Feel free to express your opinions and predictions in the comments below!