The Prospects Tournament is coming to an end in Traverse City, and Detroit Red Wings 2013 first-round draft pick Anthony Mantha continues to light up the scoreboard.
In three games played, Mantha has four goals, one assist and a shooting percentage of 40 percent with the third-place game at 6:30 p.m. Tuesday night against the Carolina Hurricanes yet to be played.
Now, this is a very small sample size, so keeping a 40 shooting percentage is wildly impossible. But it shows how much Mantha continues to dominate his peers.
The Red Wings have had only four first-round draft picks in the past 10 years: Jakub Kindl (2005), Brendan Smith (2007), Thomas McCollum (2008) and Riley Sheahan (2010). In addition to that, the last Red Wing to jump straight from juniors to the NHL was Steve Yzerman in 1983.
As you can see from the list, none of these guys are special talents like Mantha is. Smith still has potential to be a top-four defenseman, and Sheahan could be a nice third-line center, but none of these guys are game changers like Mantha could be.
How Will That Translate to NHL?
While it's good to see Mantha thrive in the Prospects Tournament, it's also a prospects tournament. He's playing against other 18- and 19-year-olds, so you have to take the stats with a grain of salt. There's no doubt he's a very special talent, but there will be some growing pains once he reaches the NHL.
The competition is bigger, faster, stronger and smarter than they are in juniors and prospects tournaments. Mantha will have to adapt to the faster NHL and change his game accordingly. There's no doubt in my mind he can do that, but it takes some guys longer — Martin Frk, for example — than others.
Based on his play in juniors, Mantha has proven he deserves a shot in the NHL. But I want to see how he does against NHL-level competition before I pronounce him as the Red Wings' savior. The preseason will be a better barometer to judge Mantha on, as he will be playing against players who are already on NHL teams.
Mantha's Contract Could Limit His Time in NHL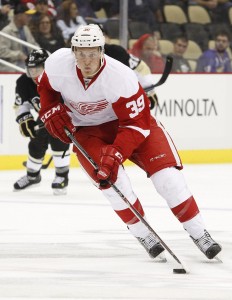 That is, if he even spends significant time in the NHL this season. According to Winging it in Motown's Kyle McIlmurray, he believes Mantha will not play more than nine NHL games during the 2014-15 season.
His reasoning doesn't have anything to do with unavailable roster spots or Mantha's skill, but rather a loophole in the CBA.
Because of when Mantha was born (Sept. 16) and when he signed his entry-level contract — he signed Oct. 2013 when he was 19, but the CBA calculates age on Sept. 15, which technically makes him 18 contractually speaking — Mantha's contract is slide eligible. This means if Mantha plays in less than 10 NHL games, his contract will slide to the next year, and he will be a restricted free agent after the 2017-18 season instead of the 2016-17 season.
What it boils down to is the Red Wings have an opportunity to get a "free year" out of him if they leave him in the AHL for the majority of the season.
Financially, it makes a lot of sense, but as far as helping the Red Wings win, keeping him in the AHL doesn't do anything for this season. Mantha does get the opportunity to ripen in the minors, but if the Red Wings go through injury problems like they did last year, Holland may have no choice but to bring up Mantha earlier than he wanted to.
The odds are stacked against Mantha, although he is really the only prospect capable of jumping straight from juniors to the NHL. It would be nice to see Mantha crack the Red Wings lineup, and I think he would do well in the NHL, but all odds are pointing to him starting the season in Grand Rapids.