Last time, we outlined the 1964 off-season's first month and all of the goings-on in hockey during May.
We'll continue on here with what took place over the rest of a fairly eventful summer for the hockey world.
Rumours : Speculation runs rampant
As the month of June dawned, talk turned to the upcoming annual league meetings, to be held starting June 8 in Montreal. Speculation about player movement was rampant as various reporters and columnists devoted their copy to rumours and supposition about specific players and other league issues.
Some of best pre-meeting rumours:
Dick Beddoes of the Globe and Mail was first off the mark, as he penned a column intended to reassure Toronto fans that crowd pleaser Eddie Shack would not be leaving Toronto. Beddoes figured that the Leafs' head honcho Punch Imlach realized how beloved Shack is by the Toronto fandom and therefore would deem him too important to deal away. Imlach did confirm that #23 would be protected in the league draft.
Beddoes also speculated about the Toronto protected list, and said that Chicago forward Murray Balfour's name was popping up in trade talk involving the Leafs.
Word out of Montreal was that left winger Dickie Moore, who sat out the 1963-64 season with knee problems, was considering a return to the NHL. Moore did meet with new Montreal general manager Sam Pollock. While Moore had announced his retirement last fall, the Canadiens kept him on their protected list, and he did not file retirement papers. Because of this, Canadiens must protect him in the upcoming league draft or risk losing him for $20,000. Immediately, rumours that Imlach, well known for acquiring veteran players as reclamation projects, might take a run at the high scoring left winger.
Pollock fuelled speculation that goaltender Gump Worsley, obtained last summer from New York with others in a major trade for Jacques Plante, would be traded. Pollock said he would deal the netminder if a solid NHL player were offered in return. He named Detroit's Larry Jeffrey (who was to be married the weekend before the draft) as the type of return he would be looking for. Worsley was injured early last season and lost his starting job to Charlie Hodge. Gump played well for the Quebec Aces in the American Hockey League and was named the league's all-star goaltender.
Red Burnett of the Toronto Star joined the player movement speculation, suggesting that the Canadiens could send Worsley to Boston, who have a defenseman to spare. He also said that Jim Pappin and Kent Douglas of Toronto could leave the Leafs in exchange for a solid left winger. Others had suggested the Leaf target on the left side could be Dean Prentice of the Bruins. Burnett also wrote that Chicago is not happy with forward Murray Balfour and could deal him to Boston.
The Canadiens planned on proposing two rule changes to be considered at the league meetings. Their first proposal would be to have the league revert to the former rule of having a minor penalty continue with the offending team remaining short handed for the entire two minutes, no matter how many goals the non offending team scored. The other proposed change would make spearing a mandatory major penalty.
The Canadiens also announced a working agreement with the Muskegon Zephyrs of the International Hockey League. The IHL is a semi-professional league, and the Habs would supply the Zephyrs with over aged junior players not quite ready to turn professional.
On June 4th, Stafford Smythe met privately with Vancouver mayor Bill Rathie and it was reported by Canadian Press that he had tentatively agreed to proposals submitted the the city to build the much ballyhooed downtown coliseum. The mayor said that council must approve the deal and that Smythe's plan would be presented to them shortly.
Smythe also announced that the Leafs would protect veteran Red Kelly in the draft. Teams are allowed to protect eighteen skaters and two goaltenders at that time.
League Meetings: Day 1 – trades  and, what else – more speculation
The meetings opened on June 8 with a bang, as the Bruins and Chicago engaged in the first trade. Boston sent defenseman Doug Mohns to the Black Hawks in exchange for forwards Ab McDonald and Reggie Fleming. Fleming, no shrinking violet, was a fan favourite in Chicago and was expected to add muscle and truculence to the Beantown forward line. Boston coach Milt Schmidt said that Mohns would be replaced by young Don Awrey. Here's a video of Fleming during his Bruins days, submitted by his son Chris.
With the draft on the third day of the meetings, media in Toronto focused on which backup goaltender would be one of the two netminders allowed to be  protected by the Leafs. The choice Punch Imlach had to make was between veteran Don Simmons and youngster Gerry Cheevers, who had received some votes for MVP after having a fine season for Rochester in the AHL.
Many trade rumours were floating around on the meetings' first day. Montreal was reported to be considering trading forward Red Berenson to Detroit, but was asking for a roster player in exchange, something the Wings would be reticent to do. Once again, Larry Jeffrey's name was mentioned as the player headed the other way. Detroit was reportedly looking to Boston to obtain a defenseman, while the Rangers were supposed to be interested in Cleveland's AHL All-star defender Ted Harris, who was property of Montreal. Rumours also persisted that Eddie Shack would be traded to Boston, with Dean Prentice's name again mentioned as the asset going the other way.
Draft speculation had Toronto grabbing Dickie Moore from Montreal, something that was making the rounds since Moore expressed his desire to return to the NHL. The Bruins confirmed they will not protect NHL Iron-Man Andy Hebenton.
In the midst of all the trade and draft speculation, Stafford Smythe made a significant announcement – Punch Imlach was given a new three-year contract to continue in the position of general manager – coach of the the Leafs. In other coaching news, Scotty Bowman, former mentor of the Peterborough Petes of the OHA, was named new coach of the Montreal Jr. Canadiens. Montreal also tabbed Bill McCreary to coach  their Omaha farm team in the CHL, replacing Bowman who spent 63-64 there.   Frank Mario was named to lead Peterborough. Bobby Kirk will take over their Regina Pats Jr. A affiliate.
In a minor player transaction, the Habs purchased defenseman Barclay Plager from Detroit. The Canadiens also contacted Toronto to see if the Leafs had any interest in Gump Worsley, but were rebuffed. At that point, it looked as if Worsley would not be protected by Montreal and the Leafs could likely acquire him for nothing more than the $20,000 draft fee. It was thought that Toronto also had interest in Montreal right winger Billy Hicke.
League Meetings:  Day 2 – more trades, Minor League Draft
Day 2 of the meetings saw all the Murray Balfour speculation come true as the Hawks dealt the right winger to Boston, along with minor league forward Mike Draper for veteran winger Jerry Toppazzini and young defenseman Matt Ravlich. The exchange was a curious one, as Toppazzini had already been waived out of the league and was expected to announce his retirement shortly.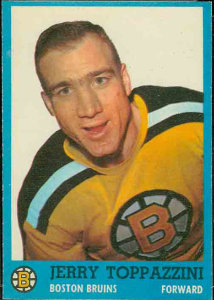 The Hawks continued to be the league's busiest trading partner on Day 2, as they engineered a deal with Detroit. Veteran  left winger Ron Murphy, along with defender Autry Erickson were dispatched to the Wings in exchange for three minor leaguers,  centre Art Stratton, and  defensemen John Miszuk and Ian Cushenan. All three did have some NHL experience.
In the minor league draft, where NHL clubs could select players from minor league teams, Toronto claimed defenseman Marc Reaume, whom they had traded away to Detroit in 1960 for Red Kelly . Reaume was not expected to be protected in Day 3's League Draft. After this draft, the Leafs announced that their second protected goaltender would be young Gerry Cheevers, meaning that veteran Don Simmons would be available to any team willing to pay the $20,000 draft fee .
Other players moved in the minor league draft include:
Jim Mikol, Cleveland (AHL) to Boston
Jim Gravel,  Toledo (IHL) to Boston
Norm Johnson,  Los Angleles (WHL) to New York
George Harris,  St. Louis (CPHL) to Detroit
Fred Hilts,Springfield's (AHL) suspended list to Detroit
Bob Barber, a junior grad from Detroit's Edmonton Jr. A team to Montreal
Fred Evans from the University of North Dakota to Chicago
Toronto also completed a minor league trade, sending farm hands Lou Angotti and Ed Lawson from Rochester of the AHL to the Rangers farm team in Baltimore. Toronto picked up defenseman Duane Rupp and winger Ed Ehrenverth, both  bound for Rochester.
Detroit announced that they had promoted Eddie Bush, coach of their Junior A Hamilton Red Wings, to the same position with the Memphis farm team in the Central Professional Hockey League.
In league business from Day 2, the governors expressed interest in marketing the NHL to American television networks. Detroit president Bruce Norris suggested that a New York public relations outfit be retained to "sell" the league to the networks.
The league also announced an increase in player pensions. A 10-year NHL veteran would receive a pension of $9810 per year at age 65, or death benefits of roughly $100,000. Changes to the league's awards money system were also announced.
The Hockey Hall of Fame announced that four players will be admitted. They are Babe Seibert, Bill Durnan, Black Jack Stewart, and Doug Bentley. Former referee Bill Chadwick will also be honoured.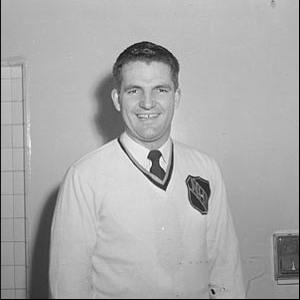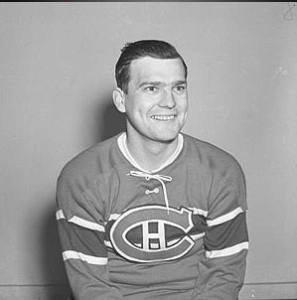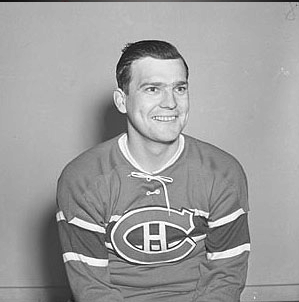 League Meetings:  Day 3 – Sure-fire Hall of Famers on the move!
Day 3 saw the Toronto Maple Leafs make the biggest headlines in what would otherwise have been a fairly tame draft session. As expected, the Leafs grabbed former Montreal left winger Dickie Moore, but the major surprise took place in the final round when the Detroit Red Wings selected young goaltender George Gardner from Boston. The Wings dropped veteran All Star netminder Terry Sawchuk from their protected list and the Leafs swooped in to grab him. Toronto also thought about drafting recently retired Montreal star Bernie Geoffrion, but were informed by President Clarence Campbell that players on the voluntary retired list were ineligible.
The draft also saw Detroit also acquire defenseman Gary Bergman from Montreal and centre Murray Hall from Chicago. The Rangers took forward Jim Mikol from Boston, who had acquired him in the minor league draft 24 hours earlier. Boston in turn selected defenseman Bob Woytowich from the Rangers.
Several available NHL veterans were passed over. Some of these included Andre Pronovost, Al Langlois, and Parker MacDonald of Detroit, Boston forwards Guy Gendron and Forbes Kennedy, and New York left winger Don Marshall.
On the final day of the NHL meetings, the league announced that there would be no changes to their refereeing staff.
Chicago announced that their St. Catharines Jr. A team will be coached by a legendary minor league player,  Chirp Brenchley. London and Windsor applied to the OHA for Junior A franchises but were rejected by the Jr. A council. The council also voted to increase the stipend given to Junior A players.
With a week left in June, the Leafs announced that the J.P. Bickell Memorial Trophy, awarded yearly to the team's most valuable player, had been bestowed for the second time to goaltender Johnny Bower.
The Leafs also disclosed that they would move their Western Hockey League farm team out of Denver. Stafford Smythe said that the Invaders had failed to meet a June 19 deadline to sell 2,000 season tickets. The city of Denver threatened to sue the Toronto club if the move went through. Toronto, estimated to have lost $150,000 in the one-year operation decided to move the franchise to Victoria, B.C. with Rudy Pilous retaining his position as coach. Pilous won a Stanley Cup as coach of the 1960-61 Black Hawks.
July and August – a hockey news wasteland
With the NHL meetings behind them, heading into July, professional teams were mostly engaged in various housekeeping chores.  As is usually the case during the  summer, slow news days give rise to minor events being reported with more emphasis than usual as fans and writers search for any scraps of information to whet their appetites for hockey.  Some of the news items reported over the rest of the summer:
NHL Iron Man Andy Hebenton, unprotected and unclaimed in the NHL draft, landed with Portland of the Western Hockey League.
An interesting story out of Toronto had Maple Leaf goalie Johnny Bower sending word to equipment manager Tommy Naylor, requesting that three inches be added to his goal pads in time for next season. It wasn't immediately know if the extra leather was going to be added to the length or width of the equipment.
A highly touted Jr. A goaltender in the Boston organization, Doug Favell of St. Catharines, had quite a night in the Ontario Lacrosse Association Jr. A league. Favell scored 8 goals in a 18-12 win over Guelph. The sad sack Bruins could certainly use that kind of scoring punch on their NHL squad. Favell is expected to be part of a goaltending tandem with the Bruin's Niagara Falls affiliate in 1964-65, partnering with Bernard Parent.
Montreal announced that the first player to sign his contract for the upcoming season is forward Ralph Backstrom, 26.
Early in August, two hockey pioneers passed away. On August 2 came word that the first U.S. born NHL player, Clarence (Taffy) Abel, had died in Sault Set. Marie, Michigan, where he operated a tourist resort. Two days later, one of the NHL's original builders, Art Ross, inventor of the modern-day goal net, passed on at age 78 after a lengthy illness.
On August 7, the Buffalo Bisons learned that former NHL coach Phil Watson would be their new mentor. He succeeds Jack Evans, who had been a player-coach with the Bisons.
As suggested at the June meetings, the NHL hired a promotional consultant to sell the league's product to American television networks. He is Fred Corcoran, a golf promoter who will be assisted by Herb Goren, late of the NY Rangers publicity department.
Toronto forward Red Kelly was tabbed by Canadian Prime Minister Lester B. Pearson to attend the 1964 Olympics as the Canadian government representative. Dick Beddoes reported Kelly's trip to Tokyo was a source of concern to the Maple Leafs. Punch Imlach said that he expected Kelly to play this season for Toronto, despite the fact he is slated to be in Japan during several early season Leaf games. Kelly was recently elected as a Member of Parliament.
Chicago coach Billy Reay picked Montreal and Toronto as the teams to beat in the 1964-65 season, but said the Black Hawks will also be much improved. Reay said the Hawks will carry two goaltenders for the entire season – Glenn Hall and young Denis DeJordy.
Former NHL defenseman Lou Fontinato was named coach of the OHA Junior C Orangeville team.
The St. Paul Rangers of the CPHL  named Jake Milford as their General Manager.
The Hershey Bears  traded goalie Ed Chadwick to Chicago in a complicated deal in which the Bears will receive one of two unnamed players from the Montreal Canadiens.
As July drew to a close, Vancouver mayor Rathie announced that top executives of the Toronto Maple Leafs would be coming to the city to try and hammer out a deal for that proposed downtown coliseum. Later in August more details began to surface outlining exactly where the two sides stood regarding the project – more on that in a future post.
On August 27, NHL managers, coaches and referees met in Toronto to discuss uniform interpretation of the rules. The purpose of the get-together was to go over the rule book page by page. The league plans to completely re-write the rule book next year, the first time that has been done since 1945. President Clarence Campbell said that there are three main areas he wants to clean up. He would like to see the elimination of spearing, a crackdown on verbal abuse of officials, and the elimination of body contact on face-offs.
One trade rumour coming out of the rules meeting had Toronto obtaining forward Keith McCreary from the Montreal Canadiens. Management of both teams denied that story.
Vancouver Canucks of the WHL announced that Larry Popein will be a senior assistant coach of the club this season. Many folks wondered what the difference between a senior assistant and a regular assistant coach might be. No explanation was forthcoming from the Canucks.
And with that, the month of August came to an end. Training camps were to begin within a couple of weeks and from here on in, we'll be reporting news, views, speculation and anything else that might catch a hockey fan's fancy, each day as it happens – fifty years ago. We hope you will be along for the ride!