Over the years prior to 2012, the Minnesota Wild had stockpiled perhaps the best farm system around due to their multiple below average seasons. Their pool of prospects included a number of 1st and 2nd round draft picks, which have now turned into everyday players. In the summer of 2012, after missing the playoffs for the fourth straight season, their top prospects included Mikael Granlund, Brett Bulmer, Jonas Brodin, Zack Phillips, Mat Dumba, and Raphael Bussieres. Since then, Granlund and Brodin have become top players, while Bulmer, Phillips and Dumba will battle for a roster spot come September. So, it's safe to say that the '13 and '14 draft picks are now the up and comers, along with some impressive signings. The Wild's prospect pool has been replenished with some new and intriguing kids, so let's get to know the 5 most promising of them.
5: Zack Mitchell
Signed as a free agent on March 4, 2014, Mitchell spent the 2013-14 season either the Guelph Storm of the OHL. The right winger had a very successful year compiling 31 goals, 52 assist for 83 points in 67 games. More importantly, his team captured the OHL championship. Zack was impressive in the playoffs as well with 30 points in 20GP. Have a listen to Mitchell after being named 1st star against Val D'Or. Aside from being a point producer, Mitchell's biggest upside seems to be his special teams ability. He can play both the PP and the PK with exceptional ability and always reads the game a step ahead of everyone else. He will spend the upcoming year with the Iowa Wild and hope to make his debut in the 2015-16 season, however more than one AHL season definitely won't hurt this project prospect.
4: Christian Folin
The Wild signed the college free agent to an entry level contract just 27 days after Mitchell, on March 31, 2014. The 6'3, 215lbs defenseman spent two years in the NCAA with UMass-Lowell totalling 12 goals and 29 assists for 41 points in his 79 games. He got into one game in Minnesota last year getting 19:26 minutes with one assist and a plus 3 rating. Brent Flahr, Minnesota's assistant GM, said on nhl.com, "He's your prototypical late bloomer," Flahr said. "He's a big, strong kid, plays a two-way game. A very mature game. … He's a guy that we're very excited about. He's big and strong, and if you ask him that's a big reason why he's improved so much, his strength and his mobility. He's got a big shot and he can defend, he moves the puck efficiently. He plays a pretty mature game." Another kid who prides his defensive side if the game, look for Folin to be a 3rd pairing with Minnesota this season, but with the potential of a Top-4 D-man.
3: Gustav Olofsson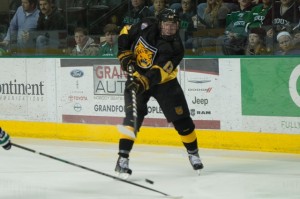 The Swedish native was selected with Minnesota's top pick in the 2013 Entry Draft, 46th overall. Gustav played the 2013-14 season in the NCAA as a member of Colorado College where he developed very well, before playing 8 games in Iowa at the end in the season. Olofsson, at 6'2, 190lbs, is a very responsible defender who can both play the body and use his exceptional positioning to limit scoring chances. He's a smart player who knows when to make the simple play or when it's time to join the rush. Olofsson could very well become a top line shutdown pairing, but look towards a Top-4 spot. He will likely spend the upcoming year in the AHL with Iowa before cracking the roster for the 2015-16 season.
2: Mathew Dumba
Dumba was chosen by the Wild in the 2012 Draft with the 7th overall pick. The 6'0, 183lbs, offensive defensemen cracked the opening night roster last year but only stuck around for 13 games before returning to the Portland Winterhawks of the WHL, where the team went 25-1-0 after his arrival. He hopes to stick with the NHL club this year, but chances are come October, he'll be beginning the season in Iowa of the AHL. Hockeysfuture.com reports that, "Dumba has the potential to be an electrifying player in the NHL, but he still needs to round his game into form before taking that next step. He is an energetic player who can score the big hit or the big goal, with his offensive game being more advanced than his defensive play. Dumba has good speed and uses it to rush the puck up the ice, and oonce in the offensive zone, he has a quick release and a good shot. His defensive game could use some work, but that may not be his ticket to the NHL, anyway." Check of Mathew's first career NHL goal here. Dumba could still turn into a Top-4 defenseman but he needs to round out his responsibility in his own end quickly. Look for his to play about 30 games with Minnesota in the 2014-15 campaign.
1: Alex Tuch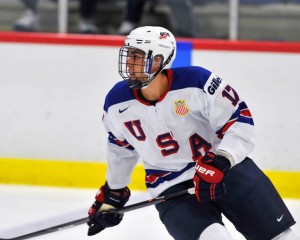 The 6'3, 214lbs power forward was selected 18th overall at the year's Entry Draft in Philadelphia. After a somewhat mediocre year with the U17 U.S. National Team, he excelled at the U18 level collecting 29 goals, 35 assists and 64 points in 61 games, good for third on team scoring. Eliteprospects.com says, "Tuch is a big power winger who skates well with strong balance. He typically is called upon to be the meat and potatoes guy on a skilled line and does so very effectively. Impressive forchecker. Uses his frame to protect the puck and physically supporting his linemates." Alex will attend Boston College for the 2014-15 season to play in the NCAA. Look for Tuch to become a Top-6 power forward who is very tough to play against but also knows how score, usually from in tight. His NHL debut will likely be during the 2016-17 season.
All in all, considering that most of Minnesota's top prospects have moved on, the Wild have still maintained a very promising system. It may not be the top in the league anymore, but they still have multiple kids with the potential of making an impact at the NHL level.