November was far from easy for the Minnesota Wild. After starting the month without Justin Fontaine and Tyler Graovac and losing Zach Parise on Nov. 5 to a sprained MCL, the Wild continued to lose team members (and games) to various injuries and illnesses. It's safe to say the month of November was a bit of a struggle for Minnesota.
Nonetheless, this team managed to barely stay afloat with the help of a few key players: their three MVPs of November.
1. Thomas Vanek
I never imagined I would one day write that Thomas Vanek was the biggest reason behind Minnesota's success, but this guy was a huge reason the Wild managed to win as much as they did throughout November.
The Wild might not have had a great month, but Vanek certainly did. In 11 games, the former Golden Gopher scored six goals, pushing his total for the season to 10. Not only does Vanek now lead the team in goals, he also sits in third place with 19 points behind only Mikko Koivu and Ryan Suter (20 points each).
Vanek has more than just solid stats through the month of November, though. After a mediocre 2014-15 season, Vanek has clearly proven he's back to his 30-goal-scoring self. The 31-year-old looks faster, more agile and completely capable of keeping up with what's going on around him. Last year, he seemed to have a hard time just standing up on his skates, but this season is a completely different story – Vanek has become one of the most valuable playmakers out on the ice every night for the Wild.
The Minnesota Wild struggled this month without players like Parise and Fontaine that usually can be counted on for offense. However, Vanek's solid play definitely helped ease some of the pain  the Wild felt due to the loss of bodies. He was one of the biggest reasons this team was able to win as much as they did, and for that, Vanek is deserving of being one of the Wild's MVPs this month.
2. Mikko Koivu
Minnesota's captain, Mikko Koivu, has been another pleasant surprise so far this season. While Koivu is far from a flashy, offensive player, there's no denying this Finn brings something indispensable to the Wild every night. Sometimes certain things are more valuable than goals, as is the case with Koivu.
Koivu's strength has always been his defensive play and ability to win in the face-off circle. He has never been the guy to lead his team by putting pucks in the net; instead, he leads by giving his teammates everything they need to score. That's exactly what Koivu has done all month long.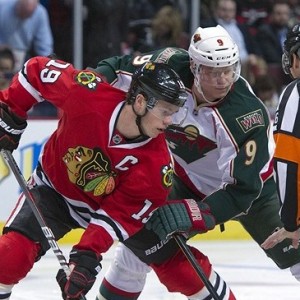 The captain currently has 16 assists, half of those coming from games played in November. Koivu also has one goal throughout the month, but his valuable play is hard to see just by looking at a stat sheet. Koivu is one of the Wild's most valuable players for the month both because of his ability to make plays that lead to his teammates' success and to always seem to be in the right place at the right time. Koivu's individual production is nothing to write home about, but the effect he has on his linemates is hard to ignore.
3. Devan Dubnyk
Devan Dubnyk is not the same goaltender he was last season for the Wild. Yet he has without a doubt been a big reason this team has been able to tally a few wins during the month of November. It's hard to imagine what this month would've looked like for Minnesota without a solid goalie in net, but luckily that's not something the Wild had to worry about.
Dubnyk has started looking stronger, quicker and more like the Dubnyk of last year the more he plays. October was not the best for the former Oiler, but Dubnyk seemed to have become more comfortable as November went on, which is a good sign for the Wild.
November wasn't so great for the Wild, but without Dubnyk, this past month would have been even uglier. Luckily for Minnesota, Dubnyk stayed strong throughout the month, helping his team to stay somewhat stable. For that, Dubnyk is one of the Wild's most valuable players of the month.
Although the Minnesota Wild had a tough month, these three guys helped their team as much as they possibly could, and for that they are the Wild's MVPs of November.
Who do you think were Minnesota's MVPs this month?
Alli covers the Minnesota Wild and has been a contributing writer with THW since August 2014. She is currently a journalism and sports management student at the University of Minnesota. For all of your Minnesota Wild news and updates, follow her on twitter: @allibaker23