Chalk it up as one more mistake by a Montreal Canadien—head coach Michel Therrien, that is, not defenseman P.K. Subban.
Michel Therrien's Mistake
No, Therrien didn't cost the Canadiens against the Colorado Avalanche on Wednesday night, but it was a mistake to place the loss squarely on the shoulders of Subban for his gaffe, which admittedly did come late in the game, leading to a go-ahead goal that eventually stood up as the game-winner. So, in that respect, Subban was more responsible for the loss than Therrien, but it really isn't as simple as that.
Subban's giveaway didn't come in front of the Canadiens' net. It didn't come in the defensive zone at all, but at the other end of the ice. It didn't even result in a breakaway. It led to a rush the other way, during which the Habs as a unit got outplayed by Colorado… or got outplayed by themselves and their faulty coverage if you want to make a case to that effect (in which case maybe Therrien should shoulder some blame)
Therrien's post-game quote on the matter wasn't so bad that it constituted an ill-advised rant against arguably his best (healthy) player. He just said that it was an individualistic mistake that cost them the game (passive-aggressively referring to Subban by all accounts). And it might very well have been simply a matter of his frustration boiling over at the wrong time in front of a group of reporters.
#Habs: « Un jeu individualiste qui a coûté le match de ce soir » – Michel Therrien lance son message à Subban.

— J-F Chaumont (@JFChaumontJDM) February 18, 2016
No Excuse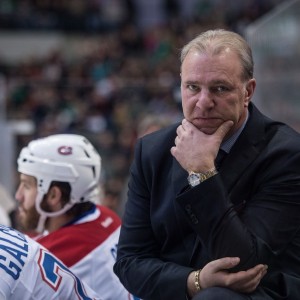 That being said, there is no good excuse for throwing a single player under the bus, unless maybe he's consistently the one making mistakes. It's especially true when you might be trying to deflect the spotlight off yourself and rumblings, first among fans and now in the mainstream media, that you're a bigger part of the overall problem that is the Canadiens.
If that's in any way representative of Therrien's motivations, even on a subconscious level, he had best take a look in the mirror. If it isn't, he had best have his vision re-examined instead, because, not only was Subban not the only reason for the loss to the Avalanche, not only has his defensive game improved by leaps and bounds over the last few years, but, at this point, he's one of the only players producing, with a team-leading 44 points in 58 games, including a recent stretch of eight straight with at least a point (11 total).
Granted, Subban is not scoring at his usual pace and he still makes mistakes—losing it when a bounce off an official led to that Evander Kane empty-net goal vs. the Buffalo Sabres recently comes to mind—but does he really play more irresponsibly than other elite defenseman? Or is it just that his mistakes are amplified within the media (and apparently by his coach) because he's an easy target?
An Easy Target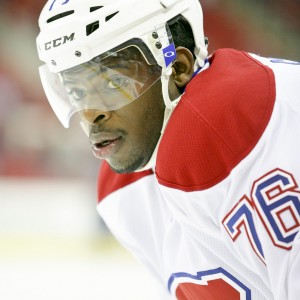 For example, Subban currently has 85 giveaways on the season to admittedly lead the league. However Los Angeles Kings defenseman Drew Doughty, who many believe is a legitimate perennial candidate for the James Norris Memorial Trophy, is second with 73, but in two fewer games played.
Breaking it down further, Subban gives up the puck 3.36 times per 60 minutes. Doughty does 2.78 times. That's about half a giveaway. Maybe divide that difference in half once more, for about a quarter of a giveaway, considering a rough estimate of 30 minutes each actual game.
Is such a small discrepancy really worth splitting hairs over, especially seeing as Subban tends to create more offense (eight more points relative to Doughty this season) to essentially help negate those turnovers?
It became clear, once the game-winning goal was scored, that Therrien had already made up his mind, that he was going to scapegoat Subban, benching him—one of his most offensively gifted players—with the Habs down a single goal.
Now, would the Canadiens have scored to tie the game at that point? Probably not, considering the team's general inability to score since December. However, making a judgment call of that nature, supposedly teaching a player a lesson at the expense of the team, is a signal that you have essentially given up.
Giving Up
You just can't do that, if you're the head coach of a professional hockey team, even one whose best option at this point is to lose and draft high next summer. Really, the only lesson to be taught here is to Therrien, because if the coach is giving up at this point, when his job is potentially on the line, then what's the point of even playing the games?
At the end of the day, this incident likely won't be what costs Therrien his job. Due to a lack of viable, French-speaking coaching candidates, he may even be safe. Alternatively, barring a playoff push for the ages that results in a deep run, it may have already been pre-ordained that he won't last past the end of the season.
Either way, frustration or not, the quote seems symptomatic more than anything else of a coach with nothing left to do but grasp at straws in order to get his team going. He's run out of options for this year. If he knows it, too… well, the end is clearly nigh. It's just a matter of whether it's just the Canadiens' season or his job as well that we're talking about.