Even though Canadiens coach Michel Therrien's season has suffered through a series of unfortunate, unpredictable twists and turns, the best could end up being saved for last.
Everybody Hates Therrien?
Most everyone expects Therrien to be fired at season's end as the Canadiens fall further out of playoff contention. However, there's a legitimate case to be made that he will be spared the axe.
Therrien, who was once an early-season dark horse for the Jack Adams Award after a stirling 19-4-3 start, has seen his luster burn off through the sheer friction of the team's re-entry into the atmosphere and out of the playoff picture.
Now a mere 27-25-4 entering action Monday night—meaning an 8-21-1 record since early December—the Canadiens are still in it mathematically speaking, but the way an odd, triple-digit number goes into 1,000,000—imperfectly and with a lot of work… almost like hammering in a jigsaw puzzle piece that doesn't fit.
This Canadiens team is not playoff-ready, with goaltender Carey Price having been injured since late November, which almost perfectly coincides with the Canadiens' cliff dive down the standings.
Going to Bat for Therrien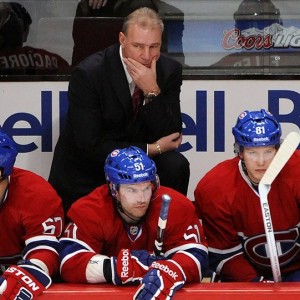 As such, Therrien, or an advocate going to bat for him, can make case that this quagmire of a campaign—during which a team featuring elite players in their primes at each position has effectively lost an entire year of possible contention for the Stanley Cup—is not his fault.
You take away a superstar player on any team and it's going to no doubt struggle. You take away the league MVP, who just so happens to play the single-most important position in hockey, and, well… your Montreal Canadiens, ladies and gentlemen.
Add in the fact that the Canadiens are a top-five NHL team in terms of five-on-five Corsi (52.9%) and a bottom-five one in terms of PDO (.988), and Therrien may very well be able to argue his way out of being fired at season's end. After all, this is in theory the way the Habs should be playing, with the squad only recently starting to get its share of breaks in the offensive zone, with 14 goals in the last four games.
The Easter Bunny and Bounces
However, that's not entirely true. "Puck luck," measured by PDO, is no doubt a thing, but the way the Easter Bunny is. You start to believe in it too much and, instead of a quirk, it becomes a deep psychological trauma.
In essence, teams to a certain extent make their own bounces, and, whereas the Habs made up for their dump-and-chase tactics earlier in the season with a tenacious forecheck, speed wears down after a while, and it takes a worthwhile coach to be able to spot that a given system is flawed and needs changing. If you're not going into high-risk scoring areas—or not getting the chance to as a result—you're simply not going to score consistently. That should go without saying.
Therrien isn't a horrible coach. He's been able to lead this team to three-straight 100-point seasons, after all. However, like every other coach, he always came with an expiry date.
The popular theory is that Therrien was able to get the most of this team year after year, but what if it was the opposite? That the Habs got all they could get out of him?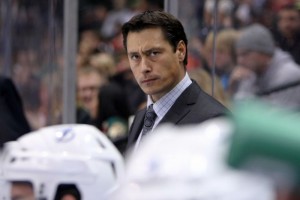 Needless to say, Therrien shouldn't be bullet-proof, but there are a lot of factors working in his favor. Consider the market, where French is a pre-requisite, for example. The simple fact is there isn't exactly a glut of suitable candidates available.
Just who would the Habs hire at his expense? Guy Boucher, who hasn't coached in the NHL since just after the last lockout? Sylvain Lefebvre, who hasn't guided one Canadiens farm team to a playoff berth in three, going on four seasons? Therrien just may be the lesser of three evils.
A Realistic Possibility
Add it all up and Therrien coming back next season, regardless of whether or not the Habs make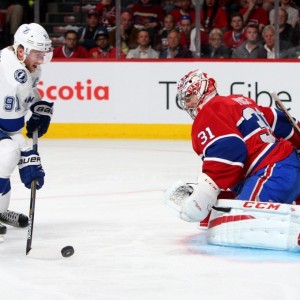 the playoffs, is a realistic possibility. I mean, had Price been healthy, we likely would not be having this conversation, mainly because of his ability to cover up the blemishes in Therrien's coaching strategy.
Really, if you think about it, the only supposedly surefire way Therrien gets fired is if Price stays healthy and has an off year, causing the Canadiens to miss the playoffs. Even then, who would get the brunt of the blame in the Montreal media? The Francophone coach or the goalie, who, earlier in his career, suffered through consistency issues that have seemingly resurfaced?
Ultimately, there comes a time for a coaching change. Therrien's might be fast approaching, but this campaign's ending is far from canned… in more ways than one.