Welcome to our Montreal Canadiens 2018 Draft Guide.
The upcoming draft promises to be an exciting one for Habs fans. For the first time since 2012, the team has a top-three pick, as well as an additional four choices in the second round. Coming off a difficult season—their worst since 2000-01—general manager Marc Bergevin will be scrutinized over changes he needs to bring to the team. There are gaps to fill up front and on defense, and while the impact of draft picks may not be seen immediately, they'll be a good indicator of the direction the Habs will take over the next few years.
The big news, of course, is the end of the Alex Galchenyuk era in Montreal. On Friday night he was traded to the Arizona Coyotes for scrappy winger Max Domi. The reaction to the trade was either anger or enthusiasm, depending on whom you asked. I see this as an example of change for the better; Galchenyuk was an erratic talent with tremendous skill who often seemed unwilling to work on his deficiencies. After six years in the NHL, he failed to establish himself as a consistent scorer or starting centre.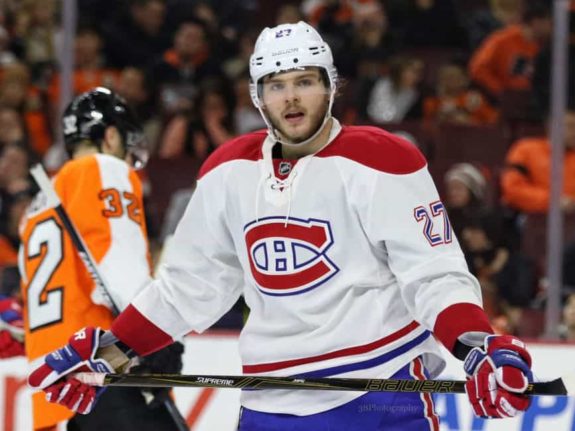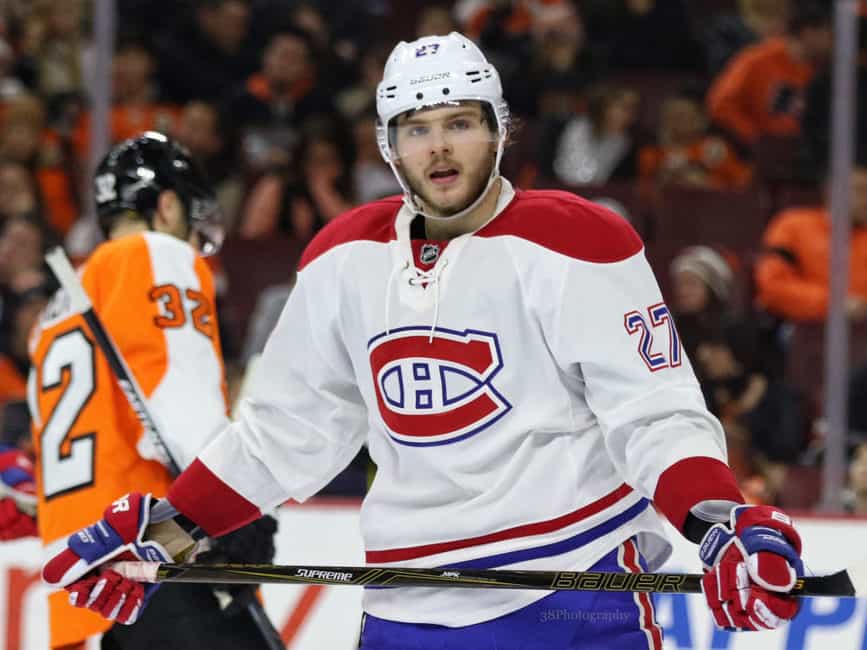 Domi brings the scrappy attitude of Brendan Gallagher and Paul Byron to a team often accused of lacking determination and commitment. While it hasn't been established where he'll play, I'm assuming he'll stay on the wing, as Bergevin is not done on the trade market. Depending on his first pick this weekend, we will know whether he is looking for short-term or long-term help.
With this in mind, let's look at the prospects for June 22.
When Do the Habs Pick?
Believe it or not, the Canadiens' complete fate in the draft depended on the winner of the Stanley Cup, as they traded Lars Eller in 2016 for the Washington Capitals' second-round picks in 2017 and 2018. With the Caps' victory, the Habs have the third choice in the first round, and the 35th, 38th, 56th and 62nd second-round picks. They also have three fourth-round picks due to past trades and have kept their third- and fifth-round picks. Further down, both their sixth- and seventh-round picks were exchanged in trades.
The Last Time the Habs Picked Third
In a way, the recent Galchenyuk trade is a cautionary tale. In 2012 he was selected in the hope he would become the Canadiens' long-sought-after star centre. Looking back, there were very few quality forwards up for grabs in the first round that year as only two were selected among the first 10 picks.
Galchenyuk was also coming off a knee injury which caused him to miss almost an entire season. Even after he signed with the Habs, there were issues about whether or not he was fast enough to play centre, and this saga of where to use him would continue for his entire tenure with Montreal.
The Kid Who Can't Miss: Filip Zadina
Now that the dust is settling on the Galchenyuk trade, the Habs have a chance to redeem themselves by picking the Halifax Mooseheads' Filip Zadina. The Czech-born winger scored 82 points in 57 games in the QMJHL in 2017-18 and his enormous talent has few downsides, He's a pure scorer and gifted playmaker on his own, which will take the pressure off the Canadiens to find a top centre.
https://www.youtube.com/watch?v=HukbBWZrvWQ
If selected, Zadina would give the Habs their best offensive threat since Alexei Kovalev. The only question remaining would be whether he can start with the team in October. Obviously, his maturity in training camp would have to be assessed, but he has an ace in the hole—Dominque Ducharme is a former Mooseheads' head coach and has worked with the likes of Nathan MacKinnon, and Nikolaj Ehlers. He brings a proven track record in working with young players and can help Zadina handle the pressure.
What If the Habs Decide to Go With Jesperi Kotkaniemi?
The hot rumour this week suggests a change in plans for the Habs' highly-coveted third pick. If Zadina represents a redemption, Finnish centre Jesperi Kotkaniemi could be Bergevin's ascension. Having moved up in the ranks this week, he may be the most sought-after pure centre in the draft after a stellar performance in the U-18 world championships.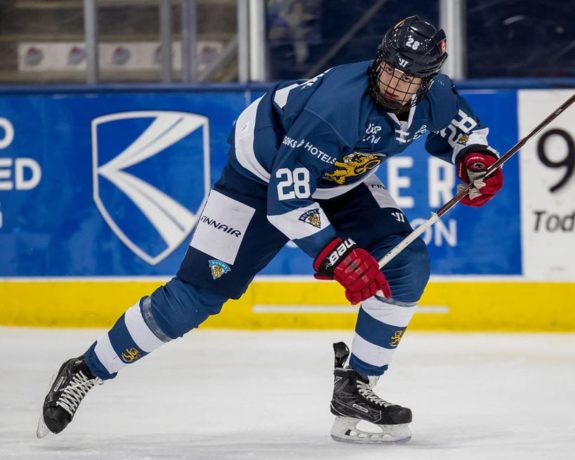 Selecting Kotkaniemi will require patience from Habs fans as the 17-year-old will need a year to prepare for the transition to the NHL. This gives the team a chance to experiment with other players at centre in the interim, and any trade could be for a short-term fix.
Marc Bergevin's First-Round Track Record
After Galchenyuk, Bergevin's record has been erratic. In 2013, he selected Michael McCarron, a forward with plenty of size who never overcame his skating and stickhandling deficiencies to become anything more than an occasional fourth-line centre and fighter. His market value is currently low, and he risks being placed on waivers. Even casual fans regard this as an unfortunate bust.
In 2014, he selected Nikita Scherbak of the Saskatoon Blades. Scherbak has yet to establish himself as a consistent, playmaking forward despite his puck-control skill and skating ability. He has a tendency to give up on plays if his highlight-reel stickhandling doesn't result in a clear shot and although he's thought of as a future regular, his performance thus far suggests he might be a good piece in a future trade.
Whether it was his experience as a defenseman himself or just his maturation process as an executive kicking in, the 2015 and 2016 first-round picks were excellent. Noah Juulsen is slated to complete his first full season as a Hab in the upcoming year.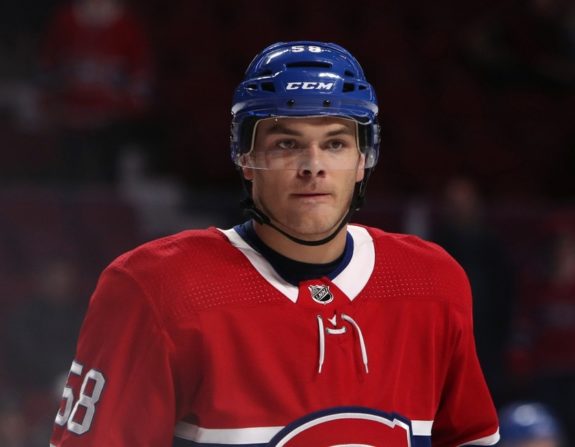 After demonstrating maturity and poise in his stint with the team at the end of last year, Juulsen appears ready to assume a greater role at both ends of the ice. His on-ice vision is excellent, and his simple but effective passing and solid physical play give him the potential to be a well-rounded defender whom Claude Julien can use in any situation.
Bergevin's 2016 pick, defenseman Mikhail Sergachev, is touted as a potential star. However, he'll be shining in Tampa Bay, not Montreal, as he was traded for Jonathan Drouin before the 2017-18 season. Although he was not used with frequency against top-line opponents last year, his shot, stickhandling skill and 40-point rookie year suggest the Lightning will produce a lot of points from their defensemen, particularly with Sergachev and Victor Hedman.
I have high hopes for the 2017 first-round pick, centre Ryan Poeling. The epitome of a character player, Poeling exploded offensively last year for the NCAA St. Cloud State Huskies. His confidence as a playmaker and passing skill, along with more confidence around the net, could see him in a Habs uniform by 2019-20. Right now he has to decide whether or not to forgo his last two years of college to turn pro, but if he winds up with the Laval Rocket next year, he will be in good hands with Joel Bouchard, who is known to handle young talent well.
With his last three first-round picks, Bergevin is looking more like a general manager with experience and vision and a great judge of character.
The Second Round: A Chance to Add Depth
The Habs second-round draft history has not been without surprises. The last time they had four picks was in 1982, and you'll be forgiven if the names Dave Maley, Kent Carlson, Jocelyn Gauvreau, and Scott Sandelin don't ring a bell. However, they would fare much better in that round the rest of the decade, choosing Chris Chelios, Claude Lemieux, Sergio Momesso, Stephane Richer, Benoit Brunet, John LeClair, Eric Desjardins, and Patrice Brisebois.
In some respects, their two Stanley Cups in that era owe more to the talent of second and third-round picks than their first-round selections.
2007: Habs Pick P.K. Subban
In recent years, the Canadiens' best second-round pick was P.K. Subban, selected 43rd in the 2007 draft. With the exceptions of Ryan McDonagh and Kevin Shattenkirk, no defenseman selected ahead of Subban has made nearly the impact of the former Norris Trophy winner, who is still a subject of debate when discussing the Shea Weber trade.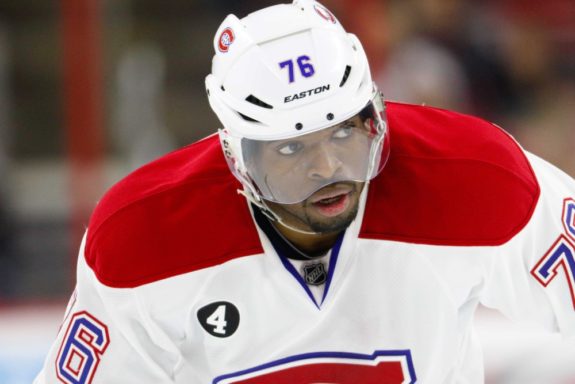 Who Are the Habs' Best Second Round Options in 2018?
Drafting high in the round at 35th and 38th provides the Habs with a window to a lot of talent. Some solid recent selections at this level include Sebastian Aho, Boone Jenner, and Alex Debrincat. As a team looking for possible upgrades and depth, the second round is likely the best place to find it. The Habs can address their thin blue line, lack of scoring, and weakness at centre. Let's look at some prospects.
Gabriel Fortier
A local kid with speed and determination, Fortier scored 59 points in 66 games for the Baie-Comeau Drakkar.  He can play centre or wing and his style is reminiscent of Byron and Gallagher's. With the team looking to find more players with a "no quit" attitude, his progress in the organization could be quick, especially as size appears to less of a factor than speed in the NHL of late.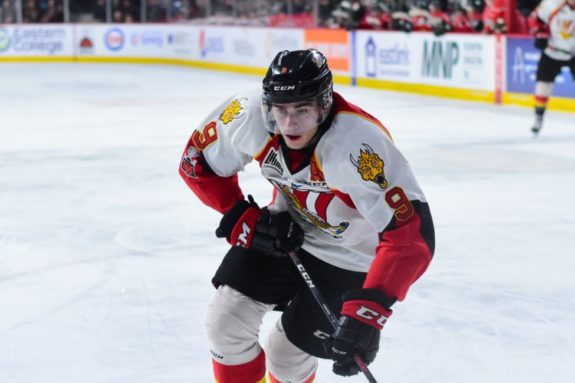 Jonathan Tychonick
As we move further down, Tychonick is a potential left-handed defenseman of the future. He is quick, mobile, and solid on the power play, but he'll be heading to the University of North Dakota, so the Habs will have to chart his progress at the college level for at least the next couple of years. He is a natural leader and already has international experience. It doesn't hurt that UND produced the likes of T. J. Oshie, so his development will be in good hands for the next little while.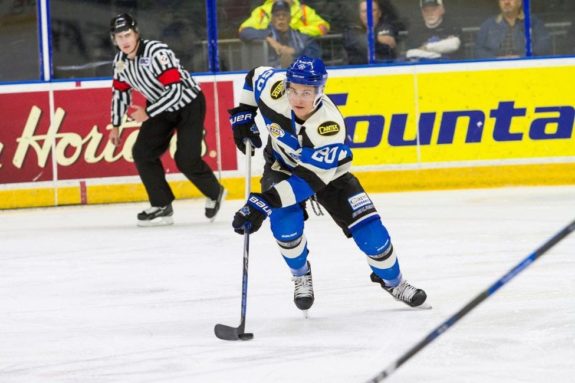 Benoit Olivier-Groulx
I've seen Bo Groulx ranked anywhere from a late first-round pick to a high third. Assuming he's destined for the lower ranking, he would be a great option at centre. Having played with Zadina in Halifax, his skills as a playmaker were often showcased, but he's also skilled defensively and could potentially shut down an opposing team's top line. Some teams will be scared off by his lack of speed, but a good skating coach can make a difference, especially if the player has the drive to improve.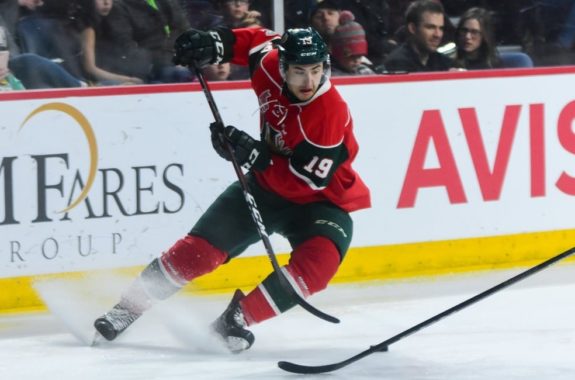 With Mattias Samuelsson looking like a late first-round pick, the Habs could be select Nicolas Beaudin of the Drummondville Voltigeurs. In addition to having played for Ducharme, he's a pure offensive threat, and his skill and short stature will invite comparisons to Ryan Ellis and Tory Krug. Their recent success makes his NHL future seem more of a possibility.
Third Round and Beyond: Hidden Treasure
Once you get past the second round, the chances of picking a player who will make it to the NHL are slim. Despite this, there are stories of hockey legends like Theo Fleury and  Pavel Datsyuk who were not highly coveted when initially eligible for the draft. Is there a secret to finding a diamond in the rough? Here are a few options the Habs could consider.
European Players Are Often Under the Radar
There's a big distinction between European players who play junior hockey in North America and those who remain across the ocean. Local players receive more publicity and scouts have greater access to them. Players from Europe can often be the dark horses in the draft. A good organization looks for stars to come out of international tournaments where they were previously under the radar.
Tomas Plekanec is a good example of this. After helping the Czechs win a gold medal at the 2001 World Junior Championships, he was drafted in the third round by the Habs. His impressive career record speaks for itself, so credit has to be given to the organization for having the foresight to look at him in the first place.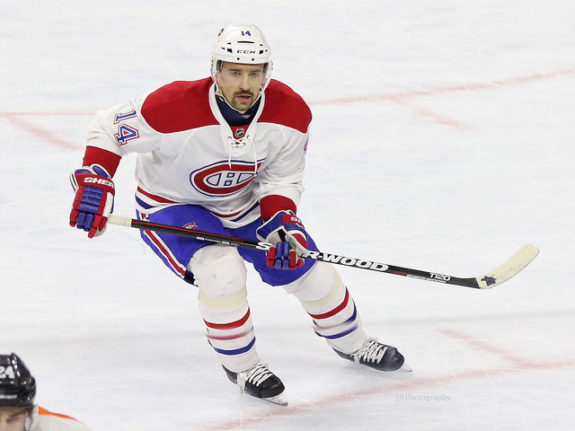 With that in mind, the Habs should see if history repeats itself and look back at the Czech Republic. Jan Jenik is a winger who most recently played for Liberec, but also has international experience. At 17, he will likely be passed over because of his age but could develop into a star down the road. In situations where young international talent is involved, the Habs could use someone like Plekanec in their organization to help bring them along.
Personality Goes A Long Way
The recent Galchenyuk/Domi trade draws attention to the importance of character when selecting a player further down in the draft. Lack of size, speed, or stickhandling are usually the biggest factors in overlooking a player in earlier rounds, but intangibles like scrappiness, motivation, and the desire to succeed are inherent personality traits that allow a low pick to not only make the NHL, but also reach potential stardom.
Goaltenders Are Risky
People are still shocked when I tell them Patrick Roy was a third-round pick, but there is evidence to support why some teams are reluctant to pick a goalie in the first or second rounds. Goaltenders picked in early rounds have twice the chance of failing to make the NHL as forwards or defenders. This risk makes it more likely that a true gem, like Roy, will be found after the 62nd pick.
The Habs' Final Picks
Three of the four remaining Habs' picks are in the fourth round, with one in the fifth. The 97th, 102nd, 122nd, and 128th choices seem almost interchangeable, but the same rules that apply to third-round picks apply here. Remember, this is where the Habs snagged Brendan Gallagher in the fifth round in 2010, and Victor Mete, who could be on the first defensive pairing with Shea Weber next year, was a fourth-round pick in 2016.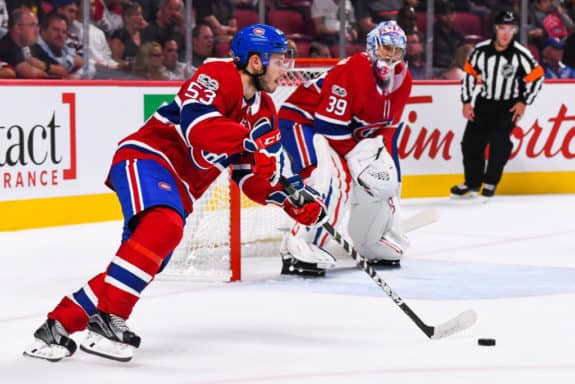 With little risk and a great possible upside, the Habs can afford to experiment. After all, David Desharnais wasn't even drafted but spent six-and-a-half years with the Habs, playing regularly on the top two lines. As the continuously fluctuating player rankings suggest, drafting is not an exact science, but a good general manager needs to have an overall vision of the type of team he wants in the near future, with players he selects filling the individual spots in his plan. Now on to Dallas!