Led by the likes of Auston Matthews, Mitch Marner, and William Nylander, the Toronto Maple Leafs are a franchise on the rise with legitimate Stanley Cup aspirations.
However, as was made abundantly clear throughout the 2017-18 NHL season, the Leafs desperately need to add greater depth to all areas of their lineup. Offensively, Toronto needs to generate greater scoring from their bottom-six forwards, as the team's top talent has come to be relied upon far too heavily. Further, on defence, the Leafs must garner a greater variety of defenders capable of handling significant minutes in high-pressure situations.
Fortunately, Toronto's current crop of prospects is deep and endlessly talented. Although some individuals may face a longer developmental path than others, the fact remains that the Leafs boast a wealth of youngsters eager to progress and leave a lasting impression at the NHL-level.
With this being said, it's time to take a moment to assess how each of Toronto's top-tier prospects progressed during the 2017-18 season. Below, I have profiled each of the Leafs' top-ten prospects — highlighting their play throughout this past season before predicting their immediate futures as NHL prospects.
10. Eemeli Rasanen
Position: Defence
2017-18 Team: Kingston Frontenacs (OHL)
2017-18 Season Grade: B+
Although Eemeli Rasanen's size certainly stands out — 6-foot-7 and 210-pounds — there is much more value to the young defender's game than simply his intimidating stature.
In addition to his hulking frame, Rasanen also happens to be a tremendous skater. In the defensive zone, Rasanen moves his feet quickly in order to maintain tight gaps with his opposition. Boasting solid agility and acceleration, Rasanen combines his skating and size to smother, punish, and dispossess opposing forwards in possession of the puck. Having secured the puck, Rasanen has the ability to lead the rush and establish his team's presence in the attacking zone — where his crisp passing and heavy shot make him a consistent two-way threat.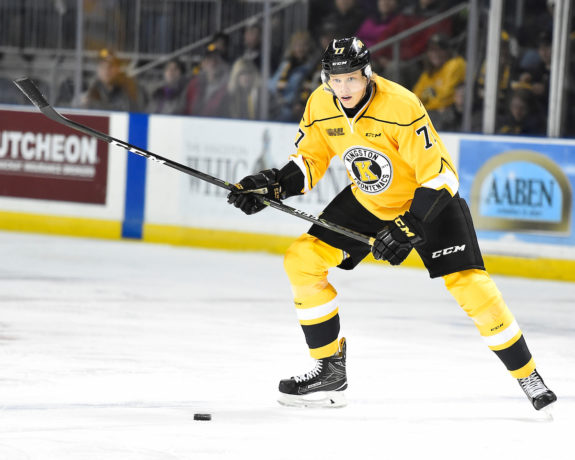 In 2017-18, Rasanen completed his second season of play with the OHL's Kingston Frontenacs. Despite earning greater duties and responsibilities in his sophomore season, Rasanen's play failed to waver, as the native of Joensuu, Finland quickly became a reliable defender at both ends of the ice. In all, Rasanen recorded five goals and 33 points in 61 games during his most recent regular season campaign with Kingston. Although his offensive output shrunk slightly in comparison to his rookie total of 39, Rasanen improved his defensive play dramatically — raising his plus/minus rating from -7 to an impressive +16.
When the 2018-19 hockey season begins, Rasanen will skate for Jokerit of the KHL. Although making the jump to the professional ranks will certainly require a significant adjustment, the transition should bode extremely well for Rasanen and his personal development. If he can continue to improve his skating and defensive play, we could see Rasanen challenge for a place within the Leafs' lineup come to the 2020-21 campaign.
NHL Potential: Top-Four Defender
NHL Arrival: 2020-21
9. Dmytro Timashov
Position: Left-Wing
2017-18 Team: Toronto Marlies (AHL)
2017-18 Season Grade: B
Dmytro Timashov was a fifth-round pick of the Leafs in the 2015 NHL Draft — a jaw-dropping reality when you consider the fact that the native of Kirovograd, Ukraine posted 90 points in the season leading up to his selection.
Uber-talented and incredibly nimble on his skates, Timashov's creativity and imagination combine to make him a strong offensive player. As a pass-first player, Timashov can distribute the puck with ease and creates high-percentage scoring opportunities at-will. Although he will score his fair share of goals owing to sound positioning and delicate play, Timashov's greatest strength remains his ability to see the ice — a talent which stands second to none throughout most contests.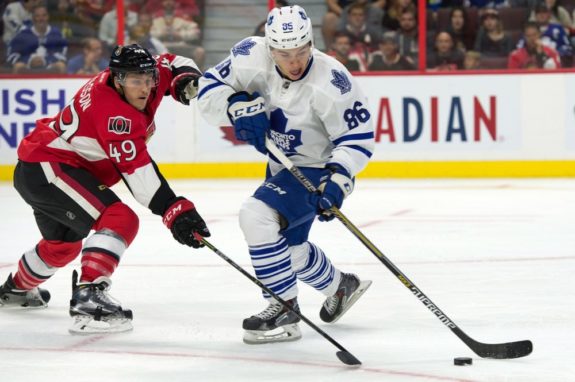 In 2017-18, Timashov had yet another solid season and one which did wonders for his personal development. In all, Timashov netted 13 goals and 34 points for the Marlies in 67 regular season games played — a ten point increase when compared to his rookie AHL campaign. What's more is that Timashov's plus/minus rating jumped from a -5 to +5 in his sophomore season — an output reflective of his growing game at the professional level.
Set to return to the Marlies next season, Timashov's improving play could provide the Leafs with a legitimate depth option at the NHL-level in the near future. Although best suited for a top-six offensive role, Timashov could progress into a dependable third-round player capable of providing crucial secondary scoring to a Toronto team heavily dependant on its top young players.
NHL Potential: Bottom-Six Forward
NHL Arrival: 2019-20
8. Miro Aaltonen
Position: Centre
2017-18 Team: Toronto Marlies (AHL)
2017-18 Season Grade: A-
Despite his projection as Toronto's likely fourth-line centre to begin the 2017-18 season, Miro Aaltonen failed to crack the Leafs' roster as a full-time player. However, Aaltonen's disappointment appears to have fuelled his motivation, as the youngster hailing from Joensuu, Finland pieced together an impeccable campaign.
In his first season of play in North America, Aaltonen established himself as a quality prospect and one more than capable of playing at the NHL-level in the near future. In his 64 regular season games played for the Marlies this past season, Aaltonen became a dynamic two-way player — notching 20 goals and 43 points alongside an awe-inspiring +29 plus/minus rating.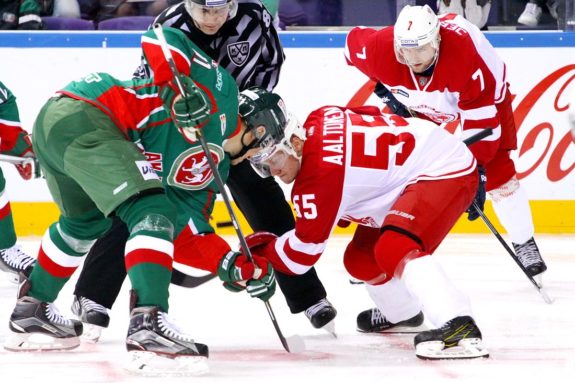 As a strong skater who boasts great vision and creativity, Aaltonen is capable of securing his own zone before leading the rush and generating excellent scoring opportunities for his team. Although he will need to strengthen his slender frame in order to successfully ascend to the next level, Aaltonen's ability to play a professional style of game should bode well for his personal progression within Toronto's franchise.
With this being said, we could see Aaltonen in a Leafs jersey as early as next season. With Tyler Bozak, Tomas Plekanec, and Dominic Moore all pending UFAs, Aaltonen could very well battle for and secure a role within Toronto's bottom-six to begin the 2018-19 NHL campaign.
NHL Potential: Top-Nine Forward
NHL Arrival: 2018-19
7. Pär Lindholm
Position: Centre
2017-18 Team: Skellefteå AIK (SHL)
2017-18 Season Grade: A-
Pär Lindholm enjoyed a stunning season in 2017-18, and one which earned him a one-year entry-level contract with the Leafs.
Capable, versatile, and dynamic, Lindholm is a sound all-around player who can be utilized in a variety of situations. Whether it be on the power play, penalty kill, or at even-strength, Lindholm is a consistent contributor who can aid his team in a number of ways.
Defensively, Lindholm is incredibly intelligent and calculated — forcing turnovers with ease before lugging the puck out of his own zone. Offensively, Lindholm is lethal — the stunning 'Swede fires passes with authority and can blast the puck on-goal as well.
Maple Leafs sign handful of prospects, including Par Lindholm. https://t.co/b0HLprcOhR pic.twitter.com/BRiNW58sY3

— theScore (@theScore) May 17, 2018
During his 2017-18 campaign with Skellefteå AIK of the SHL, Lindholm put his particular skill-set on display for the world to behold. In total, Lindholm potted 18 goals and 47 points across 49 regular season games — later adding another 11 in his 16 playoff contests. Moreover, Lindholm's plus/minus rating rose 17 points when compared to his play in 2016-17, while his penalty minutes also decreased — a glaring indication of an increasingly mature play.
RELATED: THW's 2018 Draft Guide
Touted by many — including his agent — as NHL-ready, Lindholm will surely be afforded the opportunity to seize a role with Toronto to open the 2018-19 NHL season. Although said role may come on the fourth-line, adjusting to the North American game will be the next step in Lindholm's personal development and a course which could lead to a prosperous NHL-career.
NHL Potential: Top-Nine Forward
NHL Arrival: 2018-19
6. Pierre Engvall
Position: Left-Wing
2017-18 Team: HV71/Toronto Marlies (SHL/AHL)
2017-18 Season Grade: B+
Much like Lindholm, Pierre Engvall could be an intriguing option to fill a fourth-line void for the Leafs this coming season. Fresh off of a promising stint with the Marlies to conclude the 2017-18 campaign, Engvall illustrated his ability to adapt and overcome the challenges associated with daily life at the North American professional-level.
What makes Engvall such a unique and promising prospect is his combination of size, speed, and intelligence. Standing 6-foot-4, Engvall is an intimidating presence who can protect the puck with ease before distributing possession to his teammates. Although he would do well to apply his strength more consistently, Engvall's ability to meander through his opposition before generating a quality scoring chance stands as a unique staple of his personal game.
"That's what I've been trying to work towards for the last four years. I'm really happy."

Toronto Maple Leafs prospect Pierre Engvall, another Swedish seventh-rounder with a legit chance: https://t.co/7c0d8Q22Gp #marlies #TMLTalk pic.twitter.com/9U9kze70RG

— luke fox (@lukefoxjukebox) May 19, 2018
Following a strong showing with HV71 of the SHL earlier this season — during which time he collected 20 points in 31 games — Engvall signed with Toronto and arrived in the city in time to conclude the Marlies' season. In his nine regular season games played, Engvall notched four goals and eight points before adding another eight points in 20 Calder Cup playoff games.
While he still boasts considerable room to improve, Engvall stands as an excellent prospect of the Leafs who, following an additional season of play in the AHL, should contend for full-time employment at the NHL-level.
NHL Potential: Top-Nine Forward
NHL Arrival: 2019-20
5. Calle Rosén
Position: Defence
2017-18 Team: Toronto Marlies (AHL)
2017-18 Season Grade: B+
Calle Rosén and his sensational play could force Toronto's hand to begin the 2018-19 NHL campaign.
Founded upon excellent skating abilities and terrific hockey sense, Rosén's stellar play throughout the 2017-18 season has made him a leading candidate for promotion to the NHL-level.
Despite a demotion to the AHL's Marlies in October of 2017, Rosén took his assignment in stride and pieced together a strong rookie campaign in North America. After recording one assist in four contests with the Leafs, Rosén battled on and wound up potting four goals and 22 points in 62 regular season games played with the Marlies.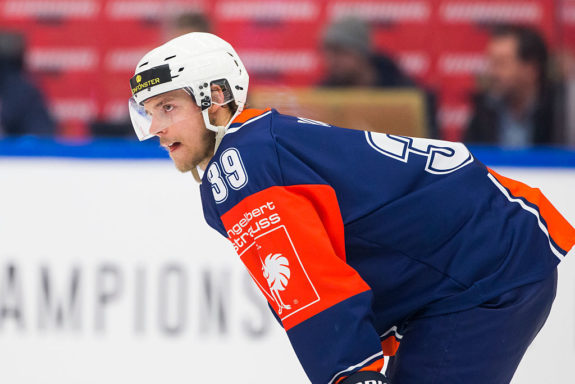 However, during the Calder Cup Playoffs is when Rosén began to establish himself as a premier talent in the AHL. In addition to impeccable defending within his own zone, Rosén generated a wealth of personal confidence — a confidence which led to a spike in both his creativity and offensive output. In fact, in his 16 playoff games played with the Marlies to conclude the 2017-18 season, Rosén collected an impressive five goals and 11 points — a total which led all Toronto defenders.
Yes, he would do well to add greater strength to his 6-foot frame. However, the fact remains that Rosén is a steadily improving defender who could use this past season as a springboard for future NHL success.
NHL Potential: Top-Four Defender
NHL Arrival: 2018-19
4. Travis Dermott
Position: Defence
2017-18 Team: Toronto Marlies (AHL)
2017-18 Season Grade: A-
Travis Dermott exploded onto the NHL scene in 2017-18, bringing energy, skill, and capability to a relatively thin Leafs blue line. Best defined as a terrific two-way defender capable of making an impact in all three zones, Dermott and his future in Toronto will have an immense impact on the Leafs' success in coming years.
After just one full season of play at the AHL-level with the Marlies, Dermott made the jump to the NHL and did not look back. Playing with both confidence and poise, Dermott brought high-end skill and excitement to Toronto throughout his 37 regular season and seven playoff games played with the franchise. In those 43 total games, Dermott netted two goals and added 12 assists for a total of 14 points, all while averaging a little under 16:00 of ice time per game.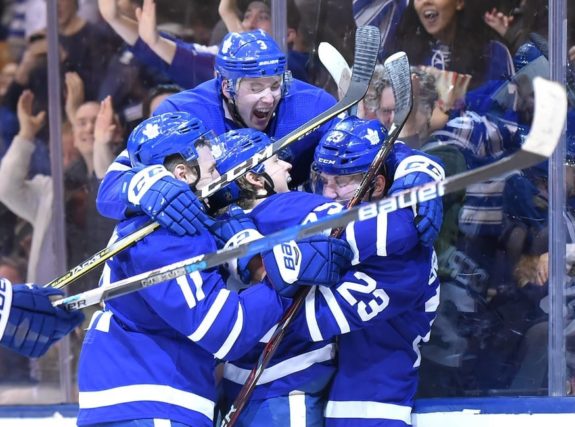 Not afraid to battle against intimidating competition and confident in his personal abilities, Dermott suddenly stands as a prospect of immense intrigue for Toronto heading into the 2018-19 season. Although he would benefit from adding greater strength to his frame — like others on this list — Dermott's intelligence and tact with the puck combine to make him a shifty yet confident threat from the blue line.
When the 2018-19 NHL season begins, expect to see Dermott on the Leafs' roster as a full-time player. While enduring a full campaign at the NHL-level will surely bring its fair share of challenges, Dermott's proven ability to adapt and persist should facilitate the beginning of a long NHL career for the Newmarket, Ontario native.
NHL Potential: Top-Four Defender
NHL Arrival: 2018-19
3. Carl Grundström
Position: Left-Wing
2017-18 Team: Frolunda HC/Toronto Marlies (SHL/AHL)
2017-18 Season Grade: A-
Carl Grundström appears to be the Leafs' super-powered replacement for Leo Komarov. Aggressive, hard-hitting, and a pure workhorse, Grundström's tireless ethic has come to define his game, as the native of Umeå, Sweden can seemingly do it all on the ice.
Following an initial stint with the Marlies during their 2016-17 playoff push, Grundström returned to the team this spring and was nothing short than impressive. After potting 17 goals in 35 games played for Frolunda HC of the SHL, Grundström collected three points in two AHL games to round out the regular season before collecting 14 points in 20 Calder Cup contests.
The big thing that really stood out is how competitive he (Grundström) was and just how strong his instincts were, especially offensively.  – Sheldon Keefe, Marlies Head Coach
What makes Grundström such a promising prospect is the manner in which he plays the game. Not willing to back down from an opponent and tireless in his pursuit of the puck, Grundström will throw a punishing hit in order to secure possession of the puck before driving a path to the net. Once near the goal, Grundström is a puck-hound and can score in a variety of ways — whether it be a quick snap shot, deflection, or rebound, Grundström can deposit the puck.
As we head towards the 2018-19 season, Grundström will surely be considered for a full-time role within the Leafs' NHL roster. Boasting great size, strength, intelligence, and professional experience, Grundström stands poised for a seamless transition to hockey's highest level.
NHL Potential: Top-Six Forward
NHL Arrival: 2018-19
2. Timothy Liljegren
Position: Defence
2017-18 Team: Toronto Marlies (AHL)
2017-18 Season Grade: B+
Despite skating as the youngest player in the AHL in 2017-18, Timothy Liljegren was not overmatched. In fact, the Leafs' first-round pick in the 2017 NHL Draft played with a level of poise and competitiveness reserved for players of immense potential.
Although standing 6-foot and weighing a mere 190-pounds — a somewhat meagre frame for a defenceman — Liljegren enjoyed considerable success in his rookie AHL season owing to impressive predictability, on-ice intelligence, and creativity. No, his point totals were not sky-high. However, Liljegren's defensive play grew considerably under the watchful eye of Keefe, who helped mould the native of Kristianstad, Sweden into a crisp puck-moving defender.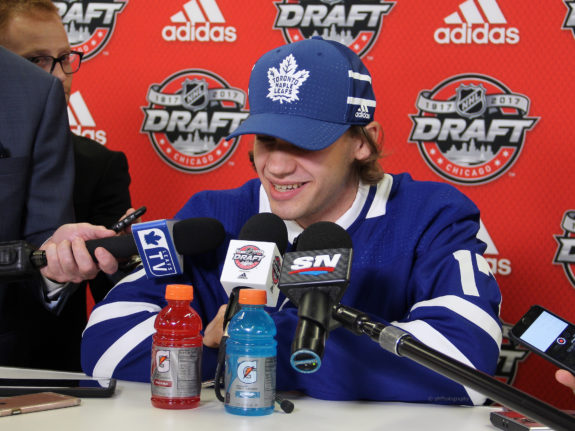 In all, Liljegren notched one goal and 17 points in 44 regular season games played before adding an additional four assists in 20 playoff contests. While his highly-touted offensive play will surely translate in the coming years, it is Liljegren's maturity on the defensive side of the puck which spoke wonders during his inaugural AHL campaign. Once stronger and more experienced, Liljegren will surely ascend to the NHL-level, where his dynamic puck-skills and intelligence will facilitate a dynamite career.
In 2018-19, look for Liljegren to return to the Marlies for an additional season of development. Although he would surely like to begin playing for the Leafs next year, an extra season of play at the AHL-level will allow Liljegren to garner greater strength and poise before embarking upon a long NHL career.
NHL Potential: Top-Four Defender
NHL Arrival: 2019-20
1. Andreas Johnsson
Position: Left-Wing
2017-18 Team: Toronto Marlies (AHL)
2017-18 Season Grade: A+
Andreas Johnsson is the train that keeps on chugging.
No, he isn't the most sizeable player, and no, he isn't the strongest. However, what Johnsson lacks in stature he compensates for with raw skill, ability, and proven offensive production.
Following a solid rookie campaign in the AHL in 2016-17 — during which time he collected 20 goals and 47 points — Johnsson exploded and became an elite offensive machine. By the time his sophomore season in 2017-18 came to a close, Johnsson had netted 26 goals and 54 points in 54 games played. Further, the young 'Swede blasted a remarkable ten goals and 24 points in just 16 Calder Cup playoff games en route to an AHL championship and MVP honours.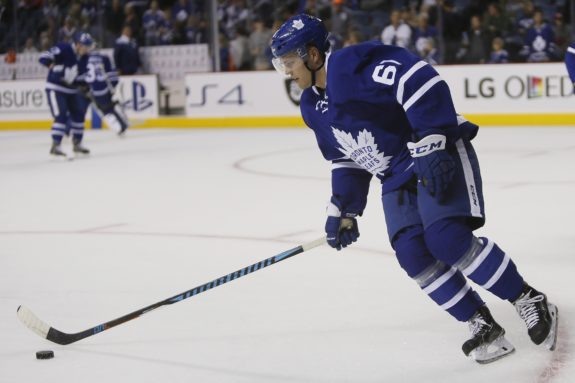 The specific traits which make Johnsson a growing and dynamic offensive force are his skating, individual puck skills, and confidence in all aspects of the game. Boasting blistering speed and ample agility, Johnsson weaves through his opponents with ease while creating time and space for himself owing to excellent edge work. Once established in the offensive zone, Johnsson's creativity and unpredictability allow him to either pass or shoot the puck with absolute authority.
When the 2018-19 NHL season begins, Johnsson will be on the Leafs' roster. Although he may have to bide his time before becoming a full-time player — much like Kasperi Kapanen in 2017-18 — Johnsson has the potential to become a game-changing player and legitimate force at the NHL-level.
As it stands, Johnsson is Toronto's top prospect — his play for the Marlies this past season simply solidified the fact.
NHL Potential: Top-Six Forward
NHL Arrival: 2018-19