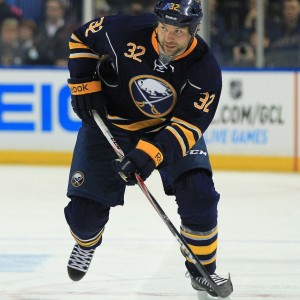 There's likely never going to be another John Scott in the NHL All-Star Game. The league has made sure of that, with a new series of rules and regulations that would prevent someone playing in the American Hockey League from being voted in.
So, an exact repeat of the John Scott saga? That's not going to happen, although anything similar was already unlikely to ever go down nearly as picture perfectly, with Scott taking home the game's MVP honors. Still, that doesn't mean Montreal Canadiens fans can't find some way around them and still try to have some fun.
Making up one the largest fan bases around, if they really wanted to they could conceivably still make the league and its All-Star Game look very silly, all the while potentially turning a fan, but not stats favorite, into a legend. They did get Mike Komisarek in once, after all.
So, here are the top three Habs still with a shot at a movie deal:
Paul Byron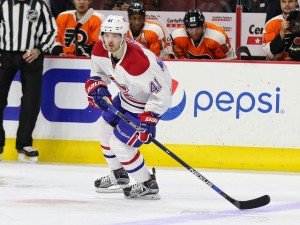 Prior to his time with the Habs, no one could have ever conceived of Paul Byron getting top-line ice time. No one except head coach Michel Therrien, who has never met a bottom-six forward he didn't immediately think had been miscast his entire career up to that point.
Call it an idiotic philosophy or simply pretentious for Therrien thinking he sees potential where others do not. However, in Byron's case it seemed to work… kind of. His most common assignment this season has been on a line with Alex Galchenyuk and Alexander Radulov, and he has responded with seven total goals and five assists in 24 games. He hasn't had a point in his last five contests though, which implies the ride was fun while it lasted.
For the record, he had 21 points in 47 games during his best offensive season to date, in 2013-14 with the Calgary Flames. His production so far has him on pace for 41 points over an 82-game season, which would be incredible… for Paul Byron, not any legitimate top-line forward.
That being said, Byron has undeniable offensive assets, most notably his breakaway speed, which would serve him well in any glorified skills competition. Really, if there's one current Montreal Canadien who has the best chance to become the next Scott and earn All-Star MVP honors in spite of being a fish out of water, it's Byron.
Andrew Shaw
Suddenly, Andrew Shaw has another crack at a 20-goal season. He's still slightly off the pace with five goals (and five assists) in 24 games, but if Shaw's back, after last reaching the plateau in 2013-14, it only bodes well for the Canadiens. Granted, if he continues to lose his cool like he did against the Anaheim Ducks, maybe not.
You can't deny that sort of temper tantrum would add some much needed flair to an event that sees most participants simply go through the motions.
It admittedly seems unlikely Shaw would bring his tried and tested shift-disturber mentality to All-Star Weekend, but it would be well worth the effort to get him in just to watch him tick down like the time bomb he's become.
If you can't wrap your head around the notion that Shaw belongs on an all-star team, look at it this way: Instead of just putting together four lines of superstars, Team Canada has consistently stocked its teams with elite role players. If Shaw continues putting the puck in the net as he has recently, he would be one such elite role player.
David Desharnais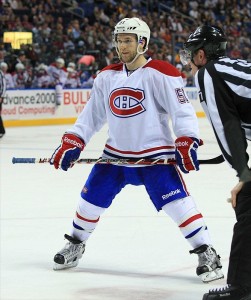 Under duress, many could probably find a way to legitimize potential Byron and Shaw picks. You'd probably have to be Therrien himself to think Desharnais making it into the All-Star Game would be anything other than an inside joke aimed at discrediting the league, making fun of the diminutive forward in the process.
To be clear, he would be collateral damage, and it would be cruel punishment for a guy who, really, only seems to be guilty of giving it his all every time his coach sends him over the boards. It's just unfortunate that ends up happening more often than it should based on his limited skills. He has just seven points on the season in spite of getting more power-play ice time per game than Artturi Lehkonen or even Nathan Beaulieu, when puck-moving defenseman typically rank much higher.
In that sense, Desharnais would be the perfect candidate to follow in Scott's footsteps (despite the size difference; Desharnais is 5'7", while Scott is 6'8"). Many might claim that last year's campaign to get Scott into the All-Star Game was nothing more than an attempt to honor the role player. Claims aside though, does anyone really believe it?
Desharnais, for requiring sheltered offensive zone starts to succeed but still failing miserably, is already a laughingstock in many Habs fan circles. Trying to get him in the All-Star Game would only shine the spotlight on his struggles for the entire hockey world to see. While every team probably has a similar player, a vote for Desharnais isn't a vote for the little guy, but rather one for wider All-Star Game reform.
It comes down to a question of how badly the event needs to be fixed. Would humiliating an innocent bystander be worth sending a message when, entertainment value aside, it kind of backfired last season?