In this week's edition of Habs Fantasy Hockey Roundup, we will be looking back at how the Canadiens' top five fantasy players performed over a week that included three games on the schedule against the St. Louis Blues, the Calgary Flames, and the Edmonton Oilers, and whether you should be starting them in your lineups.
Shea Weber
Last Week: 3 GP, 2 G, 1 A, 10 SOG, 7 Hits, 4 Blocked Shots
The Canadiens' number-one defenseman has arguably been the team's most valuable fantasy player so far this season. In 24 games, Weber has scored six goals and 16 points, while averaging just under three shots per game.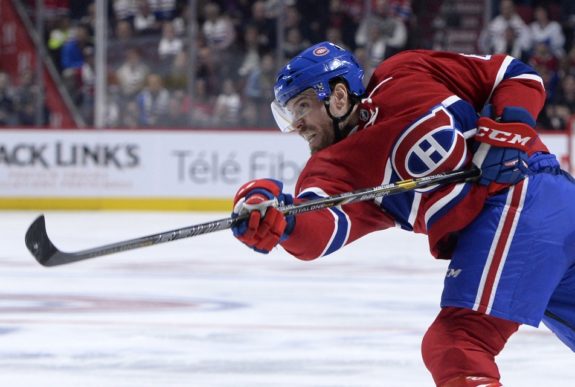 A top-tier player in any fantasy format, Weber is extremely valuable in leagues that count hits and blocks, as he is currently averaging 2.54, and 2.17 per game, respectively. Thanks to his devastating slap shot, Weber is Montreal's most dangerous player on the man-advantage, so he can also be counted on in leagues that include power play points, too. There is no reason for having Weber anywhere outside of your starting lineup.
Max Pacioretty
Last Week: 3 GP, 2 A, 7 SOG, 1 Special Teams Point, 5 Hits. 
It was a relatively quiet fantasy week for the Canadiens' captain. Averaging over 14 shots on goal in the first eight weeks of the season, Pacioretty found himself way off that mark last week, which would explain his less-than-stellar stat line. Pacioretty has been a disappointment for fantasy owners this year, so far. In 31 games, the left-winger has eight goals and 18 points, leaving him on pace to not score at least 30 goals, and 60 points for the first time since the lockout-shortened season in 2012-13.
With only one goal in his last 13 games, Pacioretty is due for a breakout. Historically, Pacioretty has been a streaky player, scoring goals in bunches. Prior to his cold-streak, Pacioretty scored six goals in 10 games, on top of 36 shots, and 20 hits. Pacioretty will need to play lights out from here on out to reach the marks set in previous seasons.  Despite his lack of point production, Pacioretty can always be counted on in fantasy for his shot production, and should remain in your starting lineup.
Jonathan Drouin
Last Week: 1 GP, 2 Hits, 1 Blocked Shot, 3 Faceoff Wins
The first-year Hab was a non-factor in fantasy last week thanks to a combination of a lower-body injury and an illness. Drouin suited up for only one of three games on the week, and was unable to muster up anything more than a few peripheral stats in which many leagues do not play with, like hits and blocked shots. Drouin owners should not panic, however. As the Canadiens' most dynamic offensive player, Drouin is counted on to score more than any other forward not named Max Pacioretty.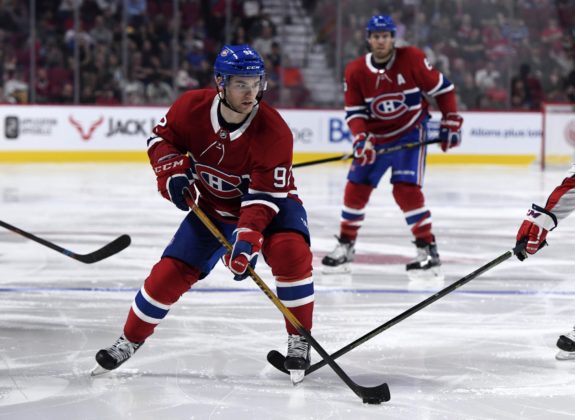 Averaging 17:38 minutes of ice time per game, including 3:34 on the power-play, Drouin has ample opportunity to put up fantasy points. What makes Drouin even more valuable is his eligibility to play centre or on either wing, leaving fantasy owners with the option to plug him into any forward position in their lineup. Like Weber and Pacioretty, Drouin should remain a fixture in starting lineups this season.
Brendan Gallagher
Last Week: 3 GP, 11 SOG, 4 Hits, 4 Blocked Shots, 3 Faceoff Wins
It was an all-around quiet fantasy week for Montreal's forwards, and Gallagher, who's been the best of the bunch this season, was no exception. Despite his poor performance last week, Gallagher is still producing at a career-high rate, with 13 goals and 19 points in 31 games so far. His 0.42 goals per game is the best since his rookie year, and he's averaging 3.16 shots on goal per game.
After two consecutive seasons where Gallagher was forced to miss time with a broken hand, the 24-year-old right-winger is healthy for the first time in forever and is a viable option in fantasy once again. Owned in only 60 percent of Yahoo Sports leagues, Gallagher should be a target on the waiver wire in any league format.
Alex Galchenyuk
Last Week: 3 GP, 1 G, 8 SOG, 1 Special Teams Point
Shuffling through the lineup and consistently playing with different linemates for short periods of time, Alex Galchenyuk has yet to live up to the expectations that came with signing his new three-year, $14.7-million contract in the summer. With only seven goals and 17 points this season, Galchenyuk is averaging 15:05 minutes of ice time per game and has spent time on the Canadiens fourth-line on several occasions.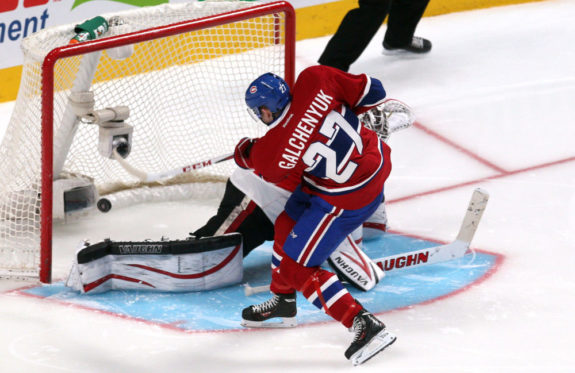 Deserving or not, Galchenyuk is not getting the opportunities consistently needed to be an impactful fantasy player. Having already scored 30 goals in one season before, Galchenyuk has all the talent in the world to be one, however. For now, it can be questioned whether he should be owned in any league formats other than Dynasty, but it is worth keeping an eye on the 23-year-old as a potential waiver-wire pickup.
I cover the Montreal Canadiens and Laval Rocket for The Hockey Writers. I am currently a student at the University of Concordia studying journalism in the hopes of one day becoming a full-time sports reporter. I have previously covered the Indianapolis Colts of the National Football League for Pro Football Spot.