When the Canadiens traded away Max Pacioretty to the Vegas Golden Knights, most fans of the team were fast asleep without any reason to think that their captain would be traded by the time they woke up.
While a deal of this magnitude is sure to capture all the headlines Monday morning, there's sure to be a large majority of fans of the Canadiens who simply have no idea who Nick Suzuki is or why the Canadiens may have been interested in him. The addition of Tatar and the value of a second-round selection should be well-known but when dealing with prospects, it's very easy to lose track of who's who outside of the NHL.
Background on Nick Suzuki
When looking at Suzuki, his rankings heading into the 2017 NHL Entry Draft placed him as a mid-to-late round pick in the first-round. While his offensive prowess and ability to play as a natural center were very apparent, being slightly undersized at 5 foot 11 and only 183 pounds gave some scouts pause. That didn't scare the Golden Knights, however, as they deemed Suzuki to be worthy of a top-15 selection, picking him 13th overall in 2017 and immediately making an effort to shore up their long-term center depth in the process.
How good has Suzuki been at the OHL level, you might ask? Well, in 63 games in his rookie season with the Owen Sound Attack, Suzuki would score 20 goals and 38 points and add another two goals in six postseason contests. Just one season later when given an increased role on the team, he would score an impressive 45 goals and 96 points in 65 games with another eight goals and 23 points coming in the playoffs.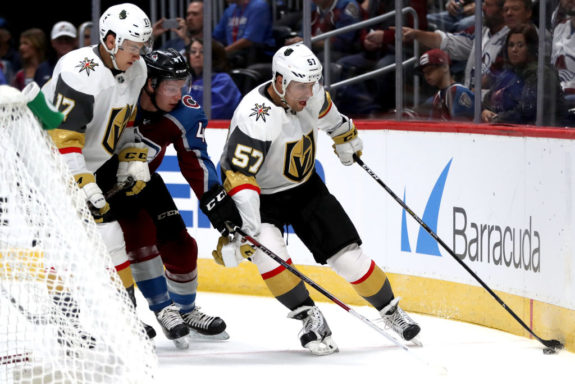 That impressive breakout season was enough to earn him high praise and a first-round billing and while Suzuki could have easily trailed off the following season while working on his defensive game, he would manage to score 42 goals and 100 points in 64 games in 2017-18 while working diligently on puck-protection and defensive-zone accountability. It's easy to lose an offensive touch when a player is focusing on honing in on the defensive side of the game, but Suzuki's high hockey-IQ were enough to help him maintain his offensive output while also getting noticeably better defensively.
Scoring in the OHL can only get a player so far, however, and it's for that reason that Suzuki appears to be such a good prospect. His offense doesn't come simply from being lucky or having more skill than his peers in the OHL. Instead, it's a testament to how fast Suzuki can think on the ice and how far ahead he sees plays before they ever even develop. Combining his skill, smarts and consistency with a strong work ethic and willingness to play bigger than he actually is, Suzuki's ceiling is that of a top-six center with potential to play a legitimate top-line role.
"Definitely my hockey sense," Suzuki said when asked of his best trait at the Golden Knights development camp in July. "I think I think the game a lot better than a lot of players. I just use that to my advantage in getting to spots quicker and being in the right spot all the time."
Planning out an attack while on the fly rather than simply winging it on every shift and every action on the ice is a mature way to approach the game. It just happens to be something that Suzuki excels at, as well.
It's for that reason that he's also an exceptionally talented penalty killer who has a prowess for scoring short-handed goals with consistency. Whether or not those goals translate to the next level is unknown but it's encouraging nonetheless.
Where Can Suzuki Improve?
For every good thing that can be said about a prospect, there are almost always apparent drawbacks as there is virtually no such thing as a "perfect prospect." With that said, Suzuki's flaws aren't anything that should be of major concern to the Canadiens, especially given how much growth he's had as a player from being drafted just over one year ago.
Players with the type of high-hockey IQ and combination of speed and skill that Suzuki possesses typically don't fail to reach their potential at the next level if they stay hungry to constantly improve and learn. If the past is an indication, Suzuki's willingness to improve should carry him to a prominent NHL role in the relatively near future.
If there were any two things that he would need to work on the most before making the jump, however, it would be skating and strength. While his speed and quickness are apparent, there's still a lot of room to be made in terms of pathing, technique and all-around skating skill. Speed can only get a player so far.
As for strength, it's already been mentioned that Suzuki has a willingness to play bigger and his ability to protect the puck has improved in the last year. Still, as an undersized player, Suzuki will need to work on being strong on his skates and with his stick to excel at the NHL level.
A New Core Coming to Montreal
With Jesperi Kotkaniemi in the mix, the Canadiens should be in good shape in terms of their top-six center depth for the future. Adding Poehling to the fold and the Canadiens may finally have figured out their issue down the middle – an issue that has plagued the team for decades.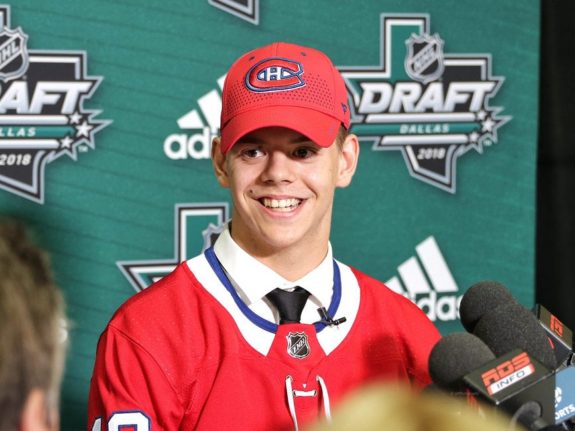 Another positive for the Canadiens with Suzuki is his leadership role on the Owen Sound Attack. chosen as an alternate captain alongside Jonah Gadjovich in 2017-18, Suzuki would be considered a major part of the team's leadership core along with Jacob Friend who would be named the team's 22nd captain in franchise history.
The Canadiens are re-vamping their core in Montreal with major changes coming in recent offseasons, including the team trading away P.K. Subban to the Nashville Predators (and acquiring Shea Weber), acquiring Jonathan Drouin from the Tampa Bay Lightning (in exchange for Mikhail Sergachev), trading away Alex Galchenyuk to the Arizona Coyotes (and acquiring Max Domi) and even trading Lars Eller to the Washington Capitals and effectively replacing him with Andrew Shaw.
Having new leaders on the team will only help the Canadiens and Suzuki fits that mold perfectly. While it isn't clear yet how long it will take Suzuki to make the jump to the NHL level, fans in Montreal should be excited about what the future holds after one of the bleakest seasons in franchise history in 2017-18.
Brandon Share-Cohen has covered the NHL and various professional sports for seven years. Working with The Hockey Writers, Brandon works extensively on covering the Boston Bruins in addition to his role as the News Team Lead.