Injuries are mounting, once-padded leads over divisional rivals have dwindled, and stats aside from save percentage and goals against hint at the first-place Montreal Canadiens being nothing more than paper tigers.
Needless to say, everything is perfect in Habs land no longer. But perfect is a tough word to live up to, and, in reality, a lot is still very much okay. So worrywarts had best hold off on pushing that big red, white, and blue panic button and read the following five reasons why the Canadiens will be A-OK this 2014-15 regular season.
It Could Be Worse for the Canadiens Injury-Wise
Sure, Alexei Emelin and Sergei Gonchar are both injured, but P.K. Subban isn't. That may seem like a bit of a hollow victory, but admit it:
When Andrei Markov had to push him toward the bench against the Ottawa Senators because he couldn't put any weight on his leg, you suddenly found God in the form of the television set and got on your knees right then and there.
Well, your prayers have been answered.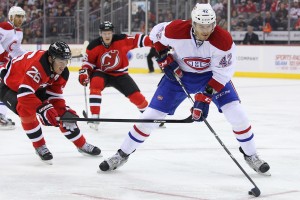 The Norris Memorial Trophy-winning Subban returned to the game and for good measure returned the following night against the Florida Panthers showing no apparent ill effects of the blocked Bobby Ryan shot.
One need only look back to last season's playoff run, especially the second-round series against the Boston Bruins, to realize just how disastrous a Subban injury would be.
Meanwhile, injuries to Emelin and Gonchar? It still remains to be seen, but there's a good chance the Habs won't really have to find out, at least in specific relation to the latter. Head coach Michel Therrien told reporters on Thursday that Gonchar is expected back next week.
Meanwhile, Emelin could miss a week, himself. And, if he misses the up-to-six weeks that were initially reported, would it really be that big of a loss? Everyone knows Emelin can lower the boom. But his overall level of play hasn't exactly been all that high to begin with recently.
And it's not as if call-up Jarred Tinordi is incapable of playing defense, having drastically reduced the frequency of his giveaways relative to last season during the few games he's gotten in with the Habs this season. The Habs even have nine shots attempts more than against this season when he's on the ice (Corsi, or the NHL's new SAT statistic).
Really the narrative that Tinordi is a liability on defense is arguably a huge misconception. It's not as if Tinordi was sent down purely because of poor play. When he was assigned to the American Hockey League on November 12, it coincided with the Habs' acquisition of Sergei Gonchar. And, now, Tinordi has gotten another chance to prove himself.
Consider the injury situation a bit of a blessing in disguise as a result. While Therrien could have been accused of not giving Tinordi a fair shake in the past (much like he didn't Nathan Beaulieu earlier this season and last), he now practically has no choice but to play him. He might even end up playing better… not just relative to the last time around, but relative to Emelin.
Canadiens Are Still in the Playoffs
While the Habs have indeed lost three out of five games recently, they got single points in two of those losses, and, it can't be stressed enough, are not in any danger of missing the playoffs.
Really, the lowest they can realistically fall is third in the Atlantic Division, which is where they were seeded last spring, when they went all the way to the third round. And, still, the chances of the situation getting that dire are low to say the least.
Canadiens Are Still in First Place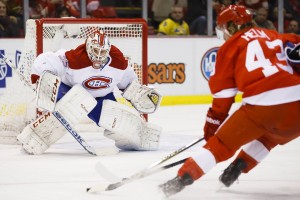 It's admittedly far from a guarantee at this juncture, but the Habs are still in a very good position to win the Atlantic Division.
For example, lost in all the hoopla of the recent mini-slide is the fact that the Habs lead the division currently, one point up on the second-place Tampa Bay Lightning with two games in hand. They are five points up on the Detroit Red Wings, who have played two fewer games.
Sure, it's less than ideal, and were it not for embarrassing losses to the likes of the Florida Panthers, Ottawa Senators, Edmonton Oilers, Arizona Coyotes, and Buffalo Sabres in recent weeks, Montreal could have double-digit point leads on both of their closest rivals… and a 15-game winning streak going. How likely is that, with this particular team, seeing as the team record is 12 regular-season games in 1968?
These Habs are good and all, but, realistically speaking, they were going to lose a couple of those 15 games to begin with. They might as well have come against worse teams than ones they're battling for playoff position.
Look at it this way: If you were the Habs, and someone told you at the beginning of the season that you'd be leading the division by one point with 24 games left to play, wouldn't you have taken it? Good as Montreal might be, they're not 1968 good (a team that led the league in points and won the first of two consecutive Stanley Cups). They would have taken it and run.
There is no Lesser Competition in the Playoffs
In regard to those losses to teams below them in the standings, with the Habs in first place in the Eastern Conference, it needs to be said: Almost everyone is below them in the standings, making every loss an arguable upset.
Secondly, if this so-called phenomenon of the Habs playing down to their competition is real—it isn't as the Habs have also beaten the Philadelphia Flyers, Toronto Maple Leafs, and New Jersey Devils recently (coincidentally, all with Carey Price in net, hmmm…)—the Habs don't have anything to worry about in the playoffs.
Bad teams don't make the playoffs, technically speaking. That also goes for the Panthers, who dealt the Habs their most recent loss on Thursday, and are now within striking distance of the last playoff spot in the Eastern Conference, currently held by the Boston Bruins.
Panthers Are More Likely to Face Canadiens in Playoffs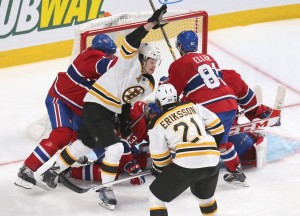 When the Panthers picked up two points at Montreal's expense on Thursday night, they pulled within one of the Bruins and they now also have one game in hand.
With Montreal, again, in the driver's seat in first place, the Habs would theoretically face whichever team earns that second spot. History dictates a first-round matchup against the Bruins would be entertaining. History also says it could go either way, with Montreal having upset the first-place Bruins as an eighth seed once this century (2002). And, back in 2007-08, when the Habs led the Eastern Conference, they needed seven games to eliminate the eighth-seeded Bruins in the first round.
The Habs themselves would never admit it. However, playing Florida in the first round instead of Boston? It would make, in no uncertain terms, a huge difference for the better in any potential Stanley Cup run.
As the Panthers proved on Thursday night, a first-round victory would not be guaranteed. But it would be more likely. That cannot be denied. It also can't be denied that the Canadiens did themselves a favor on Thursday by losing to Florida.
Now, chances are good the Habs didn't throw the game. But what if they did? Maybe, just maybe, these paper tigers have more of an edge to their game than many give them credit for.
Fans will probably find out for certain sooner rather than later, with the Habs facing the Panthers three more times this season. Another few losses and clearly this is all part of a master plan. A few more wins? What's not to like there?
Now, don't you feel better?