Montreal Canadiens defenseman Jarred Tinordi has proven a certain a person at The Hockey Writers wrong. There's no need to get into specifics. Needless to say, that person, wherever they are right now, probably feels very foolish. I would assume, anyway, speaking as an unbiased third party of course.
A Fall to Forget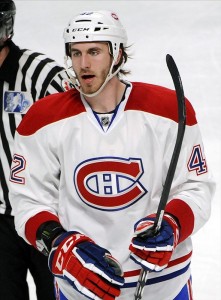 Presumably preparing to play his ninth game of the season Sunday night against the Calgary Flames at home (7 p.m. Eastern Time), Tinordi has emerged as a steadying presence on the Habs' blue line. If you had been tracking his play earlier this fall, namely during training camp, you might be pleasantly surprised at that last sentence… to put it lightly.
After six preseason games, his stats line read zeros almost all the way across, i.e., zero goals, zero assists, zero points, and an even plus/minus ratio. Admittedly, considering his projected role as a defensive stay-at-home defenseman, that's somewhat to be expected.
That's where it gets ugly, though. In those six games, he also had six official giveaways (and one takeaway) and 28 penalties in minutes. Generally speaking, being a defensive, stay-at-home specialist involves limiting the other team's chances in their offensive zone, not creating new and fun ways for them to set up shop there.
To put it in perspective, take P.K. Subban's season last year. In 82 games, he had 83 giveaways (and 26 takeaways), roughly the same giveaway-per-game ratio. But he also had 53 points. In Subban's case, you take the bad with the good. If there is no good, you're just bad.
I mean, if you're going to insist on giving it away more often than the Red Hot Chili Peppers, you had best be putting it in the other team's net relatively often as well. Tinordi just plain can't. His only real option to stick with the Habs was to clean up his game. And, to his credit, he's done just that.
Tinordi Making the Most of Promotion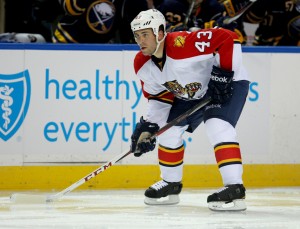 Credit is due as well to the Habs for sticking with him when demoting him instead and keeping Francis Bouillon for example would have been easy. The decision, presumably by general manager Marc Bergevin has worked out well. In his eight games this season, Tinordi has just one giveaway (and one takeaway). Factor in his two assists, and he's technically creating more offense for the Habs, which is always a plus.
On the subject of technicalities, his plus/minus leaves something to be desired (-5). However, he's tied with Mike Weaver in that regard, and no one would dare question his defensive awareness, with 22 blocked shots to his name so far this season (Tinordi has 12, for the record).
Who knows exactly why Tinordi played as he did this past September? It might have been the nerves getting the best of him, the pressure of what many might have considered a make-or-break training camp. Whatever it was, it wasn't exactly a new development, though.
Un-Arrested Development
Last season, in 22 regular-season games, he had 12 giveaways. However, the headline here is, among all Habs skaters, he had the highest percentage of even-strength scoring chances per-Corsi against based on stats tracked by Boucher Scouting.
That is to say, Tinordi was responsible a whopping 23% of the time he was on the ice and the opposition managed a scoring chance from a shot attempt. This despite him surprisingly having the highest even-strength Corsi-for rating among defensemen.
In fact, he was strangely the only blue-liner to have a rating above 50% (meaning the Habs attempted over 50% of the shots when he was on the ice). So far this season, at least that hasn't changed. According to Puckalytics, he has a Corsi-for rating of 51.3% in five-on-five situations. Everything else has, most notably his ever-increasing value to this team.
Emelin Gets Eliminated
When Alexei Emelin got hit by Vancouver Canucks forward Alex Burrows last week, everyone feared the worst. Lost in all the concern over Emelin was the fact that immediately prior to the hit, he gave the puck away cleanly, directly resulting in a goal.
I (and everyone else in the world with working eyes, save for just Burrows) can tell this by how the hit was late. The giveaway can only be considered an unforced error as a result.
http://www.youtube.com/watch?v=NNgXNWqNaVs
Really, it may very well have been the worst seven-second stretch of play all season long for the Habs, especially with Montreal lacking any clear-cut heir apparent for Emelin, the man who had been paired the most often with P.K. Subban so far this season. Talk about scary thoughts. Just in time for Halloween no less. And, using the giveaway as proof, it's not exactly as if he was perfectly cut out for the role, himself.
Who would Montreal have gone to in order to replace him? Andrei Markov? Too old. Nathan Beaulieu? Too in and out of the American Hockey League these days. That would have left just Tinordi among the team's healthy left-handed defensemen. It remains to be seen how Tinordi would deal with the increased role, were he ever given that opportunity. However, whereas in the past the concept would have been downright frightening, based on his play this season it's at least slightly less so.
Thankfully, Emelin returned and, at least for now, is off the team's official injury report. Of course, that report is not exactly the most trustworthy source of information with Carey Price on it instead, but that's another scary story for another day.
In any case, Montreal needn't worry about filling that hole beside Subban for now. Sure, the Habs may lack a true No. 2 defenseman for the time being. But maybe, just maybe, they have one in the making in Tinordi. Only time will tell, that is if his strong play in the meantime doesn't end up doing the talking for him.