James Reimer Stars as Toronto Beats Chicago
Despite giving up two goals on Saturday night, Maple Leafs goaltender James Reimer turned away 45 shots (26 in the third period) enroute to a 3-2 Leafs win.  James van Riemsdyk recorded his 100th point as a Maple Leaf player with his goal in the second period which tied the game at two.
The win was the Leafs third in a row bringing their record to 6-4-1, while the Blackhawks record falls to 6-4-1.
"He played great and made some big saves at the end.  He looked confident.  We had some chances that we didn't finish off, but give him credit." – Patrick Kane on James Reimer.
Leafs reaction [Toronto Sun], Blackhawks reaction [Chicago Sun Time]
Sabres Can't Find Back of the Net Again, Pens Don't Mind
The Buffalo Sabres were shutout again, this time by the hands of the Pittsburgh Penguins.  It was the Sabres fifth time in the last eight games that they have neglected to find the back of the net.  [Pensburgh]
Former Sabres' defensmen Ehrhoff feels bad for his old team. [The Buffalo News]
Hurricanes Shutout Coyotes to Pick Up First Win of the Season
It's time to rejoice as Carolina gets their first "W" of the season.  Cam Ward picks up the win and the shutout and Elias Lindholm scores his first two goals of the season.  [Canes Country], [Five for Howling]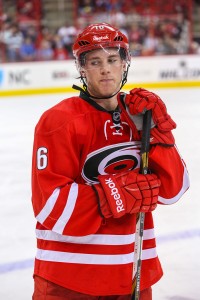 Vanek Scores First Wild Goal
The Minnesota brain trust are finally breathing a slight sigh of relief, as Thomas Vanek scores his first of the season which was also the team's first powerplay goal on the year.
HALLE-FRIGIN-LUJAH!!! THOMAS VANEK! 23 days into season, #mnwild just scored its first power-play goal of '14-15. #stopthepresses

— Michael Russo (@Russostrib) November 2, 2014
Dallas Stars' coach Lindy Ruff chimes in on Vanek's drought and abilities.  [ESPN]
St. Louis Win Their Fourth in a Row in Shootout
Vladimir Tarasenko scored two goals in the game, but it was the shootout goal by Joakim Lindstrom that sealed the deal for the streaking Blues.  [St. Louis Gametime]
Jets Need Shootout, but Shutout Rangers
Winnipeg goalie Ondrej Pavelec made 38 saves enroute to his first shutout of the season and 12th for his career.  [Illegal Curve]. The Ranges lost for the second time in three games, after a modest three-game win streak.  It was the first time the Rangers were left scoreless all season. [NY Rangers Blog]
Kane for the win in one of the biggest stages in NHL. Jets win at MSG 1-0. Great two points in the bank. Huge game by Pavelec.

— Illegal Curve Hockey (@IllegalCurve) November 2, 2014
There is plenty of action scheduled on Sunday with seven games on tap.  Stay tuned for breaking news and other interesting tidbits of information that happen in the world of hockey.