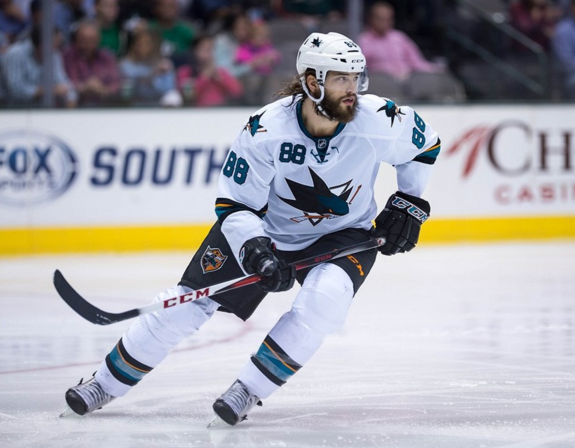 A month into the season, Brent Burns currently leads all NHL defensemen as well as the San Jose Sharks in points. Undeterred by this, critics still want Burns back alongside Joe Thornton on the top line. Before I address Burns exploits at both positions, let's first examine his own teammates comments, as they are part of the basis for this argument. While it is true his teammates stated they would not be surprised seeing him back at forward they also said that he should have success on the blue line. What so many writers are presenting are partial quotes and not full quotes. Here are the full quotes from both Patrick Marleau and Joe Thornton via Kevin Kurz of CSN Bay Area.
Marleau- "I think there might be room for him to move back up to forward, I think we've got a lot of young [defensemen] here. He's a great player. I think he can score 30 or 40 goals as a forward, as well. He's very versatile. If the coaching staff and management think they can move him back up to forward, I think that would be great. If he stays back on D, he's going to be great back there, too."


Thornton- "If we need a goal later on in games I'm sure you're probably going to see him up front a little bit. He can do it all."
The direct quotes from his teammates don't signify that they believe Burns is only effective up front. Instead it is merely a compliment of his play style and his ability to be useful in any situation. So why is it that so many interpret this differently? One of the reasons is due to the fact that Burns did address a need the Sharks had at forward. In 2013, the team got off to a terrific start then faltered, only winning two games in the month of February. Ryane Clowe and TJ Galiardi were not scoring so the Sharks experimented and it worked. During that season burns played 24 games as a forward and put up 20 points. It was a success, at first. The following season Burns collected 48 points in 69 games. What he brought as a "power forward" helped the Sharks to 111 points during an injury filled season. What appeared as a bona fide success began to have pitfalls.
Hard Truth
The 2014 season was a career year for Brent Burns but there were many overlooked aspects. The only way to accurately judge Brent Burns as a player is to compare him to his equals. If Burns is going to garnish the role of a top line forward he should then be correlated to every other top line forward in the NHL. The comparison is not good. The first weakness in Burns installation on the top line was the fact that he averaged under 17 minutes of ice time per game. The second weakness was the fact that Burns did not play on the top power play unit. Even as a top line forward he was not considered a top four forward on his own team. The third and final weakness is the fact that 48 points for a top line winger is not very impressive. With this in mind let's look at every NHL teams top line forwards and see how Brent Burns measures up.
Three top line forwards multiplied by thirty teams gives us ninety top line players in the NHL. In many cases it is true that teams have better players on their second lines for depth purposes. Still the fact that Burns ranks behind nearly every teams top three, four or even five players is deplorable. Part of the reason why Joe Pavelski scored so many points on the top line last season is because of the lack of contributions from Brent Burns. He went 19 straight games without a goal in 2014. For a top line forward that is inexcusable.
 Clarification
This does not mean the Brent Burns experiment up front was a failure. All it means is that Burns presence up front was not as impressive as we were led to believe. Expecting someone to suddenly become a top line player after they were already fulfilling another role would be ridiculous (cough) Jonathan Cheechoo. People are quick to point out that Burns only played 69 games and would have put up more numbers if he played a full season. This is true, compensating for a full 82 game season Burns would have been on pace for 57 points but there were many other players in the NHL who missed over ten games. Henrik Zetterburg, Gustav Nyquist, Shane Doan, Mike Cammalleri, Tyler Bozak and Daniel Alfredsson all finished within a few points of Burns and most played even less games.
Another thing people are quick to point out is the fact that Brent Burns shooting percentage was lower than normal for a forward at a mere 9.0%. Very true, but hockey is not a game of "woulda coulda shoulda." How many times "would" the San Jose Sharks have won the Stanley Cup if they did that? How many times "could" the Sharks have won the Stanley Cup if they did this? How many times "should" the Sharks have done that. This is not a game of "ifs" it is a game of results. Based on the 93 games Brent Burns played at forward he posted 68 points but played a low amount of ice time for someone is his position. His numbers did not impress while playing a full season in 2014 and despite being a "power forward" he was not a true top line player.
Regardless of Burns faults as a top line forward he was useful. Little things such as fore-checking and creating space for Tomas Hertl and Joe Pavelski cannot be understated. On top of that Burns ability to play forward fills any holes the Sharks may have at the forward position. Grading Brent Burns on a simple pass or fail basis doesn't do him justice. He was not a failure, nor was he a massive success as a forward. He played well, but not well enough to truly be considered a top line forward in this league. It is not any more complicated than that.
Strengths and Weaknesses
Having an offensive blue line is one thing that helped the team go deep into the playoffs a few years back. As Dan Boyle aged he became overwhelmed and the abundance of offense was lost. So far the Sharks are producing the most points from the blue line since 2011 and Burns is front and center. Through the first month of the season Burns leads the Sharks in both points and ice time. On top of that he is quarterbacking the power play. Not only does Burns lead his team in numerous categories but he is sharing company with the best defensemen in the NHL.
Average TOI 23:10- Ranked 32nd among defensemen
Points 13- Ranked 1st among defensemen
Average Power Play TOI 3:25- Ranked 24th among defensemen

Still, if Brent Burns is going to be a defensemen he must provide more value than he does as a forward. To accomplish this two things have to happen; Burns must play better on the blue line than as a forward and the Sharks must fill any holes within the top six as best they can. This is easier said than done and the team is on the right track but everything is not figured out. I may be adamant about Brent Burns as a defensemen but I cannot ignore his defensive lapses. So far this season Burns has looked stellar on offense but absent on defense. It does not help that the most consistent partner on his side is rookie Mirco Mueller. No offense to Mueller but Burns only played six games on defense in 2013. He really has not played the position in two years. Having a more experienced defensive partner paired with him would be preferable as he needs the tutoring.
Not only would this be more advantageous for Burns but it would allow for an interesting Justin Braun and Mirco Mueller combination. Braun has shown that he has the ability to be a great defensemen but he still makes careless mistakes from time to time. Yet, he has already become a solid defensemen and is currently being kept on a short leash by playing with Vlasic. Giving him the task of watching over the rookie would give him a chance to grow as a player and reach his potential as an NHL defensemen.
Forward Depth
When Burns became a forward in 2013 it was because the Sharks were struggling to score goals. He stayed up front due to the fact that the Sharks traded away TJ Galiardi and Ryane Clowe two of their top six forwards. On top of that Marty Havlat lost his role within the top six. Going into the 2014 season the Sharks outlook for the forward position was not great. Then rookies Matt Nieto and Tomas Hertl stepped up along with younger veterans Tommy Wingels and James Sheppard. The Sharks survived an injury plagued season due to the combined efforts of their young talent and their veterans.
This year Tommy Wingels has made a statement that he can play top six minutes. Matt Nieto, Tomas Hertl and even Barclay Goodrow all have the capability to play alongside Joe Thornton if they stay consistent on both sides of the puck. Perhaps the most important detail is the fact that Joe Pavelski just had a career year and is playing on the top line. While Burns played his entire season on the top line in 2014, Pavelski split time between the top and third lines and still managed to nearly double Burns goal total. The Sharks top six is not perfect but there most certainly is no gaping hole either. The emergence of young stars drafted by the team has partially filled in the void left by Burns up front. If one of those young stars is able to take his game up a notch then the hole will be completely filled.
Defensive Depth
Remember, the Sharks are only looking for one player on the top line to replace Burns role on the top line nothing more. Labeling someone a "power forward" doesn't change what they contributed. Attempting to replace a player with a mirror image simply is not possible. When the Sharks traded Owen Nolan they replaced what was lost with what they gained. The same can be said for Joe Thornton and many other trades, roster moves and transactions. If, heaven forbid, John Scott replaces Brent Burns on the top line and scores 48 points then he fulfills the role.
While the Sharks forward depth is fairly good their defensive depth is not. Moving Brent Burns would leave the blue line barren. Both Scott Hannan and Matt Irwin would be in the lineup each night. While Hannan is simply a temporary solution Matt Irwin is struggling. This would also force the Sharks to either use Jason Demers or Matt Irwin as their "quarterback" on the powerplay. Demers may have the capability to do it but both options are just scary to say. Other defensemen in the Sharks organization don't seem to be much of an improvement either. Even with Burns on defense the team could use another defensemen but without him it would not be a stretch to say the Sharks would have one of the worst defensive lineups in the NHL. The object of a hockey game is to outscore your opponent and the current defense is doing that. Burns and the rest of the defense may not be doing terrific defensively but they are dominating offensively.
Placing Burns back on the top line will have the following outcomes.
Burns will no longer play on the top power play unit.
Burns total ice time will diminish by 6-7 minutes.
Burns point totals may increase.
The key to success is the ability to adapt
Those who do not understand this are unable to grasp the fact that Brent Burns offers much more on the blue line than he does up front. No situation is perfect and moaning about it does nothing to solve it. While most are still chiming in about Burns current position Todd McLellan offered these words;
"Offensively, he's just been an absolute force for us, He's involved in so much. He's getting better defensively, He looks comfortable on the blue line — a big, big part of our team right now."
Andrew graduated from the University of Nevada with a Bachelors Degree in Community Health Sciences. Growing up in Nevada, he played soccer up through college but his passion has always been hockey.