The Winnipeg Jets have been a streaky team to start the 2014-15 NHL season. They sit tied for 11th in the Western Conference and last in the Pacific Division at 5-5-1. For the realistic fans, this is probably right around where you would expect them to be. There has been a handful of players who have made major contributions to the Jets' wins, these are the team's top players through 11 games.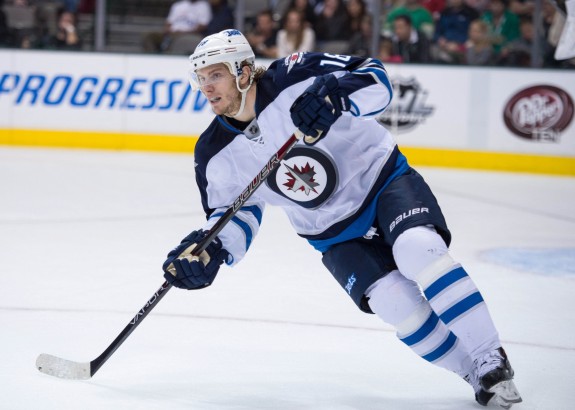 Honourable Mention
Justified or not, Ondrej Pavelec gets criticized often in the Winnipeg media, by fans and the hockey world in general at times. It's a hot topic among fans and will continue to be until the day he leaves or another starting netminder is acquired, because obviously he will never be Carey Price or Jonathan Quick. He is more comparable to the likes of Corey Crawford and Braden Holtby.
All that said, he is off to a decent start this season and if he is going to be bombarded with negative comments when he plays poorly, give him credit when he deserves it. Pavelec is 5-4-1 to start the season, with a .921 save percentage, 2.10 goals-against average and one shutout.
His most recent performance was by far the most spectacular. Pavelec carried the Jets throughout the game Saturday vs. the New York Rangers at Madison Square Garden. He stopped all 38 shots in regular in overtime, including a breakaway save late on Martin St. Louis and two shots from one of the league's top goal scorers in Rick Nash. And, he allowed just one goal on four shooutout attempts.
Ondrej Pavelec 38 saves (+3 in shootout) for first shutout since Nov 8/13 v NAS. #nhljets #cbcmb

— Mitch Peacock (@MitchPeacock1) November 2, 2014
You won't see this type of play from Pavelec every night, but if it starts happening more consistently, the Jets will quickly find themselves over .500.
3. Blake Wheeler
Like a shot out of a canon from center ice, Blake Wheeler barreled down on Henrik Lundqvist and with a flick of the wrist equaled the shootout at one goal apiece. That was Saturday night in New York and Wheeler has been making those type of key plays all season. Not all of them leave a mark on the score sheet, but the smaller plays — generating a turnover in the offensive zone or killing time while shorthanded — go a long way in helping the team win.
Wheeler has four goals and two assists for six points in 11 games. He is among the Jets scoring leaders, but he will look to produce points at a better rate as the season goes on. He also has 18 hits and eight blocked shots, a testament to his all-around play which he doesn't get enough credit for.
Blake Wheeler with the lone goal, a nice breakaway tally following an even nicer no-look pass from Toby Enstrom. #NHLJets #cbcmb

— Jeff Hamilton (@jeffkhamilton) October 30, 2014
2. Andrew Ladd
For the Jets to have any chance at competing in the Western Conference, Andrew Ladd must continue to be a major factor on offense. Leading by example with his defensive play and physicality is important, but because of Winnipeg's lack of secondary scoring Ladd must be a spark at forward on a consistent basis. In games where Ladd records a point the Jets are 4-1. When he doesn't they are 1-4-1. That one win was the previously mentioned shootout victory against the Rangers.
So far he's notched four goals and three assists for seven points and has an even plus/minus rating. This includes a pair of goals in a big 4-3 win over the surging New York Islanders. It was a game where Ladd narrowly missed out on a hat-trick with the Isles' net empty late in the third.
"I don't want to talk about it" -Andrew Ladd on missing the hat trick on the empty netter

— Michael Remis (@mremis) October 29, 2014
Look for Ladd to continue to be a force at both ends of the rink and for a little pressure to be taken off him with the return of Evander Kane and hopefully some more offense from Mark Scheifele.
1. Bryan Little
Little's career high for points came last year when he registered 23 goals and 41 assists for 64 points. Prior to that he hadn't topped the 50-point mark since 2008-09, back in Atlanta. Little is capable of putting up 70 points, depending on who his linemates are. He's off to a great start this season, with nine points in 11 games, to lead the Jets.
Little has excelled in creating chances off the rush and the cycle with his quick hands and quick thinking. His quick release has also been key and he's scored on nearly 20 percent of his shots. He's making an impact in all situations, averaging more than 3:30 per game on the power play and nearly 2:00 shorthanded. While he started off slow in the faceoff dot, he has since won more than 50 percent of his draw is five of seven games.
When asked by Ed Tait of the Winnipeg Free Press if Little was the most underrated player in the NHL, Evander Kane had this to say.
"Oh man, I definitely think that. He's such a quiet guy and maybe that's part of why he's not known as well. But every guy that plays with him, you see his skills. I think he has one of the best shots on the team, one of the best shots in the league. He knows how to score goals, he has that goal scorer's psyche. The thing is, he's a pretty quiet guy. When he says something you're taken aback because you're almost surprised."
If he continues at this pace, he will get the recognition he deserves from those around the hockey world.
Eric is a postgraduate public relations student at Humber College. Prior to that he obtained a bachelor's degree in communication studies from the University of Windsor. He covers the Winnipeg Jets for The Hockey Writers and is a featured columnist for Bleacher Report.