INT. OFFICE OF MAYOR JEAN DRAPEAU – DAY
Montreal. Spring 1979. Inside an office at a desk sits a bald, somewhat funny-looking man sporting a moustache with large, dark-framed glasses and wearing a respectable suit and tie. It's MAYOR DRAPEAU, the Mayor of Montreal since forever but in reality, 1960. He's reading the French newspaper "La Presse." Suddenly there's a knock on the door.
MAYOR DRAPEAU (eyes still on paper)
  Entrez!
                                                   AIDE
                                          Monsieur le Maire, the Canadiens have won the Stanley Cup… again!!
MAYOR DRAPEAU (looking up)
                                          Don't you think I know dat!!
AIDE (startled)
                                          Well Monsieur le Maire… we need to organize the victory parade…
MAYOR DRAPEAU (interrupting)
                                          Oui, oui. The parade. Along the usual route!
—————————————-
It seems like a long time ago. Actually it was a long time ago. Back in the the second half of the 1970's where kids bounced around in station wagons seatbelt-less sucking in second hand smoke from both of their parents. Yes, whenever spring had finally sprung in Montreal it was inevitably time for the Canadiens to celebrate their latest Stanley Cup victory with a parade down the usual route, which ran from City Hall in Old Montreal all the way along Ste. Catherine Street and past the old Montreal Forum.
Ahh, good times. Good memories. Old memories.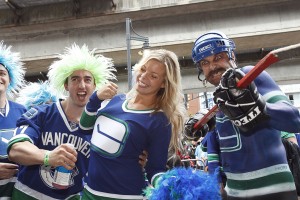 Well, at least the Habs have won a cup – two actually – since that last cup dynasty, in '86 and '93. And no matter how many silly, silly people (really not that many, mind you) want to say the Vancouver Canucks are actually Canada's team, it's the Canadiens who are the last Canadian team to have brought home the hardware.
Too long. Way too long. Edmonton tried hard and came up short. Calgary was next, and lost. The upstart Ottawa Senators failed in 2007. Then most recently in 2011 Vancouver choked and went down against the Boston Bruins.
But the real question is: who will be the next Canadian team to win the Stanley Cup?
Well we know one thing for sure. It won't be the Oilers or Flames. Not this year at least. Those squads have their tee times locked and loaded. Isn't that right, Michael Cammalleri!?
How 'bout the Toronto Maple Leafs!? Nah! That would be too unbelievable, fantastic, out-of-my-mind I'm going to run naked in the streets freakish. Hey I don't want this article to become a total farce. I mean, it basically took a lockout-shortened season just for the Buds to finally make their way into the postseason after nine years.
Maybe it'll be the Ottawa Senators. They are well coached. They are getting their walking wounded back. Goaltender Craig Anderson has been terrific and if he gets on one of his patented winning streaks, who knows? And Erik Karlsson is skating a mere two months after Matt Cooke ginzu-ed his Achilles tendon. With the team! This could be the emotional lift that team was waiting for.
But on paper, at least in terms of points and in the standings, it's the Montreal Canadiens, les Glorieux, who have the best shot at the cup this year.
What you say!? The Canadiens!? Gimme a break. They finished last in the east last year. This year's a fluke. Right!?
Well I'll say this. I don't think it's a complete fluke that the Habs have gone from last to being one of the top teams in the Eastern Conference this season.
The reality is Montreal has a good team. They finally have balanced scoring throughout their lineup. They got better by adding Michael Ryder. They got more grit with the addition of Brandon Prust and Colby Armstrong. Andrei Markov has stayed healthy! P.K. signed and is on his way to at least a Norris trophy nomination. Sure the Habs still aren't the Bruins or Kings size-wise, but they're getting there. Rookie Alex Galchenyuk will only get bigger and stronger over time. Brendan Gallagher has been a sensation and could be a Calder trophy threat. And yes, they lost a big physical element when Alexei Emelin went down for the season. But he isn't the team's lynchpin. The Habs have proven their fast start wasn't a blip. They've been consistent all year long, en générale.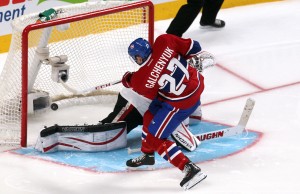 But Stanley Cup contenders? Hmmm. Maybe. I mean, if we learned anything from last season, if a team can get on a roll, get timely scoring, great goaltending and the right matchups, they can go all the way. That's what the L.A. Kings did.
And the Canadiens have the goaltending. Sure, Carey Price has struggled of late. But the guy is a winner. His head is on straight. He's got the will to win. And most importantly, this year he has the support coaching and player-wise in place to help him out.
Absolutely the team as a whole has struggled of late. It's perfectly normal. All teams have their ups and downs over a long season. It's how a team handles it and gets back on track. I've said it once, I'll say it again: better to slump now than in the playoffs. Timing is everything in the Stanley Cup playoffs.
But finishing second in the conference? Fourth even? That's ahead of schedule. Okay, I had the team to make the playoffs this year. I really did. But I picked them to finish seventh. I thought that was realistic. Because even though they finished dead last in 2012, this team just wasn't as bad as their record. Injuries, mismanagement, trades between periods, underperforming stars, dead-man-walking head coach, you name it – it was a very strange season where everything and anything that could go wrong, went wrong!
Ultimately though this year's goal was to make the playoffs. And so in my best George W. Bush I say to you: Mission accomplished!
The Canadiens are totally ahead of schedule. It's been a fantastic year. A fun year. But the Stanley Cup!? Even GM Marc Bergevin doesn't believe that. Otherwise he would've done more at the trade deadline.
You never know. The Habs could make a run. But all the way to a Stanley Cup parade down the usual route? I don't know about that one.