Thomas Vanek hasn't been a member of the Montreal Canadiens for months, and yet he continues to make the Montreal Canadiens—and general manager Marc Bergevin especially—look like geniuses.
However great a move acquiring forward Thomas Vanek last season from the New York Islanders for Sebastian Collberg was, not re-signing him might prove to be the better one.
Revisiting the Vanek Era… Er, uh, Complete Opposite of Era
When Bergevin sent Collberg, a relatively high-end prospect, along with a second-round pick to the Islanders for Vanek (and a fifth-rounder), it almost single-handedly got him shortlisted for general manager of the year honors (an award Bob Murray of the Anaheim Ducks eventually won).
Here was essentially a superstar that Islanders GM Garth Snow had given up an arm and a leg to acquire earlier in the season. The Habs getting him without giving up a roster player was seen as a major coup at the time. When he went on to score 15 points in 18 regular-season games with the Habs? All the more of one.
Of course, when he produced just two assists in his final seven playoff games? Eh, not so much. But one can definitely argue that Montreal wouldn't have made it as far as the third round without his five goals (and three assists) before then. So? Obviously a great move all around.
However, when the offseason came around, Vanek could not shake this reputation he had built up for himself as a player who does not deliver when it matters most, sparking the Habs to dismiss the notion of even offering the unrestricted free agent a new contract.
Call of the Minnesota Wild
Admittedly, Montreal resigning Vanek was a long shot at best anyway. From the point at which he signed his first NHL contract with the Buffalo Sabres, it was almost as if it became a waiting game instead of one of hockey before he would eventually join the Minnesota Wild.
Granted, that waiting game got prolonged a tiny bit by the seven-year, $50-million offer sheet that got thrown at him by the Edmonton Oilers (that Buffalo matched), but the team with which Vanek would end up was hardly ever in doubt. He went to school at the University of Minnesota. His wife is from Minnesota. His family lives in Minnesota during the summer. If he had a dog, it could very well be named Minnesota. You get the point.
And, so, as expected, Minnesota ended up signing Vanek this summer, albeit to a less lucrative offer than everyone anticipated, presumably because of his lackluster postseason.
Still, his three-year, $19.5 million contract is hardly the same one-year, $1-million deal fellow former-40-goal scorer Brad Boyes had to take as a Florida Panthers reclamation project a few years ago. But, then again, Boyes probably doesn't need the cash as bad, seeing as he presumably gets royalties each time the Cops theme song comes on.
Vanek or Heatley?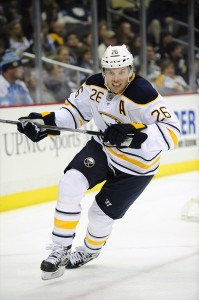 The Wild are off to a decent 2-1 start, but the same cannot be said of Vanek who has a single assist. It may just be three games, but it also may just be a continuation of his struggles from last spring, after which the once-hottest commodity on the free-agent market saw his stock drop faster than the latest victim of Brad Marchand's unhealthy fascination with sticks (hockey and other types).
It's not the first time Vanek has gotten off to a slow start. In fact, last season, he had the exact same single point three games in. However, we all know how 2013-14 ended. And it's even easier to believe his star is on the decline when he had 11 goals and 12 assists in the first 11 games of 2013 (that's not a typo). In 2011-12 he also got off to a great start with eight goals and eight assists in his first 11 games.
It would seem, at least right now, that no sooner did the Wild get one overpaid sniper off the books in Dany Heatley that they took on another.
It should be noted that the Wild traded for Heatley when he was the exact same age Vanek is now (30). In three seasons, the two-time 50-goal scorer didn't even reach 50 total goals, getting just 47 (and 55 assists) in 194 games.
Vanek, by the way, has averaged at least a point a game just once over a full (non-lockout-shortened) season in his career. Heatley did it five times. The chances of a resurgence in his point production at this stage of his career are unlikely at best as a result.
Bergevin Continues to Impress
No one is saying Montreal would have even been able to re-sign Vanek had they wanted to. But the popular perception is that the Habs let him walk away, making Bergevin and the Habs at least look like geniuses. Whatever actually happened, chalk it up as one more right move made by Bergevin this offseason. At this point whatever Bergevin touches seems to turn to gold, so is it really that out of the realm of possibilities that he could have re-signed Vanek but just thought better of it?
Consider the following:
Had the Canadiens been saddled with Vanek's new contract, the contract dispute with P.K. Subban might have lasted even longer than it did. They might not have been able to re-sign Andrei Markov. They might not have been able to give Lars Eller his new four-year, $14-million contract. And they might not have felt the same urgency to go after Jiri Sekac.
Those are four players whose futures with Montreal might have been adversely affected by signing Vanek to a long-term deal. A four-for-one? That's beyond a fair exchange, even if Vanek does end up playing like the superstar he once was in Minnesota. You might even call it an early Christmas present.