Alex Tanguay will play in game 1000 of his NHL career when the Colorado Avalanche take on the Pittsburgh Penguins on Wednesday night.  The veteran forward has played in the NHL since 1999 with Montreal Canadians, the Tampa Bay Lightning and had two different stints with both the Calgary Flames and the Colorado Avalanche.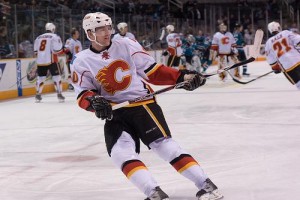 Tanguay was drafted 12th overall in the 1998 NHL draft by the Avalanche and moved quickly from the QMJHL to the AHL before making his NHL debut in 1999.  Tanguay spent his first six seasons in the NHL with the Avalanche with a lockout season spent playing for Lugano in Switzerland in the 2004-2005 season.  Tanguay is most remembered for being the player who scored two of the three goals that lifted the Avalanche to a game seven win against the New Jersey Devils in the Stanley Cup Final.  This Stanley Cup would be the first for Hall of Famer Ray Bourque who had spent 21 season with the Boston Bruins before being traded to Colorado to try to win a cup.

After 7 seasons and changing teams 4 times, Tanguay finds himself back with Colorado after a trade with Calgary brought him back to Denver.  This off season the Avalanche signed former Calgary teammate Jerome Iginla and these two veterans have played well all season.  Tanguay prefers to pass the puck and set up plays instead of being the number one goal scorer.  This season has not gone nearly as well as the Avalanche would have hoped and it appears they will miss the playoffs but Tanguay will continue to play night in and night out.  Over his NHL career in the regular season Tanguay has 269 goals and 544 assists.  In the playoffs his numbers are just as impressive.  98 games played with 19 goals and 40 assists.  None of those goals bigger then the two in game 7 in 2001.  Tanguay has one year remaining on his 5 year deal and, having survived yesterdays trade deadline, it appears the avalanche plan to keep him with the team next season.
I am a University of New Mexico journalism student who has been watching NHL hockey since 1996 and I started playing hockey myself in 2003. I have covered both college soccer and volleyball in the past and I also contribute to a NASCAR news website.