Wednesday night, Minnesota Wild defenseman Ryan Suter became the ninth NHLer diagnosed with mumps this season. Although Minnesota isn't the only team to have been affected by the virus, they have most definitely been hit the worst. Wild players have accounted for five out of the nine infected thus far, with the remaining four being Anaheim Ducks.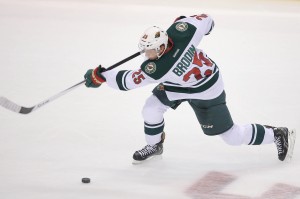 Not only is it a concern that five Minnesota Wild players have been infected so far this season, it's also a concern that Minnesota played the Ducks last night – the team believed to have originally infected the Wild when they played out East. Fingers crossed this match up won't result in more diagnoses over the next week.
Diseased Defense
Suter, along with teammates Christian Folin, Marco Scandella, Jonas Brodin, and Keith Ballard have all missed time this year due to the virus. Strangely enough, all of them are defenseman. Coincidence? I think not.
For those of you that don't know much about mumps, here's a crash course from the CDC:
"Mumps is spread by droplets of saliva or mucus from the mouth, nose, or throat of an infected person, usually when the person coughs, sneezes, or talks. Items used by an infected person, such as soft drink cans or eating utensils, can also be contaminated with the virus, which may spread to others if those items are shared. In addition, the virus may spread when someone with mumps touches items or surfaces without washing their hands and someone else then touches the same surface and rubs their mouth or nose."
If mumps are spread by droplets of saliva or mucus, (gross, I know) why aren't these guys with symptoms being isolated? Clearly the team knows what the virus is, knows that it's highly contagious, and knows that it's running rampant around the team. I don't know, maybe I'm being a germ freak, but I wouldn't want my entire lineup of defenseman being infected. Minnesota has had to play without three of its top defenseman so far this year because no one can figure out how to control this virus.
Although the Wild haven't played horribly over the past two games, it's clear that they've lacked without #20. Brodin, Scandella, Sprugeon and Folin stepped up last night when the Wild faced the Anaheim Ducks, but nobody can fill the void that Suter leaves. The team lost 4-5, and I'd like to believe this game would've gone a bit differently with Suter out on the ice. Let's just hope that the 30-minute defenseman returns faster than some of his teammates have.
Alli covers the Minnesota Wild and has been a contributing writer with THW since August 2014. She is currently a journalism and sports management student at the University of Minnesota. For all of your Minnesota Wild news and updates, follow her on twitter: @allibaker23